All photos by Danny Wicentowski
Sadie Pierce (on left) and Lilly Leyh took their oaths Wednesday afternoon, becoming the first same sex couple to marry after a judge struck down Missouri's ban on gay marriage.
"Oh my gosh, we're the first."
That was all Lilly Leyh could say before emotion overtook her. She clasped a hand over her mouth and buried her face in Sadie Pierce's shoulder, sobbing, while an audience of city officials, LGBT rights advocates, clergy and media streamed into the Recorder of Deeds office in St. Louis City Hall.
Pierce and Leyh had rushed downtown yesterday after hearing the day's big news: A Missouri judge had ruled that the state's decade-long ban on same-sex marriage violated the U.S. Constitution's guarantees of due process and equal protection under the law. Not long after the ruling, Pierce and Leyh raised their right hands, took their oaths, signed their names and made Missouri history.
A recorder of deeds employee explained the marriage license details to the newlyweds.
See also: Same-Sex Marriage Is Legal in Missouri
Pierce and Leyh were one of four couples who snagged marriage licenses before the office's 5 p.m. closing time yesterday. A banner reading "First in Missouri!!" and "#ShowMeMarriage" had been hung on the wall earlier that afternoon, and a giddiness seemed to fill the office as staffers waited for couples to arrive.
Arguably, no one was more excited to watch the impromptu nuptials than Terry Garrett, an archivist who works in the Recorder of Deeds office.
"I'm overwhelmed," he said after watching Pierce and Leyh leave with their marriage license. Four months ago, Garrett and his own partner -- along with three other couples -- were married one floor above, in the mayor's office, during a wedding ceremony secretly engineered by Mayor Francis Slay and then-recorder of deeds Sharon Carpenter. Those weddings were indended to spark a direct legal challenge to Missouri's gay marriage ban, with the ultimate goal of striking it down.
Recorder of Deeds Jennifer Florida watched another couple apply for a marriage license.
See also: Four Gay Couples Just Got Married in St. Louis to Challenge Missouri's Ban
"I'm overwhelmed," Garrett said again, "to see that the doors are now opening for everybody, and it gives everybody a chance to love who they want to love, and not be told who they have to love."
A few of the other major players from the June marriage plot were also present, including current Recorder of Deeds Jennifer Florida, the city's first openly gay alderman, Shane Cohn, and mayor Slay.
"I'm feeling great for the city of St. Louis and the entire state of Missouri," Slay said. "I thank the judge for doing the right thing, and I certainly congratulate all these couples who want to be treated just like everybody else."
On the other end of the counter, Kelley Harris and Kelly Barnard, of St. Louis, had arrived with their two young children in tow. Onlookers ooed and awed at the adorable scene.
Kelley Harris and Kelly Barnard, of St. Louis, brought the whole family along with them to the Recorder of Deeds office.
Continue to read how one couple forgot one important detail about their wedding ceremony...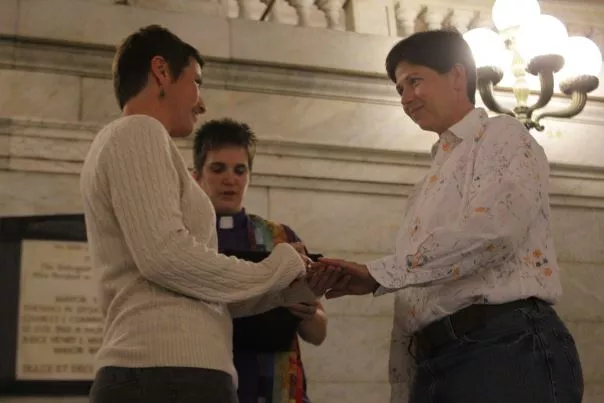 After making it legal, Crystal Peairs (left) and April Breeden made their marriage official by having a ceremony in the City Hall rotunda.
The third couple to arrive, April Dawn Breeden and Crystal Peairs, had raced to City Hall from their jointly owned chiropractic practice in St. Louis. At 4 p.m., they got a call from one of their patients, Reverend Katie Hotze-Wilton of the Metropolitan Community Church of Greater St. Louis.
"I said, I'm really sorry but I'm going to have to cancel my appointment because I have to go do this marriage thing at City Hall," Hotze-Wilton told Daily RFT. "I'm totally going down there and I'm going to marry whoever wants to get married."
Hearing that, Breeden and Peairs decided take a break from work and head to City Hall themselves. At first, Breeden planned on simply snapping some photos of the historic moment. Then Peairs made a different suggestion.
"In the car on the way down, she was like, 'Are we getting married?" Breeden said. "And so I said, 'Yeah, we're getting married.'"
Breeden and Peairs already considered of themselves as married, having performed a commitment ceremony in 2000. They'd even tied the knot legally in California in 2008, though the state subsequently banned same-sex marriage until a U.S. Supreme Court ruling in 2013.
They both said they always hoped to get legally married in Missouri.
"We're both extraordinarily spontaneous people," Breeden said. "This feels right today." Yet, as Breeden was signing the marriage license, she discovered something wasn't right: She wasn't wearing her wedding ring, having left it at a hair salon earlier that day.
"I looked down and I was like, oh no! Of all days!" she said .
But like they say, every wedding needs something borrowed. Another reverend from the Metropolitan Community Church lent Breeden her own wedding ring, and shortly after 5 p.m. Breeden, Peairs, Hotze-Wilton left the recorder's office and walked to City Hall's grand rotunda steps.
There, Breeden and Peairs faced each other as Hotze-Wilton officiated the ceremony. Her words echoed within the marble chambers of City Hall, amplifying her obvious glee at the occasion.
"By the power vested in me by Metropolitan Community Churches, the Great City of St. Louis and by the state of Missouri, I now pronounce this union to holy and blessed and legally recognized."
Note: This story originally confused the identities of Lilly Leyh and Sadie Pierce. We apologize for the error.
Follow Danny Wicentowski on Twitter at @D_Towski. E-mail the author at Danny.Wicentowski@RiverfrontTimes.com