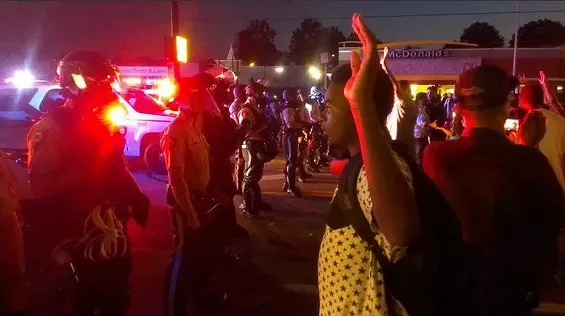 Good news, Ferguson protesters. Police say they'll stop moving and arresting demonstrators who stand peacefully on public sidewalks.
This should seem like a no-brainer in America, home of the First Amendment right to peaceful assembly. But after nine days of protests in Ferguson, police sprang a controversial new rule -- known as the "five-second rule" or "keep moving rule" -- on protesters on West Florissant Avenue: Anyone caught standing for more than a few seconds was forced to move by threat of arrest.
See also: ACLU: Police Used "Five Second Rule" to Arrest Ferguson Protesters at Random
And when we say anyone, we mean anyone. The rule applied to press, resulting in this bizarre video of a St. Louis County police officer physically pushing CNN's Don Lemon because was standing still during a live broadcast.
Lemon says to the camera, "Imagine what they are doing to people you don't see on national television, the people who don't have a voice like we do."
U.S. District Judge Catherine Perry ordered police and the Missouri State Highway Patrol to stop using the five-second rule on October 6. Nearly a month later, on November 5, Ferguson agreed in a consent judgement not to move, threaten to arrest or arrest people who are peacefully standing or marching on public sidewalks.
"By agreeing to this court order, Ferguson is making the right choice to help ensure that the right to protest is not infringed," says Jeffrey Mittman, executive director of the ACLU of Missouri.
See also: Police Violated Human Rights, Press Freedom During Ferguson Protests: Reports
While the agreement doesn't stop police in Ferguson from arresting or dispersing non-peaceful protests or an unlawful crowd, it does mean demonstrators won't have to march in circles while protesting anymore. More protests are expected after a grand jury rules on charging officer Darren Wilson for fatally shooting unarmed teen Michael Brown.
"When people are angry and frustrated with their government, they need the space to express themselves and should not be harassed with vague rules and threats of arrest," says Tony Rothert, legal director of the ACLU of Missouri. "The police should protect the right to protest, not make up excuses to arrest peaceful protesters who are simply exercising their free speech rights."
Here's the judge's order:
Ferguson_Consent_Judgment_11-5-14
Follow Lindsay Toler on Twitter at @StLouisLindsay. E-mail the author at Lindsay.Toler@RiverfrontTimes.com.