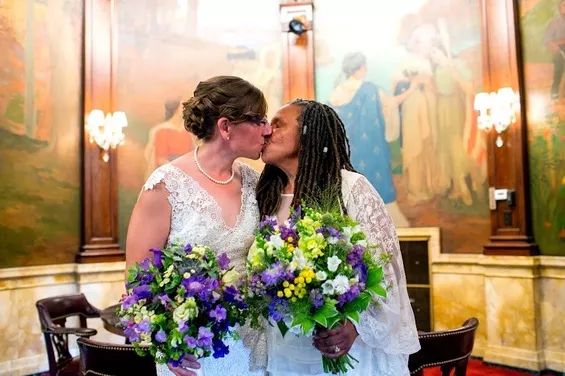 Miranda Duschack and Mimo Davis married in June despite Missouri's ban.
Sound the wedding bells because as of today, same-sex couples can get married in the Show-Me State.
St. Louis Circuit Court judge Rex Burlison ruled Wednesday that Missouri's ten-year-old, voter-approved same-sex marriage ban is unconstitutional, opening marriages up to all legal, consenting adults.
Recorder of Deeds Jennifer Florida says the city of St. Louis is prepared for gay couples to apply for marriage licenses as soon as today. St. Louis County is also taking license applications.
See also: Four Gay Couples Just Got Married in St. Louis to Challenge Missouri's Ban
"Today's decision is a clear victory for families equality, and the rule of law," says Winston Calvert, the St. Louis counselor who argued in court on behalf of same-sex marriage.
"Our nation has always aspired to equality, and this decision finally enforces that constitutional guarantee of equality for gay and lesbian couples," Calvert continues. "The city of St. Louis pushed the envelope on behalf of families throughout the state of Missouri who now can enjoy the dignity, stability and security of a legal marriage. The message to our children is unmistakable: No matter who you are, your city, your state and your courts will respect and protect your equality."
Burlison's ruling stems from a court case filed by Attorney General Chris Koster after then-recorder of deeds Sharon Carpenter issued marriage licenses to four St. Louis couples in June. Wednesday, he ruled that Missouri's same-sex-marriage ban violates the Equal Protection Clause and Due Process Clause of the U.S. Constitution's Fourteenth Amendment.
"The Court finds and declares that any same-sex couple that satisfies all the requirements for marriage under Missouri law, other than being of different sexes, is legally entitled to a marriage license," Burlison wrote.
David Gray and Tod Martin.
Tod Martin, who married David Gray in St. Louis this summer in defiance of Missouri's ban, says he called his husband right away when he heard the news.
"We laughed. We are so happy talking about it. It's just unbelievable," Martin tells Daily RFT. "It's a long time coming, certainly, in Missouri."
Martin says he has two friends who planned to marry this week in Illinois, where same-sex marriage has been legal for months. Now, they could decide to change venues back to their home state.
"I imagine there are people who are frantically calling their significant others right now and saying, 'Hey, you want to go to city hall before it closes?'"
Koster says he is appealing the court decision but that he won't stop officials from giving out marriage licenses before the final ruling comes down. Koster released the following statement:
"The circuit court of the City of St. Louis today ruled that Missouri's ban against same-sex marriage violates the equal protection and due process guarantees of the United States Constitution. We have appealed the ruling to the Missouri Supreme Court. The constitutional challenge to Missouri's historically recognized right to define marriage must be presented to and resolved by the state's highest court. Following decisions in Idaho and Alaska, the United States Supreme Court has refused to grant stays on identical facts. We will not seek a stay of this court's order when the United States Supreme Court has ruled none should be granted."
Koster has said he supports same-sex marriage personally.
Jackson County, where Kansas City is located, says it's not yet issuing licenses:
A recent court decision forced Missouri to recognize out-of-state marriages between gay couples, but the latest ruling strikes down Missouri's ban on same-sex marriages here.
"With our marriage-recognition case win last month, and today's win for the City of St. Louis to issue marriage licenses, Missouri is finally joining the mainstream by allowing loving couples to formalize their commitment with marriage," says Tony Rothert, legal director of the ACLU of Missouri. "It is time for Missouri to join the 32 states where same-sex couples can marry."
Here's the judge's order:
Same sex marriage St. Louis order
Follow Lindsay Toler on Twitter at @StLouisLindsay. E-mail the author at Lindsay.Toler@RiverfrontTimes.com.