Screenshot of Gov. Nixon's tweet
That's Governor Jay Nixon voting on the left. And on the right...
It's Election Day! Are you voting? Because Governor Jay Nixon sure is.
This is the Show-Me State after all, so Nixon tweeted proof that he fulfilled his electoral duties this morning, saying: "Voting in #JCMO this morning. Make sure to cast your ballot and make your voice heard. #Election2014"
But we're guessing he (or whoever tweets for him) didn't look closely enough at the photo before publishing.
Here's a screenshot of the tweet, which Nixon has since deleted: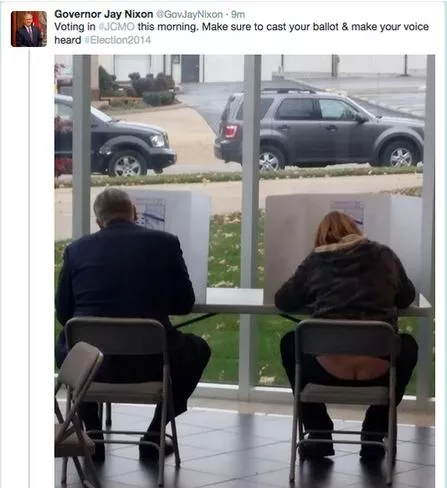 If two inches of intergluteal cleavage won't convince you to go to the polls, nothing will.
It's too bad Nixon's camp deleted the photo instead of running with the gag, especially since it's 2014 and nothing deleted from the Internet is actually deleted. Here's the inevitable butt crack blowback on Twitter:
So much for mending the political divide.
Follow Lindsay Toler on Twitter at @StLouisLindsay. E-mail the author at Lindsay.Toler@RiverfrontTimes.com.