Photo by Steve Truesdell
Mike Sutherland in front of his Harley hearse at Monster Mass at Gateway Motorsports Park.
Mike and Judy Sutherland are busy people. The phone never seems to stop ringing, and it's usually sad news. But when your business revolves around one of the two guarantees in life -- death, not taxes -- that's how it goes.
Mike and Judy own and operate Sutherland-Garnier Funeral Home and Hillcrest Funeral Home, Cemetery and Cremation Center in Centralia, Illinois, about 60 miles east of St. Louis. Last year they added one more reason for their phone to keep buzzing -- a Harley-Davidson Heritage trike and motorcycle hearse.
The black Harley trike tows a handmade aluminum hearse carriage with picture windows on each side, big enough to fit oversize caskets.
See Also: The Dead Can Drag Race at Gateway Motorsports Park
The couple bought the handmade carriage from Ty Conklin, who constructed the carriage himself in 2008. The unique design and hand craftsmanship has been the secret to the success of this particular Harley hearse. Conklin also made special modifications to the Harley trike so it could tow the hearse.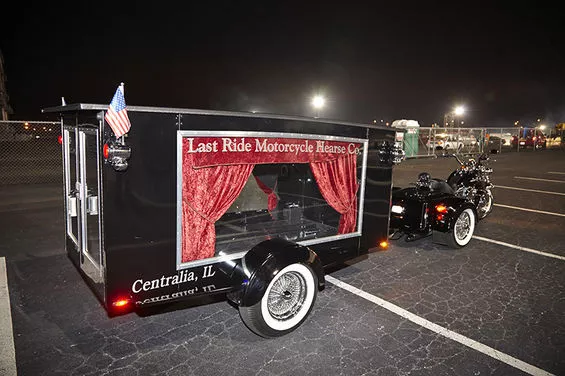 Photo by Steve Truesdell
In all its glory, the baddest hearse around.
"The hearse puts a pretty hard pull on the motorcycle," Mike says. "They're not built to pull trailers. [Ty] spent a lot of time and money getting the motor beefed up, lifetime clutch, adjustable breaks on the trailer, and it's geared down to pull up and down the hills of Missouri real good. Trust me."
There's something about the handcrafted look, says Mike. Its elegant ruggedness resonates with motorcycle folks. When a member of the Doc's family (the motorcycle dealership Doc's Harley-Davidson) died, the family requested his last ride be in Conklin's hearse even though, believe it or not, there are actually a couple motorcycle hearse operators in St. Louis.
Mike and Judy are fixtures in the small town of Centralia. Mike was born and raised there, and Judy moved to town with her family when she was three years old.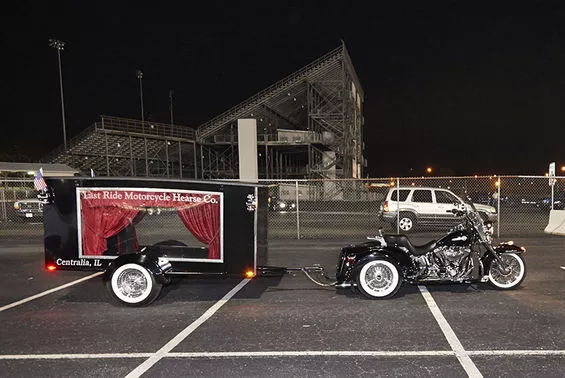 Steve Truesdell
Who wouldn't want their last ride to be in the back of this baby?
As owners of the local funeral home, Mike and Judy are constantly surrounded by death. But the job that might at first seem macabre is more complex than just that.
"There's such satisfaction in helping someone that you know," Mike says. "Everybody thinks of the funeral business as money, and yeah, you have to pay the power bill, but it's so much more than that especially when you're a family business."
See Also: Ride of the Century: Joe Challoner Says Cops Illegally Towed Motorcycle, Will Sue (VIDEO)
And, yes, the job takes an emotional toll, as well. Mike tells the story of a friend who used to work in their funeral home and was recently having heart problems. He came to Mike and Judy to make arrangements for his funeral. A few days later he was dead.
"That bothers you," Mike says. "If it doesn't bother you, you're in the wrong business."
Thankfully the Harley-Davidson they use to pull their motorcycle hearse can also come in handy helping the couple cope with the grief that surrounds their job.
"Whenever we need to get away from it, or whenever it gets to be too much emotionally, you take off," Mike says. "And people who ride understand, there's something about being in the wind and the smells you get that you don't get riding in a car. I know it sounds crazy, but that's really what it is. Just the freedom of it is awesome."
Follow Mitch Ryals on Twitter at @mitchryals. E-mail the author at Mitch.Ryals@RiverfrontTimes.com.