Danny Wicentowski
Washington University student protesters march against police brutality in University City.
There's a lot to love about living in St. Louis, especially when the toasted raviolis are hot, the craft-brewed beer is cold and the dogs are dressed in Halloween costumes for pet parades.
Here at Daily RFT, that's typically all we need in life to put a smile on our faces. But the truth is the problems facing River City lately have been too staggering for our city to describe itself as "happy."
Since August 9, the day Ferguson police officer Darren Wilson shot and killed unarmed teen Michael Brown, St. Louis has become the epicenter for protest in the fight against police brutality and racism. Now the city waits for a grand jury to announce whether Wilson will go free -- potentially setting off more violent unrest -- or charge him with a crime.
The pursuit of happiness in St. Louis and across Missouri was the subject of one of the latest Show-Me State studies from real estate blog Movoto, which uses data from the census, Bureau of Labor Statistics and Centers for Disease Control to produce semi-scientific reports.
Movoto's latest study says that while eight St. Louis suburbs (and two Kansas City suburbs) are the happiest places in Missouri, St. Louis comes in noticeably last.
See also: New Study Lists 10 Suburbs to Move to Because St. Louis Has "Bad Reputation"
Here are the ten happiest towns in Missouri, according to Movoto: 1. City of Kirkwood 2. City of Chesterfield 3. City of Ballwin 4. City of St. Peters 5. City of O'Fallon 6. City of Liberty 7. City of Lee's Summit 8. City of St. Charles 9. City of Wentzville 10. City of Maryland Heights
And down at the bottom of the list, at No. 25, is St. Louis, below Missouri's two other largest cities, Springfield and Kansas City.
Movoto measured each city's potential for happiness by examining seven criteria: stress factors (unemployment, commutes, cost of living); violent crimes per 100,000 people; percent of residents making $20,000 a year or more; percent of married residents; home-ownership rates; percent of residents with a bachelor's degree or higher; and a walkability score.
Crime rates played a major role in sending Kirkwood to the top of the list and St. Louis to the bottom. Kirkwood reported 123 violent crimes per 100,000 residents in 2012, compared to St. Louis' rate of 1,776 per 100,000 residents, according to the study.
St. Louis also doesn't stack up when it comes to salaries. While 90 percent of No. 4 happy city St. Peters residents make more than $20,000 per year, only 31.43 percent in St. Louis make $20,000 per year, according to the study.
Here's the full ranking: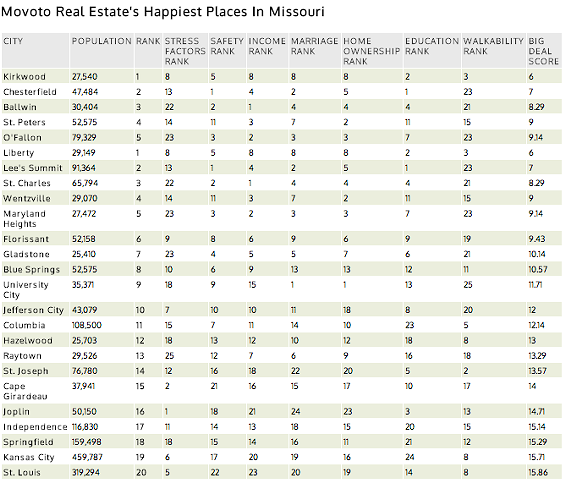 Follow Lindsay Toler on Twitter at @StLouisLindsay. E-mail the author at Lindsay.Toler@RiverfrontTimes.com.