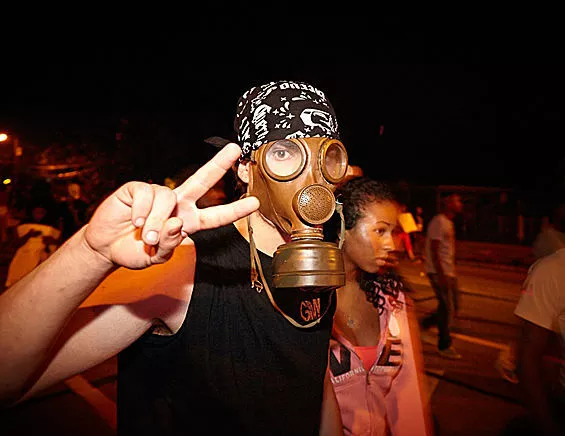 Steve Truesdell
A demonstrator protects his face from tear gas in Ferguson.
Halloween has always been an excuse to wear costumes that would be offensive and inappropriate on any other day of the year: dead Trayvon Martin, "terrorists," Boston Marathon bombing victims.
(We've already seen way more Ray Rice and battered Janay Palmer costumes this year than we ever needed to, and we haven't even clicked on the blackface ones.)
This year offers a new threat: the Ferguson protester costume, complete with "Hands Up, Don't Shoot" sign, live-streaming smartphone and anti-tear gas mask.
See also: 15 Signs You're a Ferguson/Shaw Protester
Before you decide to translate anger over police shootings in Ferguson and Shaw into your get-up for the scariest night of the year, Daily RFT requests that you give a little thought to your choice.
Here are nine questions you should ask yourself before dressing like a Ferguson protester for Halloween, complete with recommendations for anyone who answers, yes:
1. Did I protest with Michael Brown supporters?
Get more creative. You are a Ferguson (or Shaw, or downtown, or wherever) protester. Halloween is about assuming a new identity. Take a chance. Dress like a unicorn.
2. Did I protest with Darren Wilson supporters?
No. Just no. Tell your friends you thought about a protester costume, laugh, and then pick something else to bash.
3. Did I at any point consider dressing in blackface as part of my costume?
If you answered yes to this question, you should not dress as a Ferguson protester for Halloween. In fact, your Halloween costume privileges are officially revoked.
4. Do I drink? A lot?
Dressing like a Ferguson protester makes you a target for drunks who want to scream their "take" from the last three months of unrest. Even if you agree with these drunks, you'll likely be caught in a vortex of incoherent arguments all night long. And if you're drunk yourself, you're setting yourself up for unnecessary disaster. Choose a costume that's fun to talk about while drinking, like an anti-Prohibition protester from the 1920s.
See also: Bros Wear Soldier, Osama bin Laden Halloween Costumes; Wash. U. Students Outraged
5. Am I trying to be funny?
There's nothing funny about police brutality or racism, and it's impossible to play a Ferguson protester without invoking those two things. If you're going for humor, choose something from a John Oliver sketch, like a shady pageant organizer or FIFA czar.
6. Am I trying to be provocative?
Let's get this one straight: Michael Brown's death and the protests that followed were provocative. You are not provocative for referencing them in your costume. Choose something less lazy.
7. Am I trying to be topical?
Get some scrubs and dress like a doctor treating Ebola instead.
8. Am I comfortable with someone getting violently angry with me over my costume?
We hope not. Choose something that won't get you punched.
9. Do I have any other ideas for costumes?
Choose one of those.
Follow Lindsay Toler on Twitter at @StLouisLindsay. E-mail the author at Lindsay.Toler@RiverfrontTimes.com.