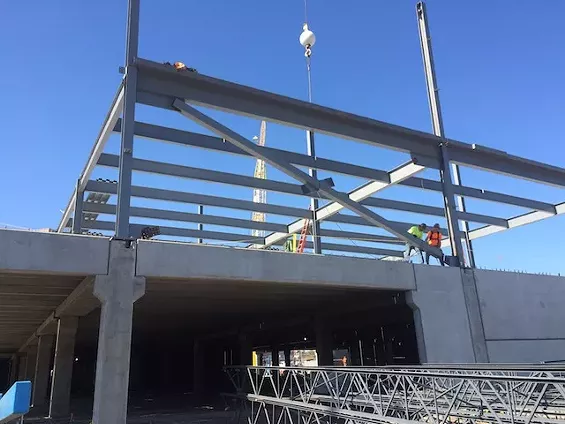 Mitch Ryals
Man slides steel into place.
Roll up your sleeves, St. Louis, it's time for your quarterly IKEA fix.
In a very enthusiastic press release, IKEA announced this week that "steel erection is underway" for the mammoth furniture retailer's first St. Louis location (and second Missouri location because they decided to build one in Kansas City first, not that we're bitter or anything).
Mitch Ryals
The two-story retail store will sit on top of the 1,300-space parking garage.
See Also:St. Louis IKEA Begins Construction: "It's Full Steam Ahead to Fall 2015"
Construction crews began assembling the steel frame Thursday atop the concrete parking garage. The beams will shape the building and support the roof and siding, says IKEA spokesman Joseph Roth. As the steel erection progresses in the next two months, crews will install a blue metal wall and ceiling panels.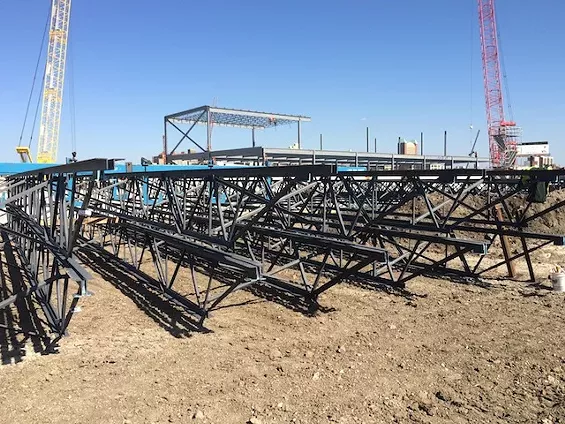 Mitch Ryals
These beams will eventually be the ceiling.
Roth expects construction to be complete next year between Labor Day and Thanksgiving, but it's difficult to pinpoint an exact date.
"Having just opened a store in the Kansas City area, we know how harsh the winters can sometimes be, not just harsh but unpredictable," Rosh says. "We're just trying to get as much done as possible as soon as possible."
Mitch Ryals
A sewer line under Duncan Avenue had to be torn up to make room for the huge parking lot, which will extend to Forest Park Parkway. These are extra pieces of sewer piping.
See Also: IKEA Officially Breaks Ground in St. Louis -IKEA Construction Stops When Workers Find Human Body -Expedite STL: St. Louis IKEA Delivery Business Rethinks Strategy with New Store on the Way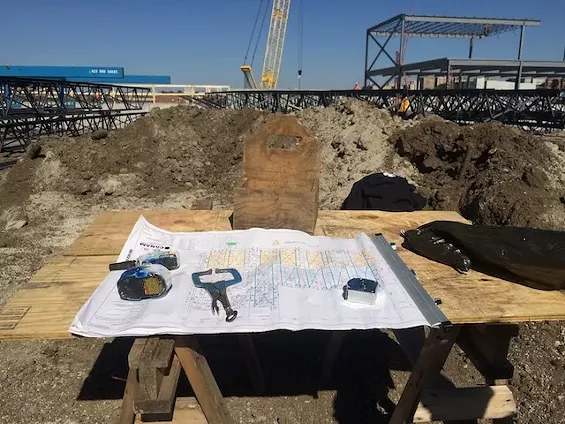 Mitch Ryals
Blueprints and tools and stuff with the newly erected steel frame in the background.
According to a St. Louis Business Journal analysis, the 21 acres IKEA bought from nine different owners was one of the most expensive commercial real estate purchases in the second quarter for 2014. IKEA will demolish three more buildings to make room for the store by early next year, Roth says.
Mitch Ryals
Just weldin' on the ol' garage.
And remember, IKEA: If your steel erection lasts longer than four hours, call a doctor.
Follow Mitch Ryals on Twitter at @mitchryals. E-mail the author at [email protected].