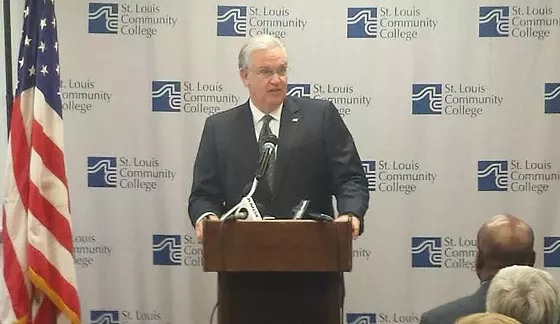 Danny Wicentowski
On Tuesday, Missouri Governor Jay Nixon called for an "unflinching" study of the St. Louis region's challenges in the wake of Michael Brown's death.
The death of Michael Brown and weeks of sustained protests exposed a host of ailing social and economic conditions in the St. Louis region -- like sprawling municipal court systems that prey on the poor, racial divides and, of course, police brutality.
On Tuesday, Missouri Governor Jay Nixon announced his first direct action to untangle and resolve the broad issues raised by Brown's death. That work will be helmed, initially, by an independent "Ferguson Commission," a roughly fifteen-person body charged with sending specific recommendations to the governor. Nixon said he'll name the commission members sometime next month.
"The men and women selected to serve on this commission must be willing to come together in good faith, endure the fierce crucible of public opinion, and lead the hard work of change," Nixon said in a prepared speech at St. Louis Community College. "This work is not for the faint of heart."
See also: "This Is What Jim Crow Looks Like": A Day in North St. Louis County Courts
During his speech, Nixon outlined the commission's three primary tasks:
First, to conduct a thorough, wide-ranging and unflinching study of the social and economic conditions underscored by the unrest in the wake of the death of Michael Brown;
Second, to tap the expertise needed to address the concerns identified by the Commission - from poverty and education, to governance and law enforcement;
And third, to offer specific recommendations for making this region a stronger, fairer place for everyone to live.
Despite the title, the "Ferguson Commission" won't investigate Brown's death or make recommendations for the case's prosecution -- that's a job for the local and federal law enforcement, Nixon said. Instead, the commission will study the St. Louis region, with the ultimate goal of bridging divided communities and restoring trust (and peace) between citizens and the police. Further acts of violence and destruction, he said, "would not be tolerated."
"This is a defining moment that will determine whether this place will be known as a region marred by racial division and unrest, or a region that pulled together to rise above and heal," he said. "Our neighbors must be free to lead their daily lives - to go to work, to church, to run a business - without fear. Our children must be able to walk to school and play in the park in safety. The wives of police officers and the mothers of teen-aged sons deserve peace of mind."
Yet, aside from Nixon's attempts to verbally straddle the divide between black communities and law enforcement, the scope of the commission's power appears somewhat ambiguous. When asked if the commission's recommendations would have any teeth, Nixon replied that the group will have "the full authority of my office...to dig deeply."
See also: Nixon Stumps for Rep. Jeff Roorda, the Ex-Cop Speaking Out Against Police Body Cameras
Nixon added that he and his administration will be "very involved" in ensuring the commission "aims high" with their recommendations. He estimated the commission will need six months to a year to develop specific suggestions for region-wide change.
The commission's stated goal, however, confused Ferguson Mayor James Knowles III, who said he wasn't invited to Nixon's speech or briefed on the creation of the commission. Knowles arrived late to the press conference and had to catch up by reading a copy of the governor's prepared remarks.
"If you're going to name it after Ferguson, then maybe you should let Ferguson know about it," he quipped.
Knowles said that he'll ask the governor for a seat on a commission.
Update, 10:45 a.m.: Nixon spokesperson Channing Ansley said the governor's office notified Ferguson's city manager before Tuesday's announcement.
"Our office spoke with the Ferguson city manager before the announcement, and the city manager then briefed the mayor," Ansley told Daily RFT. She said we'd have to ask Knowles why he claimed he was not notified by the governor. We'll update this story when we hear back from Knowles, city officials and the governor's office.
Update, 12:50 p.m.: Knowles confirmed to Daily RFT that the governor's office called Ferguson city manager John Shaw around 10 a.m. Tuesday morning, and that Shaw in turn forwarded the message about Nixon's announcement to Knowles.
When asked why he previously stated that he received no advance notice of the announcement, Knowles said he'd misinterpreted a reporter's question, and that he thought he was being asked if the governor's office had consulted him on the details and planning of the commission.
"Factually, yeah, [the governor's office] said they were going to announce the commission, but I didn't know about anything else, and neither did our city manager," he said. "Even the email that I got from him made it clear that this was not an invite to come to the event, it was just a head's up." End of update.
See also: If America Reacted to Keene Pumpkin Fest Rioters Like They Were Ferguson Protesters
St. Louis alderman Antonio French voiced his own concerns about the commission's membership, though not for the same reasons as Knowles.
"We have to include voices that are not traditionally included on such panels and commissions. Young people," French said.
French rose to notoriety in the first days of unrest in Ferguson following Brown's death on August 9. His presence on the front lines of protests frequently placed him alongside young activists and protest organizers, and he said those are the voices this commission desperately needs.
"If you get a lot of people from a lot of the same mold, who all serve on the same boards together...I don't know if you're going to make a lot of progress," French said. Instead, he thinks the commission should "assemble a group of people that by their very nature and diversity are going to ensure awkward and confrontational conversations, because that's what's going to have to happen. There's going to have to be a lot of difficult conversations."
Nixon's announcement arrives at tense moment for St. Louis, as many are anxiously awaiting the results of the grand jury investigation into Darren Wilson, the white Ferguson cop who shot and killed eighteen-year-old Brown nearly three months ago. According to the New York Times, Wilson recently testified that Brown pinned him inside his police cruiser before the fatal shooting.
See also: Darren Wilson Tells Why He Feared For His Life Before Shooting Michael Brown: NYT
Follow Danny Wicentowski on Twitter at @D_Towski. E-mail the author at [email protected]