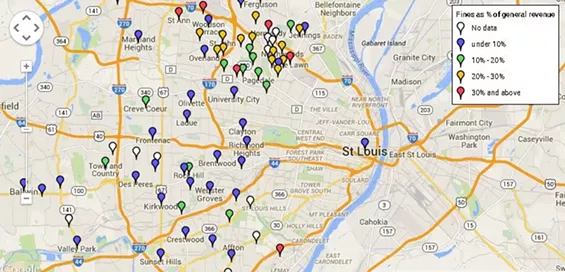 Better Together
After visiting courts in north county, where cities can earn more than 30 percent of budgets through court fines and fees, a Brooklyn lawyer calls St. Louis County's courts system "the new Jim Crow."
David Menschel, a criminal defense attorney and criminal justice activist from Brooklyn, New York, spent Wednesday visiting municipal courts in north St. Louis County. What he found, he says, was "the new Jim Crow."
Menschel tweeted what he saw: predominantly black defendants, most without defense attorneys, arguing against dominant prosecutors in front of deferential judges on minor charges, such as sleeping in an apartment without an occupancy permit.
The effectiveness of north St. Louis County municipal courts was thrust into the spotlight in August, when a police officer from Ferguson, a north-county municipality, shot and killed unarmed teen Michael Brown. Protesters who took to the streets in Ferguson say Brown's shooting was the ultimate expression of the contemptuous, preying nature of criminal-justice systems there.
See also: ArchCity Defenders: Meet the legal superheroes fighting for St. Louis' downtrodden
Twenty municipalities in north county derive at least 20 percent of their general budget from fines and fees collected in courts, according to a report from Better Together, which advocates for reunifying the city and county. Those twenty cities are on average 62 percent black with 22 percent of residents living below the poverty line; compare that to St. Louis County overall, which has a 24 percent black population and where 11 percent of people live below the poverty line.
"It becomes all too clear that fines and fees are paid disproportionately by the African American community," the Better Together report reads, especially considering how police are 66 percent more likely to pull over black drivers than white drivers, according to the attorney general. "In other words, these municipalities' method of financial survival -- bringing in revenue via fines and fees -- comes primarily at the expense of black citizens."
That's what Menschel saw Wednesday. He started in Velda City, one of about thirteen small cities clustered within a three-square-mile area in north St. Louis County:
Then begins what Arch City Defenders attorney Thomas Harvey calls the "domino effect": Poor defendants who are unable to pay fines for violations -- such as driving without a license -- come to court and tell the judge they can't pay. That buys them some time to raise the money, but the threat of going to jail still looms. If defendants don't make their next court date, a warrant will go out for their arrest. A few days in jail can cost defendants their jobs and put enormous strain on poor families who have to find new childcare or transportation options. Once out of jail, many face eviction and homelessness, rack up charges for loitering or trespassing, and then the cycle starts all over again.
"The municipal court system financially exploits people of little financial means," Harvey told Riverfront Times. "It works really well for people who have some money. It doesn't work at all for people who don't. And I don't think [the government knows] how serious of an impact it has outside of the financial part. They don't think about the next step, and the next step, and this sort of domino effect."
Defense lawyers would help poor defendants navigate fines and warrants, but Menschel didn't see many on his visit. Then a trial starts for a woman caught in her boyfriend's apartment without an occupancy permit. St. Louis County residents need occupancy permits for each person living in a home, regardless of if they rent or own.
"Attorneys I spoke to say the regulation can end up being a way to enforce antiquated local laws against unmarried cohabitation, and judging by comments you sometimes hear in courtrooms or from local officials, a way for police and prosecutors to essentially fine people for having premarital sex," writes The Washington Post's criminal justice blogger Radley Balko, who last month published an in-depth and damning look at local courts, "How municipalities in St. Louis County, Mo., profit from poverty."
Things aren't much better in Bel-Ridge, where Menschel says the only non-black people in the courtroom are the judge, officers and prosecutor. In one of his final tweets, Menschel says what he sees in municipal St. Louis County courts is the new Jim Crow.
Follow Lindsay Toler on Twitter at @StLouisLindsay. E-mail the author at Lindsay.Toler@RiverfrontTimes.com.