Danny Wicentowski
On Monday, Young Activists United organizer Kennard Williams (holding a megaphone) sent a list of demands for St. Louis mayor Francis Slay.
After days of symbolic demonstrations and civil disobedience against police brutality, one group of protesters can now boast of nabbing a more tangible victory: Landing an appointment to meet St. Louis mayor Francis Slay.
Today's 5 p.m. summit will include a contingent from Young Activists United, the same group that led around 60 protesters to rally and hang banners inside the City Hall rotunda on Monday, which resulted in one arrest. Organizers of that protest issued a list of demands to Jeff Rainford, Slay's chief of staff, and promised future disruptions in City Hall until the mayor addressed those demands.
The group wants Slay to force police officers who have "any interaction with the public" to wear body cameras, establish a civilian review board and independently investigate all fatal police shootings. The group also asked Slay to break ties with the federal government's 1033 program, which sends military hardware to police departments. Maggie Crane, the mayor's chief spokesperson, tells Daily RFT that the city has no relationship with the program.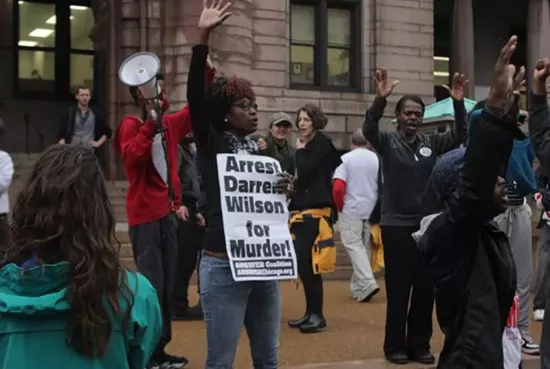 Danny Wicentowski
Protesters from Young Activists United rallied outside City Hall on Monday. The group's leaders promise further disruptions if their demands are not met.
See also: PHOTOS: Ferguson Protesters Hit Rams Game, Steve Stenger Rally, Walmarts: 50+ Arrested
At a press conference outside City Hall yesterday, Kennard Williams, a spokesperson for Young Activists United, told a modest crowd that young people and activists are tired of hearing the city's excuses.
"[These are] things that the city has needed for a while, and they're long overdue," he said, according to KTVI FOX 2. "Constantly we've been hearing 'It's coming, it's on the way, we're working on it,' and it just seems that everything is just a giant procrastination party.
Crane says the city has already made progress on addressing the group's remaining demands.
Regarding the request for independent investigations of fatal police shootings, Crane points out that St. Louis police chief Sam Dotson has already created a special task force to investigate all police shootings that result in a suspect's death or injury.
See also: St. Louis Police Chief Spars with Aldermen Over Use of Deadly Force
On top of the police department's internal investigation, Circuit Attorney Jennifer Joyce is conducting her own review of fatal police shootings. Currently, her office is investigating two cases: The first is the August 19 shooting of Kajieme Powell , who approached two officers with a knife before they shot him multiple times outside of a convenience store.
Joyce's staff is also looking into the October 8 shooting of Vonderrit Myers Jr., whose death last week spurred new waves of protests in the Shaw neighborhood. Following that shooting, Slay announced that Joyce would invite a federal prosecutor from the U.S. Attorney's Office to join the case, and they'll team up to review the police investigation. Together, they'll decide if charges should be brought against the officer.
"I'm not going to read a summary of someone else's investigation," Joyce told St. Louis Public Radio. "I want to see all the evidence, I want to see all the witness statements and, if I want to, I'm going to go out and talk to the witnesses. I'm going to go to the scene. I'm going to make sure that I've looked at everything fresh that the police looked at in making that police report."
But the protesters' other two demands -- body cameras and a civilian review board -- are still in the very early stages of implementation, says Crane.
Buying and maintaining the body cameras will cost the city $1.2 million, plus another $800,000 per year to handle maintenance and data storage. And even if Slay can nail down a funding source, he can't avoid negotiations with the police union to determine how and when the cameras will be used.
See also: Nixon Stumps for Rep. Jeff Roorda, the Ex-Cop Speaking Out Against Police Body Cameras
The civilian review board is another goal that's fraught with potential obstacles. Slay vetoed a 2006 attempt to create an oversight board. This time around he's instructed Public Safety Director Rich Gray to work with Alderman Terry Kennedy to craft new legislation.
Kennedy was involved in creating the 2006 bill for a civilian review board, but Slay says the two are now "working in good faith."
"We agree: Any civilian review board must be transparent; it must increase the trust between civilians and police officers; it must be fair to civilians and police officers," Slay wrote in Wednesday press release. "It will take a few more weeks to work though some of our differences on how to realize that agreement."
Funding the purchase of body cameras and a future civilian review board isn't simple, either. Crane says the city is considering a bond measure to raise the cash.
However, all these steps will take time, and it's not clear how much longer protesters are willing to wait for progress.
Update: As planned, Slay sat down with a group protesters. Afterward, the mayor called the tone of the meeting "respectful," reported KTVI FOX 2.
However, protesters weren't impressed with the city's slow progress on body cameras or police oversight.
"I don't think the mayor understands that we are tired of the political talk," said Rasheen Aldridge, spokesperson for Young Activists United, at a press conference following the meeting. "We're tired of hearing 'This is going to happen'...but not actually something happening."
Tweets from Aldridge and others appear to confirm the protesters' dissatisfaction.
Follow Danny Wicentowski on Twitter at @D_Towski. E-mail the author at Danny.Wicentowski@RiverfrontTimes.com