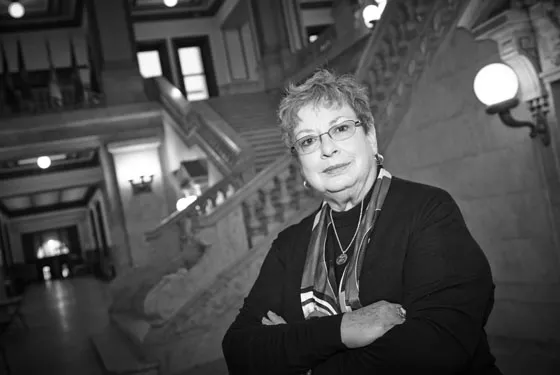 Steve Truesdell
After 34 years heading the Recorder of Deeds Office, Sharon Carpenter was an untouchable power broker and pillar of St. Louis' old guard politicians.
Dressed in tuxedos and glittering bow ties, Bruce Yampolsky and Terry Garrett ascended St. Louis City Hall's marble staircase to the second floor prepared to do something illegal — a secret operation months in the making.
Garrett, a 56-year-old archivist for the city's Recorder of Deeds office, carried a canvas bag. Inside: two purple yarmulkes, a prayer shawl and a Waterford crystal glass.
"We were given certain instructions," recalls Yampolsky, a 72-year-old former committeeman who now works as a city employee for the Board of Public Service. "Be there at a certain time. Have your own photographer. Have your own judge or clergyperson there."
It was a muggy Wednesday evening in June, and city hall was largely cleared out. So no one saw the two men (or Garrett's mother in a wheelchair) enter the grand downtown structure through a handicap-accessible tunnel. At the door, city marshals allowed them into Mayor Francis Slay's inner sanctum.
Two hours later, Garrett and Yampolsky stood next to a beaming, bespectacled woman with short, sandy blond hair, a bouquet of lilies pinned to her black blouse. This was Garrett's boss, St. Louis' recorder of deeds Sharon Carpenter. Soon, the three were seated at a polished wooden conference table. Garrett and Yampolsky raised their right hands.
"Do you certify that the information you provided is correct to the best of your knowledge and belief, and that you're free to marry under the laws of this state, and not blood related?" Carpenter asked them.
"Yes," both men said.
Garrett and Yampolsky were one of the four same-sex couples married in secret that evening, during a ceremony attended by Mayor Francis Slay; the city's first openly gay alderman, Shane Cohn; Alderwoman Jennifer Florida; and a handful of friends. But Carpenter was the most essential official at those weddings. As the recorder of deeds, only she could issue the marriage licenses. Only her signature could make them valid in the city, though they'd be simultaneously in violation of a Missouri state constitutional amendment. Her office was rarely heard about in the news, but at 72, Carpenter was at that time the longest-serving elected official in St. Louis, a fixture of the city's political scene since the 1960s.
When the news broke the next day, it became Carpenter's most triumphant moment in public office. In one portrait she's seated at the head of the mayor's conference table, surrounded by the four couples as they raised a Champagne toast.
"It is time to make a stand," she said at the press conference announcing the weddings. "This is not a decision I have made lightly, but it is a right that must be defended. St. Louis stands with those who stand for love."
In an editorial titled "HOLY CHUTZPAH," the St. Louis Post-Dispatch praised Slay and Carpenter. The head of Missouri gay-rights group PROMO called Carpenter and Slay "courageous," and during the PrideFest parade, she gleefully waved to the crowds from the front seat of a gleaming red-and-white Studebaker.
So it came as a shock when, just sixteen days later and still in the midst of her victory lap, Carpenter resigned from her position of 34 years for violating the state's nepotism law. But that was just the beginning of her fall from favor.
On July 11, St. Louis circuit attorney Jennifer Joyce
confirmed that Carpenter hired a great-nephew for two summers and a winter between 2010 and 2012 and paid him more than $12,000. This was hardly a Watergate-level revelation, but Carpenter had broken the law. The state's nepotism statute forbids officials from hiring anyone "within the fourth degree" of relation.
In her resignation letter to Slay, she characterized the hiring as an accident: "After this week, I understand that I was wrong and therefore violated the law," she wrote. "Not knowing the law or in my case, incorrectly reading the law does not excuse violation of the law."
But in the same letter, Carpenter also vowed to return to her post: "It is my intention to continue my campaign for election to the Office of Recorder of Deeds. I humbly ask for your continued support of my candidacy."
Thus kicked off one of the strangest St. Louis political campaigns in recent memory, accompanied by a flood of allegations of mismanagement, cronyism and plain laziness in an office that most St. Louisans are barely aware exists. Like the city treasurer, the recorder is an elected position, but it can be filled by the same person for decades, simply coasting on name recognition. The recorder receives a nice paycheck — in 2014, the salary was just shy of $100,000 — and her political allies get jobs.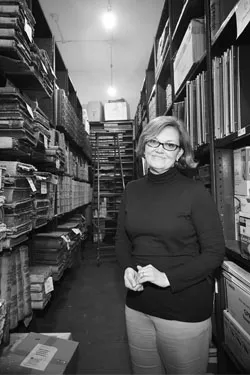 Steve Truesdell
A former 15th Ward alderwoman, Jennifer Florida has bet her political life on beating Sharon Carpenter in the November 5 election for St. Louis' recorder of deeds.
But the office, and its $2.7 million budget, is no longer flying under the radar. On September 22, Governor Jay Nixon requested a state audit. The interim recorder, former alderwoman Jennifer Florida, is asking the city to run another audit on Carpenter's management of her roughly 40 employees. In a letter to the city's personnel director dated September 26, Florida wrote, "the apparent arbitrariness employed in this office in the past regarding employee salaries, promotions, and pay raises has created confusion, unrest and low morale." Accusations run the gamut from allegations that Carpenter smoked in her office, to the charge that she paid a black supervisor less than two recently hired white subordinates.
The situation is growing so messy that 7th Ward alderwoman Phyllis Young proposed a charter amendment to simply eliminate elections for the Recorder of Deeds office, and instead allow the mayor to appoint the position. The bill got its first reading on October 3 and would be presented to voters in April 2015. If passed, it would fold the Recorder of Deeds office into the civil-service system and do away with office's politically infused hiring practices.
"People are getting their positions by getting active in their ward and not what talents they have," says Young. "Somebody's been playing with this office rather than really running it, and they've been playing with it to the benefit of themselves, to the detriment to the city."
The result? An election unlike any Carpenter has ever dealt with — Slay has thrown his weight behind Florida, who filed as an independent candidate for the November 5 general election. It may also be the last time a recorder of deeds is ever elected in St. Louis.
"This is the first time I've dealt with a campaign that was personally targeted," Carpenter tells Riverfront Times in one of several interviews. "But what I've come to learn is they're the minority. The people who know me simply don't believe any of the bad things they say about me. They've known me too long."
---
In the good old days, Marie Ceselski and Sharon Carpenter were friends.
Today, Ceselski is approaching her twentieth year in the recorder's office, now as an archivist. She's also arguably the architect of Carpenter's downfall, having leaked much of the damning information about her boss to city officials, media and Carpenter's political opponents.
"Things had to change," Ceselski says. "We were all little pawns in politics, and there are times when you draw a line and you say, 'Enough's enough.'"
Carpenter first took office in 1980, after the previous recorder died suddenly. She was subsequently elected in 1982, and Ceselski went to work for her in 1994.
"That office was a role model," Ceselski recalls. "Not just for recorders' offices, but other record-keeping offices in the state. The fact that there was an archive department to provide specialized services to researchers — it was a big deal, the first of its kind."
Ceselski recalls the office was more like a family, and Carpenter a type of matriarch.
"You could knock on the door and get an audience if you had something to pitch. During a snowstorm, she would take the city car and she would go and pick up employees who couldn't get to the bus or get across an icy road. Sharon went to every funeral, to every wedding," Ceselski says.
Although she can't pinpoint the exact moment when things started to change for the worse, it might be because the Recorder of Deeds is an odd hybrid institution when it comes to oversight. It's technically a county office that answers to the state but is physically located in St. Louis City Hall. In this way, it existed in its own private dimension with virtually no scrutiny. (The city's treasurer also benefited from this hands-off arrangement for many years, until it was discovered that it had "ghost" employees — people who were paid but never came to work.) And in at least one sense, the work of the recorder is so mundane that one wouldn't expect a great deal of oversight to begin with.
"We're the office that people come to and usually they're in a good mood," says Ceselski. "They're getting married, they just got their first house, they're picking up their kid's birth certificate.... You have to work hard to mess that up. You really do."
Ceselski got a bad taste in her mouth when, she says, Carpenter began pressuring employees on political issues. While the office's hiring practices mimic those of a classic patronage system, the law prohibits any electioneering during work hours. Ceselski showed Riverfront Times a 2012 memo which she says was distributed during work hours inviting all "23rd Ward Job Holders" to a Democratic caucus. The memo's layout is virtually identical to that of regular office memos printed from the Recorder of Deeds computer, down to the format and font — all except the "Recorder of Deeds" header on the top of the page.
Among city-hall staffers, there were a number of other open secrets about Carpenter. The most widespread was that she was rarely in the office. Ward 1 alderwoman Sharon Tyus says she had been using city hall's parking lot for an entire year before seeing Carpenter's vehicle. Tyus says that she was so surprised that she asked Carpenter what she was doing there.
And then there was the smoking.
Ceselski says the office was a smoker's paradise when she arrived in 1994. Ashtrays on desks were as common as coffee cups. But even after a 2009 aldermanic resolution to ban all smoking in public buildings, Carpenter kept smoking in her private office and bathroom.
"I know she smoked in her office, all the time. She'd smoke in the bathroom, too. She wasn't a light smoker," says Harry Kennedy, a former state representative and senator whom Carpenter hired two years ago to run the office's community outreach programs.
Current Recorder of Deeds employees are still nervous after the shakeup. One staffer, who asked that his name not be printed, tells Riverfront Times that Carpenter rarely interacted with her employees except to encourage contributions to her campaign or attendance at her election events. Loyalty was paramount.
"We were all walking on eggshells," the employee says.
Finally, in April, Ceselski started leaking information to Ed McFowland, the 4th ward committeeman who'd just barely hit the filing deadline to run against Carpenter in the August 5 democratic primary for Recorder. It wasn't exactly a slick political operation: McFowland had no money and no name recognition. He entered the race, he says, after Carpenter shot down his requests that she throw some jobs to his constituents in the north-city 4th Ward.
"It was the most blatant disrespect," he says. "That was enough for us to get the message that our best interest was not being served by her."
Ceselski laid out a plan for "creative campaigning," as McFowland now puts it. She told him about the smoking, job attendance issues and nepotism. Then she taught him how to file Sunshine requests. McFowland combed through bank statements belonging to a so-called "technology and preservation" account, which is funded through fees for filing documents. He found that Carpenter was using the fund like a catchall expense account for the office that included $1,000 stays at the Chase Park Plaza, $300 at Hobby Lobby, $2,378 for new rugs, and numerous food purchases.
On June 24 the St. Louis Post-Dispatch ran a story outlining his allegations of nepotism and misuse of the technology and preservation account. The Circuit Attorney's office referred the case to the St. Louis Metropolitan Police Department for investigation, and Carpenter resigned two weeks later.
The day she left, Carpenter penned a political takedown of McFowland on official Recorder of Deeds stationery and sent it to her supporters.
"She was basically campaigning for her job from the Recorder of Deeds Office on Recorder of Deeds stationery," McFowland fumes. He's been demanding that Joyce charge Carpenter criminally. "I mean, what does she have to do here, kill an elephant in city hall?"
Despite his efforts, Carpenter still won 62 percent of the vote to McFowland's 18. She even beat him in his own ward.
Steve Truesdell
Though a practicing Catholic, Sharon Carpenter signed Terry Garrett and Brice Yampolsky's marriage license on June 25.
Jennifer Florida walks into one of four separate storage areas located underneath city hall. This is where St. Louis keeps its history. And it is crumbling.
"Almost a million documents, and these are supposed to be stored and preserved forever," she says. "These collections were abysmal. Atrocious."
Tall shelves hold large books of family records, many with pages visibly shredding beneath ancient, stitched covers. Huge maps peel at the edges, and some of the illustrations have almost entirely faded.
Blond, bespectacled and never without her notebook, the former 15th Ward alderwoman behaves a bit like a real-life version of Amy Poehler's Leslie Knope character in Parks and Recreation. The Recorder of Deeds office was not part of Florida's plans. Mayor Slay asked her to take over after Carpenter resigned. But now that she has the job, she's become obsessed with her "nerdy girl" duties and is mounting a vigorous campaign to stay in the position by winning the November election against Carpenter.
"This whole thing has kind of sucked me in, in a way I didn't expect it to," she says.
Back in her office, Florida slides open a desk drawer. Inside there are stacks of envelopes, rubber bands and stickers bearing the name of Carpenter's 23rd ward.
"This is what I keep finding," she says. "You don't keep your campaign literature in your offices."
In her first week, Florida transferred control of the technology and preservation account to the city treasurer. She also requested the city counselor investigate the office's bidding procedures, including why it paid hundreds of thousands of dollars to companies associated with Jim Treis, deputy chief Peggy Meeker's son (neither of whom responded to repeated requests for comment).
Florida butted heads with Meeker right away. After Florida's appointment, Meeker took a long vacation and then an equally long medical leave. While she was gone, Florida found out that for at least two years, Meeker told employees to use a retired worker's log-in account to access the office's vital records. That constituted a security breach of millions of private documents, such as birth records, death certificates and numerous papers containing Social Security numbers and other personal information. Had she not reported the breach herself, Florida says, the state could have punished the entire office by disconnecting its database to such sensitive records, perhaps indefinitely. When Meeker returned from sick leave in September, Florida fired her.
That same week, the city counselor's office published its audit of the bidding process that paid Meeker's son to renovate the office in 2009 and 2013. The Recorder of Deeds office paid about $250,000 for the two renovations, and the audit says Treis and Meeker hid the fact they were related from the Board of Public Service, which was supposed to act as a middleman between the Recorder of Deeds' Office and contractors. The audit also reports that employees complained that Meeker threatened their jobs if they cooperated with the city counselor's investigation.
"She liked to play people against each other," recalls one staffer. "It was a power thing."
The final paragraphs of the audit describe Meeker actively interfering with the investigation. She asked BPS president if he could "just say" that she had consulted his office during the 2013 bidding process. He declined and advised Meeker to tell the truth.
"Yes, it was common knowledge amongst us that Carpenter had not been coming to work," says Florida. "But I didn't have any knowledge of how things were really operating here."
---
It's a beautiful Saturday morning, and Carpenter is seated at Chris' Pancakes & Dining in south city, her favorite breakfast spot. Her adult son John sits across the table as she corrals eggs and sausage on her plate and chats amiably with the waitress.
Carpenter does not shy away from debating the allegations against her. She contests nearly all of the details and the legal interpretation of city laws that led to her resignation, which she says she did mostly for the good of her employees.
"Basically I'd hoped that I could lessen the stress on the staff," she says. "We were always like a family down there."
Carpenter has lived her entire life in the lap of St. Louis politics. She grew up in the Clifton Heights neighborhood and attended the same south-city parish as Francis Slay Sr. Carpenter says she even babysat for his son, the current mayor.
Despite their long history, she says she was dismayed but not surprised when a week before her resignation Slay told her he was supporting Florida. But she says the withdrawal of his support won't matter.
"I think the citizens should have the right to hire and fire, it's as simple as that. I've trusted them before, and I'll continue that. They'll make their decision in November," she says.
As to why she's determined to take back her old job, Carpenter says many of her supporters were heartbroken that she chose to resign over such a seemingly petty infraction. And there's still so much she wants to accomplish — just weeks before her departure, she says, she finally found a scanner powerful enough to digitize records laminated by archivists in the 1950s, a process that all but destroys the original documents if the plastic is removed. The same scanner will let her finish preserving thousands more marriage documents.
She says she's also become invested in Missouri's progress toward marriage equality. A Catholic, Carpenter says she has no regrets about extending rights to those who deserve them by law.
"I'm glad I did it," she says. "Anytime you discriminate against someone, you discriminate against everyone. And if you follow the New Testament, Jesus didn't totally associate with the righteous, but rather he went to include people that no one else wanted to include. I believe that's the way it is."
She says she's not afraid of the audits, nor of the criticism of her attendance at the office. She says three years ago she took time off to recover from multiple surgeries, and that the gripes about her absence never stopped. She says her husband and children gave her rides to the office, which would account for why so few saw her vehicle in the city parking lot.
"I was there far more than I ever was given credit for," she says.
Meeker is a different story. Carpenter is "disappointed" to read about how her former deputy chief handled the bidding process. She says she hasn't spoken to Meeker in more than a month. If she wins in November, Carpenter says, she has no plans of reinstating Meeker now that Florida has filled that position. However, Carpenter would consider "everyone" if the job were to open up.
"It' a fairly complex position, and you need to be someone from inside the office, someone with experience," she says. "[Meeker] should not have gotten the bids herself, but it was not illegal for her to get them. I knew he was her son, but I had no interest in who got the bid. I wanted the work done."
Carpenter also waves off concerns of her using her Recorder of Deeds office as her base of campaign operations. Things accumulate over 30 years, and she doesn't consider storing mailing material at the office a violation of Missouri's campaign-ethics laws.
In the upcoming November general election, Carpenter insists she's ready for a fight, but she'll take the high road in her campaign against Florida. No mudslinging.
"I'm just going to talk about what has been done," she says. "It's going to be simple. It's the only way I know how to campaign."
---
On the last Tuesday in September, Just John, a gay nightclub in the Grove neighborhood, and local LBGT magazine the Vital Voice held an "informal wedding reception" to thank Slay and the other major players from the June 25 marriage plot. All four couples were in attendance, and Slay cut the first slice from a large white cake.
Just John had hosted a nearly identical party two months earlier, but there was one major difference: On July 25, Carpenter was at Slay's elbow. Last month, it was Florida.
It seems Carpenter is being erased from an important moment in St. Louis' history. City attorneys and Missouri attorney general Chris Koster are still arguing the marriage case in front of a St. Louis circuit court judge, but the case is now called State of Missouri v. Jennifer Florida. The mayor's camp does not want its fight for marriage equality to get bogged down in the political squabble for Carpenter's job.
"Obviously we needed Sharon Carpenter to physically issue the licenses, but the mayor has been talking about marriage equality since 2004,"says Maggie Crane, a spokeswoman for the mayor's office.
Despite her former allies distancing themselves from her, Carpenter is not going to simply step aside.
"What I know is that I know how to record deeds," she says. "I know how to serve citizens, and I know how to build a staff that is the best in all city government. And I like doing that."