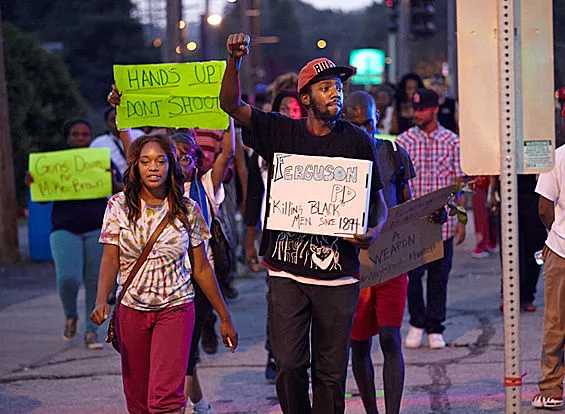 Steve Truesdell via
You might be a Ferguson or Shaw protester if...
The last two months have brought wave after wave of protests and demonstrations to the city of St. Louis. What started as an outpouring of grief and anger over the death of one black teen has grown into a movement known around the world.
But as the protests move from Ferguson to Shaw (to South Grand to political fundraisers to Walmart stores), Daily RFT has noticed a few overlapping consistencies among protesters young and old.
See also: PHOTOS: Ferguson Protesters Hit Rams Game, Steve Stenger Rally, Walmarts: 50+ Arrested
Want to know if you're a *real* Ferguson or Shaw protester? Here are fifteen tell-tale signs:
1. You have someone else's phone number written on your arm.
2. You've asked a stranger to memorize your name and date of birth.
3. You know all the words to the "Indict, convict..." chant.
4. You've peed behind the automated car wash on West Florissant Avenue.
5. You've slept outside on a college campus without being drunk.
6. You've made a fake press pass.
7. You carry Maalox, but you don't get heartburn.
8. You've told someone that you saw the notorious "undercover cop."
9. You'd rather spend money on a phone battery extender pack than on food.
10. You carry milk, but you're lactose intolerant.
11. You're big on UStream.
12. You've asked a cop where his or her name badge is.
13. You've tweeted from inside a police van or ambulance.
Courtesy of Mya Aaten-White
A selfie Mya Aaten-White took in the ambulance on August 12, 2014.

14. You know how to pronounce Osagyefo Sekou.

15. You've signed up for more email newsletters and text alerts in the last two months than you ever have in your life.

Any signs we missed? Let us know in the comments!

Follow Lindsay Toler on Twitter at @StLouisLindsay. E-mail the author at Lindsay.Toler@RiverfrontTimes.com.

Support Local Journalism.
Join the Riverfront Times Press Club

Local journalism is information. Information is power. And we believe everyone deserves access to accurate independent coverage of their community and state. Our readers helped us continue this coverage in 2020, and we are so grateful for the support.

Help us keep this coverage going in 2021. Whether it's a one-time acknowledgement of this article or an ongoing membership pledge, your support goes to local-based reporting from our small but mighty team.

Join the Riverfront Times Club for as little as $5 a month.