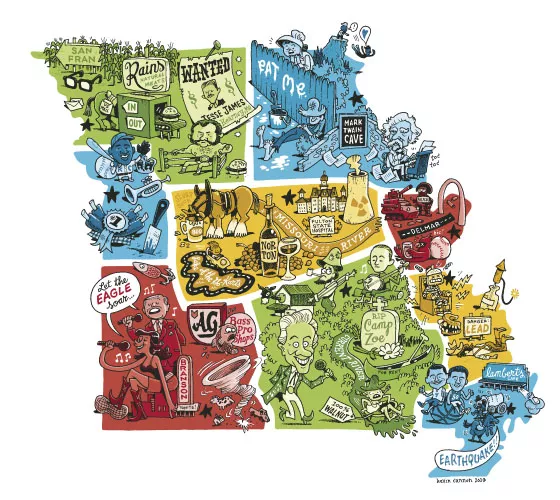 No matter the issue, Missouri has always been labeled as a state of two distinct camps: Yankee vs. Confederate, urban vs. rural, Blue state vs. Red, Calvin pissing on a Ford logo/Calvin pissing on a Chevy logo and — most divisive of all — "Missouri" vs. "Missourah."
In reality, though, the Show-Me State is much more nuanced than these polarizing issues suggest. Missouri is comprised of nine distinct states, each with their individual quirks and hangups that remain bonded together in uneasy harmony because, like mentally imbalanced siblings, they're kin. Dammit. (Also, no neighboring states would want them.)
So here it it is, a scientific breakdown of the true Missouris (or is it Missourahs?) based on geography, culture, politics, demographics and a healthy sprinkling of stereotyping.
Danger Zone CAPITAL: St. Louis OTHER CITIES: Clayton, St. Charles, Ferguson MOTTO: "Hands up, don't shoot!" ATTRIBUTES: The Delmar Divide, half of a gigantic McDonald's sign FAMOUS INHABITANTS: Chuck Berry, Jon Hamm, Phyllis Diller EXPORTS: 'Merican Beer, syphillis, "Hot in Herre" Also known as the Gateway to the West, the inhabitants of this boil on the butt of Missouri got a few miles past the Mississippi River and said, "Screw it. This is west enough." But don't be fooled: While not particularly adventurous, the folks who live here are far from lazy. No, they're busy working to make this the "economic engine" of Missouri and ensuring it routinely lands atop the national listings for segregation, crime, sexually transmitted diseases and obesity. But, hey, who's gonna let that stuff bother them when there's so much Bud Light and baseball to consume?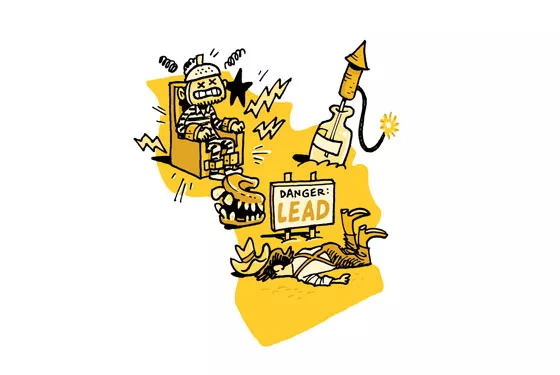 Meth-o-potamia CAPITAL: Crystal City OTHER CITIES: Bonne Terre, Potosi, Cape Girardeau MOTTO: "A thousand-dollar car, it ain't worth shit." ATTRIBUTES: Lead poisoning, cave raves, death row FAMOUS INHABITANTS: Rush Limbaugh, anybody who was executed EXPORTS: Rocks and minerals, bad teeth Just as the land between the Tigris and Euphrates rivers is thought of as the "cradle of civilization," this stretch of land between the Meramec and Mississippi rivers is a fertile valley of its own — especially for meth makers. Few other places in the world have as many meth-lab busts as Missouri's Meth-o-potomia. But that's not all this region has going for it. It's also home to lead mines, countless roadside firework stands (as well as the band the Bottle Rockets) and Missouri's death-row prison. Yes, for an unfortunate few, Meth-o-potamia may not be a favorite place to visit, but it is the last.
Lil' Dixie CAPITAL: New Madrid OTHER CITIES: Sikeston, Kennett, Poplar Bluff MOTTO: "A paradox of rich land and poor people." ATTRIBUTES: Cotton, swamps, klansmen FAMOUS INHABITANTS: Sheryl Crow, Tyler and Ben Hansbrough EXPORTS: Earthquakes, "Throwed Rolls" Though part of Missouri, this land of swamps and cotton fields would fit better in Arkansas — if that state would take it. (It won't.) Lil' Dixie dips so far below the rest of Missouri's border that it was once known as "Lapland" (great strip-joint name, btw) because it "lapped" into Arkansas. Missouri motorists perhaps best know Lil' Dixie as the home of Lambert's Cafe, the restaurant with the ubiquitous highway billboards advertising "throwed rolls." True, the inhabitants of Lil' Dixie may talk a little funny with their curious Southern dialect, but it's not their fault. Actually, their fault is the New Madrid, which in 1811 released an earthquake so powerful the Mississippi River ran backward.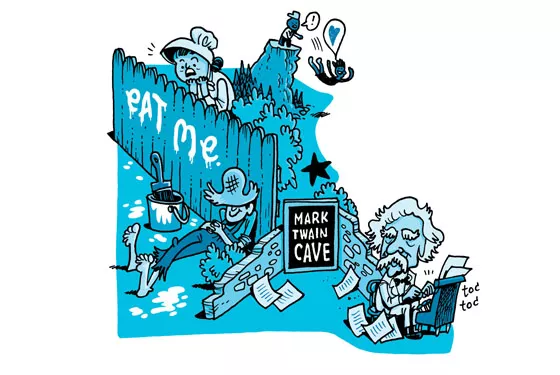 Tom-and-Huck-istan CAPITAL: Hannibal OTHER CITIES: Kirksville, Bowling Green, Moberly MOTTO: "Wanna whitewash a fucking fence?" ATTRIBUTES: Caves, riverboats, lovers' leaps FAMOUS INHABITANTS: Samuel Clemens EXPORTS: Folksy literature, venison, nostalgia "All generalizations are false, including this one." Mark Twain once said that, and it might apply to this description of the birthplace of America's most famous author. Tom-and-Huck-istan is, arguably, about more than just Mark Twain. It's also about deer huntin', soybean growin' and weather systems that (to spin it positively) heighten one's survival skills. But let's face it, 104 years after his death, the people of northeastern Missouri remain most proud of their famous son, who, like the characters in his books, lives on forever here in places such as Becky Thatcher's house, Tom Sawyer's fence and Injun Joe Campground. As Mark Twain also said, "The reports of my death are greatly exaggerated." Nowhere is that more true than the time capsule that is Tom-and-Huck-istan.
Deliverance Country CAPITAL: Cuba OTHER CITIES: Fort Leonard Wood, Rolla, West Plains MOTTO: "Get up in them woods, boy." ATTRIBUTES: Canoe rentals, Meramec Caverns, U.S. Army basic training FAMOUS INHABITANTS: Daniel Woodrell, Dick Van Dyke EXPORTS: Walnut bowls, tick-borne viruses Every state needs a place where the urban masses can get out and experience the idyllic country life. In Deliverance Country, this once meant smoking massive amounts of bud while attending music festivals at Camp Zoe — until the feds came in and ruined it for everyone. Now city slickers get their kicks floating the many streams and rivers in Deliverance while consuming massive amounts of Bud. Just be careful where you pull over your canoe when nature calls. Some of the locals here don't take kindly to outsiders sullying their (as Deliverance's most famous country crooner, Porter Wagoner, once sang) "Green, Green Grass of Home."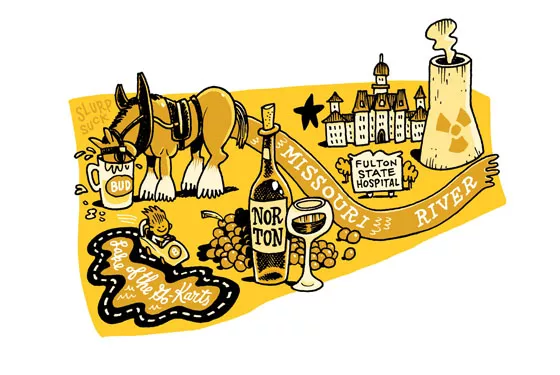 Mizzou-rah CAPITAL: CoMO (Columbia) OTHER CITIES: Jefferson City, Osage Beach, Hermann MOTTO: "S-E-C! S-E-C!" ATTRIBUTES: University of Missouri, Party Cove, wineries FAMOUS INHABITANTS: Norm Stewart, Stan Kroenke, Budweiser Clydesdales EXPORTS: Corn dogs and funnel cakes, lobbyists, body shots Home to the largest concentration of bros in the state, Mizzou-rah is a veritable four-season frat party, be it Tigers football in the fall, political backslappin' in Jeff City each winter and spring or just whoopin' it up at Lake of the Go Karts in the summer. And those few Mizzou-rahfarians who are not bro-y bros are off-kilter — probably because of the region's proximity to Missouri's only nuclear reactor, its largest (and oldest) mental hospital and the state fairgrounds where deep-fried Oreos pass as "brain food."
Kitschy Korner CAPITAL: Branson OTHER CITIES: Joplin, Springfield MOTTO: "What a country!" ATTRIBUTES: Over-the-hill entertainers, Precious Moments Chapel, Bass Pro Shop FAMOUS INHABITANTS: George Washington Carver, Yakov Smirnoff, John Ashcroft EXPORTS: Fishing tackle, Bible thumpers, tornadoes This is not the land that time forgot, but rather the land that willfully forgot time. Here in the Kitschy Korner of Missouri, residents live out their lives pretending it's any decade of American history prior to when the entire nation went to pot (a.k.a. the 1960s). So it is here in southwestern Missouri you can pretend it's the late 1800s at Silver Dollar City or the Rockwellian post-World War II years along Branson's main drag where, incidentally, most of the performers and the tourists hit their stride in the 1950s.
Cornlandia CAPITAL: St. Joseph OTHER CITIES: Chillicothe, Maryville MOTTO: "Only ten days to San Francisco by horseback." ATTRIBUTES: Windfarms, displaced cornhuskers, bad guys FAMOUS INHABITANTS: Walter Cronkite, Jesse James, Eminem EXPORTS: Corns No other place in Missouri blows as hard as Cornlandia. Proof of that are all the windmills tucked in this northwest corner of the state that, with its abundant cornfields, can easily be mistaken for its western neighbors Kansas and Nebraska. Speaking of which, no other area of Missouri boasts more Western lore than Cornlandia. As the Wrangler-wearing locals will tell ya, this is "where the Pony Express started and Jesse James ended." For a time last year, Cornlandia was also slated to be the place where the pony ended. Then Congress de-funded money to pay for a proposed horse-slaughtering plant. Cornlandia is also home to the city with the best name in Missouri, Quitman, which happens to be the hometown of Harley Race — a wrestler who never quit, man.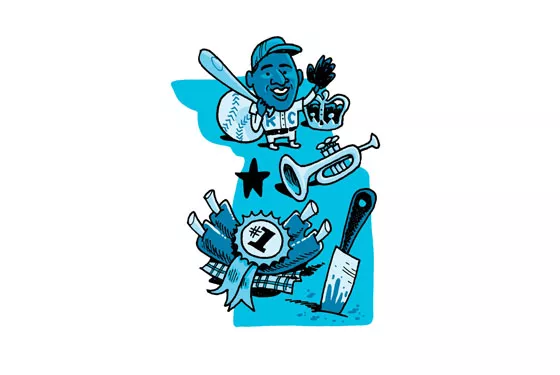 Paris of the Plains CAPITAL: Kansas City OTHER CITIES: Independence, Raytown MOTTO: "Hey, we're as good as St. Louis!" ATTRIBUTES: World's largest water slide, the Negro Leagues Baseball Museum, corporate entertainment districts FAMOUS INHABITANTS: George Brett, Harry S. Truman EXPORTS: Jazz (questionable), World's Best Barbecue (Memphis, Texas and Carolina might argue), greeting cards, serial killers
We're actually not sure why Kansas City is called the Paris of the Plains, but one thing we know is this: It finally got its Eiffel Tower this summer with the completion of the world's largest water slide* that had the local "Parisians" queuing up like cattle for a chance to shoot the luge. Speaking of cattle, there's nothing the locals like here more than slathering some barbecue sauce on a big slab of beef in this ol' cow town. But, shhh, please don't refer to Paris of the Plains as anything but cosmopolitan. The folks here have a tremendous chip on their shoulder-steak filets.
*Which is technically in Kansas.