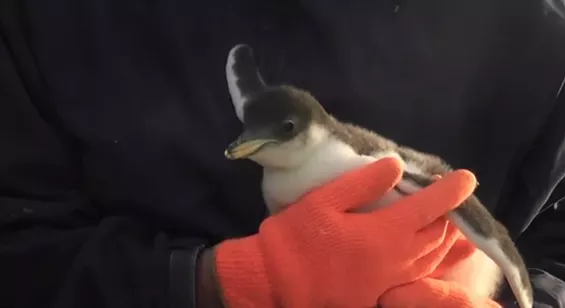 All images via YouTube
Meet Oshie, a baby Gentoo penguin at the Saint Louis Zoo.
The Saint Louis Zoo knows you miss the penguins.
Penguin and Puffin Coast is under construction, and unless you want to watch the zoo's penguin webcam or shell out $50 a head for a backstage tour (like the one Newt Gingrich went on, with hilarious results), St. Louis' penguin and puffin lovers are out of luck until next spring.
But just because they're not on display doesn't mean the penguins of the Saint Louis Zoo aren't doing wonderful, adorable things. Take Oshie, the Gentoo penguin born last December and named after St. Louis Blues favorite T.J. Oshie.
See also: Saint Louis Zoo Penguin and Puffin Coast: Last Look at Exhibit Until 2015 (PHOTOS)
In a video released by the zoo, bird keeper Frank Fischer explains what it's like to grow up as a penguin in St. Louis. Here are five of the best moments from Oshie's short life so far:
1. The time he outgrew cuddling for warmth.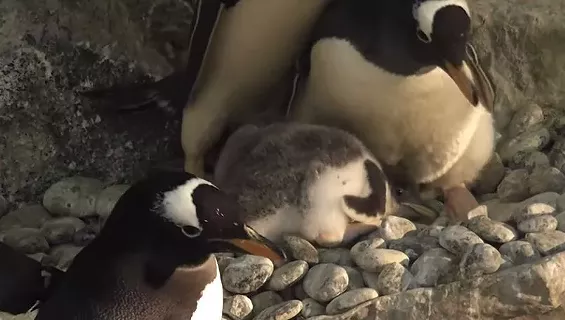 You're a little big to fit under there, Oshie.
Penguins snuggle under their parents for warmth...until they get too big. We think you might be pushing it here, Oshie.
2. Learning to eat fish on his first try.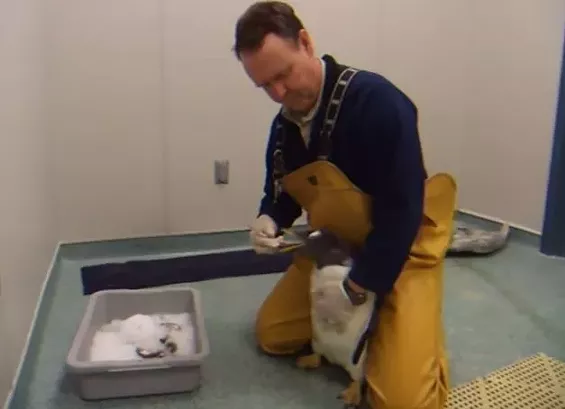 In order to join the rest of the adult penguins, Oshie had to learn to eat fish from a bird keeper's hand. Unsurprisingly, this bright little penguin gets it right immediately.
3. Jumping feet-first into swimming lessons.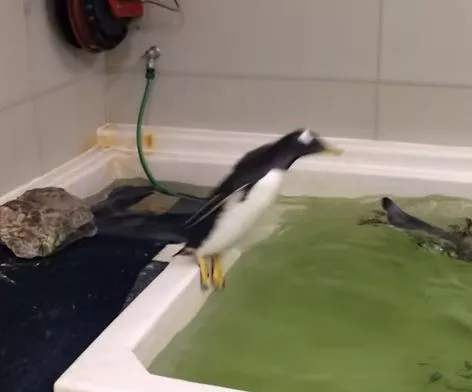 Four magellanic penguins were "in charge" of teaching baby Oshie to swim. He doesn't quite get it at first, jumping in feet first instead of with a graceful penguin dive.
4. Meeting his mentor.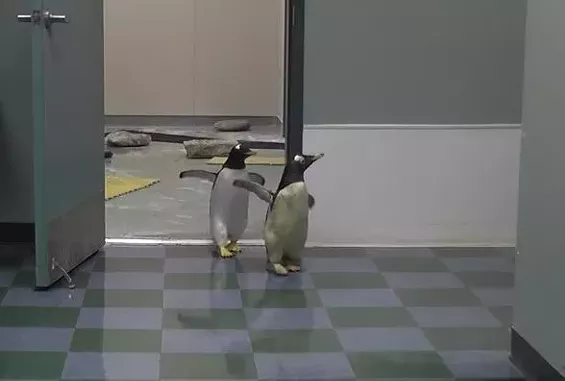 Everybody needs a mentor. Oshie's is Crash, who's been teaching Oshie the ropes, Fischer says.
5. Joining the rest of the penguins.
That's Oshie looking straight at the camera.
Oshie lets loose a thunderous yell when he gets to join the rest of the adult penguins in the zoo exhibit.
Watch the video in full here:
Follow Lindsay Toler on Twitter at @StLouisLindsay. E-mail the author at Lindsay.Toler@RiverfrontTimes.com.