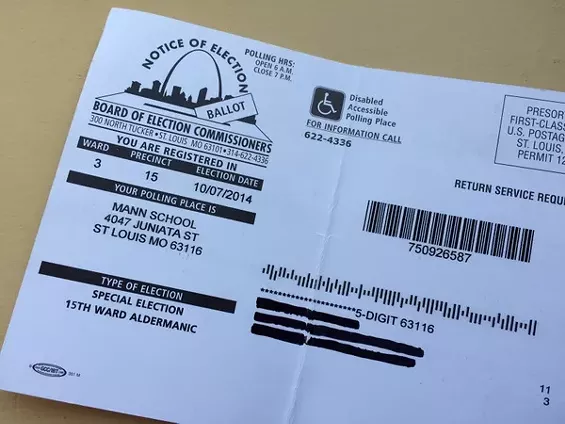 Lindsay Toler
That should say, "Ward 15 Precinct 3."
Tower Grove South voters are preparing for a special election next week to replace Alderman Jennifer Florida, who left the board to become the city's recorder of deeds.
There's just one problem: The voter notice cards sent by the board of elections keep coming out wrong.
The first goof was just a little mix-up. The cards originally sent to registered 15th ward voters transposed the ward and precinct numbers -- a detail some voters may not have even noticed. But because only residents of the 15th ward can vote, a card that tells voters they're in the 1st, 2nd or 3rd ward is pretty confusing.
See also: Alderman Florida Takes Charge After Recorder of Deeds Resigns Over Nepotism Claims
"So when we discovered [the cards were wrong], we thought, 'Well, we probably better send out a corrected card,'" says Gary Stoff, Republican director at the board of elections. "What they were supposed to do was, the very same mailing, reverse the ward and precinct numbers and then put at the bottom in red ink a correction -- which they sort of did."
By "sort of," Stoff means the printing vendor, Mulligan Printing, did as the board of elections asked but then added some brand-new, even more confusing errors.
"We're not quite sure how they did that," Stoff says. "They've never done anything like that before."
The printers used copy from a card about a different special election for the correction card to the 15th ward. The card said the election, which will be October 7, was scheduled for April. Stoff says he's not sure how the switcheroo happened, though the board of elections does finalize proofs for all mailers.
"It's an embarrassment, and it's certainly confusing to those who received what will now be a third card," says Stoff, adding that he's never seen anything like this in the thirteen years he's worked with the board of elections. "How the second mailing got completely mixed up is sort of beyond all of us."
Mulligan Printing says it will pay for the second and, now, third corrected cards mailed to Tower Grove voters.
"The vendor is embarrassed as well," Stoff says. "They're stepping up to the plate, we've corrected the problem, and it's not going to cause the taxpayers any additional money. It's never happened before, and we've used this company for a number of years."
Stoff said board of elections officials drove to the printers to order the third round of (hopefully) accurate mailers, which should arrive this week.
"This one is going to have the correct information about the 15th ward special election, and it will contain in red ink a notation that says: 'Final correction, ignore prior cards, use this card,'" Stoff says.
"We all learned a valuable lesson to make sure it's right before it goes out."
Follow Lindsay Toler on Twitter at @StLouisLindsay. E-mail the author at Lindsay.Toler@RiverfrontTimes.com.