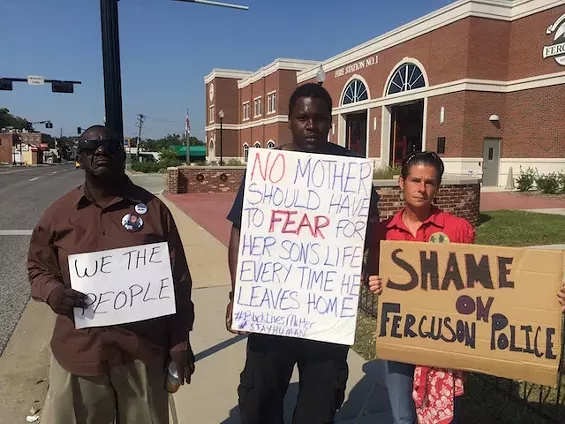 Mitch Ryals
Angelique Kidd (right) in front of the Ferguson Police Department two days before she was arrested and charged with failure to disperse and resisting arrest.
Angelique Kidd has learned her lesson.
"When you're at a protest and someone starts saying, 'Link arms,' don't do it," she says.
Kidd was one of the eight people arrested in Ferguson Sunday night in a move protesters compared to a hostage negotiation. Police said as long as protesters didn't enter the street or break the 11 p.m. noise ordinance, all eight people arrested, including Kidd, would be released without bond.
The rest of Sunday night's quieted-down protests were broadcast by journalists and live-streamers, so we reached out to Kidd to find out what happened to the eight people who waited the protest out in jail.
The Ferguson librarian maintains a chipper disposition Monday afternoon while holding a sign reading "Shame on Ferguson Police" near the spot where she was arrested only fifteen hours earlier. Her nine-year-old daughter, Irene, sits in a chair next to her, playing games on a tablet.
Kidd, who moved to Ferguson from Texas eleven years ago with her husband and two kids, has held a sign in front of the Ferguson Police Department almost every day since Michael Brown's death. She usually goes home at night, but after tensions between police and protesters escalated this past weekend, she felt she needed to check out the nighttime scene on Sunday.
As darkness settled over Ferguson and the crowd of protesters swelled, a line of police officers stood in the middle of South Florissant Road between the Ferguson Police Department and Andy Wurm's Tire and Wheel. The protesters inched from the curb onto the street after police asked them multiple times to stay on the sidewalk.
"I linked arms with the people on either side of me, and then there was a call to push forward, so a bunch of people, including me, stepped off the sidewalk," says Kidd. "And then the cops started coming toward us."
Kidd says the person to her right let go of her arm, but the person to the left held on. She tried to step back onto the sidewalk but was yanked forward onto the street. She tried again to step back onto the curb, but it was too late -- an officer already had her by the wrist. Later, the officer told her the second attempt to step onto the sidewalk was considered resisting arrest, even though she walked with him across the street peacefully.
"No guy physically touched me other than on the wrist," she says. "I did ask the lieutenant, 'Sir, is it necessary for you to be squeezing my wrist so tightly?' It wasn't abuse, but it was obvious he was being a dick."
See also: ACLU: Police Used "Five Second Rule" to Arrest Ferguson Protesters at Random
Kidd and seven other arrestees, three women and four men, sat in the back of the crowded paddy wagon for hours before being transported to the St. Ann jail. The mood inside the steamy van was easy-going considering the circumstances. They talked about their experience with police, gardening (three of the women maintain community gardens, Kidd's is in Ferguson), and how one of the men kept lighting a cigarettes when his hands were cuffed behind his back.
"Every time I looked over, he had a new cigarette lit in his mouth," Kidd says. "I don't know how he did it."
The ride to the St. Ann jail was a little bumpy and, in Kidd's opinion, unsafe because there were no seat belts in the paddy wagon. Inside the jail, the first thing Kidd noticed was the smell of freshly laundered blankets and sheets as they tumbled in the dryers near the entrance.
"Their blankets smell really good," she says. "All their stuff was pretty clean, and the women who patted us down were really polite. Kudos to St. Ann."
See also: Independent Journalist in Ferguson Gets Equipment Robbed While Sitting in Jail
She says the men and women were separated into different rooms upon arrival and told to strip down to their underwear, "bra off and everything. It was dehumanizing," she says. Then they put on orange jump suits and posed for a mugshot. The cell was a big concrete room with a toilet in the corner. Five other women already in the cell were playing cards and joking around.
"There's a toilet and no door, which is fine except there's a camera right there that can view everything," Kidd says. "But the women that were there were super cool. One of them was like, 'Oh, I got you,' and held a blanket up for me to pee."
After a few hours, each person was allowed to put their clothes back on and gather their belongings. Everyone who was arrested Sunday night was given a summons to appear in court instead of paying a $1,000 bond. They got back to Ferguson around 2 a.m., and by then, the majority of the crowd was gone.
When she got home around 2:30 a.m., she stayed glued to social-media and live-stream feeds of portions of the night she missed while in jail. She didn't go to bed until 4 a.m..
Kidd was charged with resisting arrest and failure to disperse. In the meantime, her arrest does not appear to have quashed her dedication to protesting the shooting of Michael Brown.
Follow Mitch Ryals on Twitter at @mitchryals. E-mail the author at Mitch.Ryals@RiverfrontTimes.com.