Ray Downs
Several clergy members kneel down in prayer in front of the Ferguson Police Department.
Protesters gathered in front of the Ferguson Police Department again Monday night, refusing to move from the street, despite warnings from the police that they would be arrested. But after Missouri Highway Patrol Captain Ron Johnson arrived on the scene, police largely held back, and only one man -- a pastor -- was arrested after a night where several clergy members came out to support the Ferguson protesters.
Reverend Osagyefo Uhuru Sekou, a St. Louis native who is the pastor at the First Baptist Church in Boston, was arrested for "failure to disperse" after he knelt down to pray in front of the police station in an act of civil disobedience.
The arrest came not long after several clergy members knelt down to pray in front of the police station with protesters behind them. Some protesters joined in prayer and hymns. Several police officers looked on as one warned protesters and clergy to move onto the sidewalk or face arrest.
Many protesters and clergy thought a mass arrest would ensue, but police restrained any action at first. After the group prayer, Sekou returned to pray, and police handcuffed him and held him in a van for a few hours.
Upon his release at approximately 1 a.m., Sekou told Daily RFT why he did what he did, knowing that arrest was a likely outcome.
"It's a juxtaposition of a clergy member being arrested for praying at the police station versus one praying for the police in these instances where clergy have been complicit with the empire," he said. "And what we find now is that these clergy that are out here are committed to standing with young people, calling out police brutality and being deeply committed to ensuring that Mike Brown gets justice."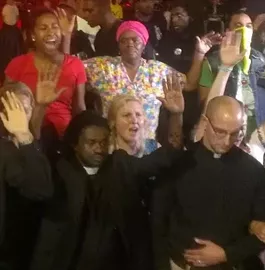 The presence of the clergy at Monday night's protest had mixed reactions from protesters. Some wondered where they have been since the beginning of the protests that erupted after Michael Brown was shot and killed by a police officer in August.
"This is my first time seeing the clergy response out here. It really didn't mean anything to me," said protester Adrian Hubbard. He added that he suspected the clergy was trying to take advantage of something that has gained national attention. See also: Ferguson Protesters, Including the Lost Voices, Get Kicked Out of Protest Sites
"A lot of people have an agenda, lot of people out here for PR purposes," he said. "The police are reacting a certain way because of PR purposes -- they're desperate for good PR. The clergy response here is definitely out here for good PR and photo ops."
But others were glad the clergy were present and said that their presence had a cooling effect on some of the more emotional protesters.
"A lot of the protesters aren't appreciative as they should be because the clergy is trying to keep the peace and some of the protesters are not because they're trying to agitate the situation," said protester Aja Johnson."Some of them don't like the clergy because it goes against their message."
She added: "I just think the man who led the prayer, the way he seemed truly anointed, so I'm thinking God led them out here."
The man she was talking about was Reverend Sekou, who led the group prayer before eventually getting arrested. Hours later when he was let go, the protest had dwindled down to just a few dozen protesters with police largely held back, leaning against vehicles.
But in the hours before, tensions were high as a large group of protesters refused to move from the street, arms locked, and in defiance of the police who warned them they would be arrested if they didn't move back to the sidewalk.
As police formed a standoff line, some wearing riot gear, almost all holding batons, the protesters became more adamant. Tensions increased when three gunshots were heard in the vicinity from about a block away. At that point, police moved back slightly but protesters remained in the street.
Some protesters were blaming police for the gunshots, claiming it was a setup. At one point, a man who many protesters claimed had either fired the shots or was somehow involved, walked through the crowd of protesters and appeared to be antagonizing them.
"Arrest him!" yelled one female protester to the police.
Another man with a camera attempted to film the apparent antagonizer, but was physically threatened if he did not cease recording. The cameraman did not object.
Police soon moved back into standoff formation and tensions again rose. Police blocked off the street corners and protesters on bikes who had been circling the area warned other protesters of police hiding behind buildings ready to come out and make arrests.
"We are not animals!" yelled a female protester. "You do not need a rifle to lock up peaceful protesters! You do not need riot gear or sticks to lock up peaceful protesters!"
But the tense moment loosened when Captain Ron Johnson arrived and ordered the officers to move back.
Protesters cheered and shouted, "This is what democracy looks like!"
Click on the next page for more about the protest with videos...
Johnson then addressed protesters. He stressed that he was not in charge of the Ferguson Police Department and that he agreed with protesters about some of their demands, but did not elaborate on that. He also said that he had just learned of the so-called "Five Second Rule," which St. Louis County police implemented and used at times during the first two weeks of the protest which allowed them to arrest protesters for standing still on the sidewalk.
The "rule" was challenged as unconstitutional by the American Civil Liberties Union of Eastern Missouri Monday afternoon.
Johnson also told protesters that he would like to speak to them more about their demands and enacting changes in the police system.
See also: Gun Incident at Faraci Pizza Leads to Confrontations with Protesters
"I want to hear what you have to say. All these meetings I've been going to, I've been saying that the problem is that you guys aren't sitting in the meeting," Johnson said. "The only people who are at the meetings are the people in suits and ties, people that don't live in this community, people that never lived in this community, people that don't have the issues that we're protesting about."
Johnson stressed that he would make an effort to speak to protesters and community members more directly and even said, "I've actually been trying to find out where you all meet."
Several protesters replied: "Right here!"
Moments later, a protester who gave her name as Shyrene pleaded for a chance to be able to talk to Johnson. The highway patrol captain then took down her number and promised he would be in touch.
"I want to talk to my city council people. I want to talk to my mayor. I just want to talk to them," Shyrene told Daily RFT after her encounter with Johnson. "I live in Ferguson, and I want to talk to the right people."
See also: Independent Journalist in Ferguson Gets Equipment Robbed While Sitting in Jail
Many protesters said Johnson's arrival had a positive, calming effect on a night when tensions seemed to be rising between protesters and police. Indeed, police held back after his arrival, which led to less shouting from protesters.
"That he came out here and talked to protesters and actually listened -- that's powerful," said Deray McKesson, a Minneapolis resident who has been active in Ferguson protests and was back in town to testify at the ACLU hearing on the "five second rule."
But the trust between police and protesters is still in dire straits, and not everyone was cooed by Johnson's arrival.
"He needs to go home," said protester Steven Wash. "His best thing is just to stay home, and let the people do what they want to do."
And fellow protester Brianna Richardson said that even if Johnson meant his words, that won't lead to any action.
"That might be who he is, but in the system and infrastructure he works in, that won't resonate -- it's not gonna happen," she said. "I don't care what you say -- you can't do anything because the system will not let you. And that's where we're at."
Follow Ray Downs on Twitter:
E-mail him at Ray.Downs@RiverfrontTimes.com.