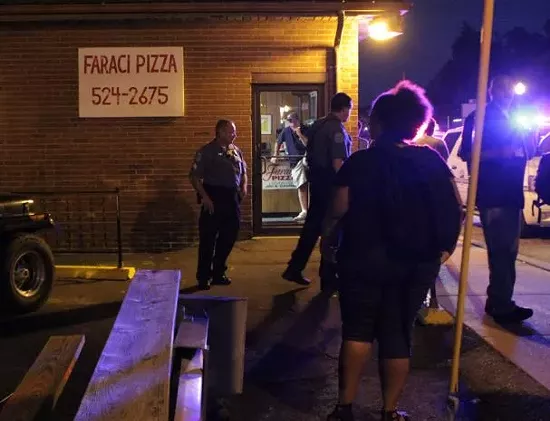 Danny Wicentowski
Protesters claim the owner of Faraci Pizza pointed a gun at them Thursday night, but the restaurant owner's wife says that's a lie.
Tensions spiked in Ferguson this weekend following two officer-involved shootings Saturday night and early Sunday morning. However, the earliest signs of trouble perhaps began at Faraci Pizza, a few blocks south of the Ferguson police headquarters on South Florissant Avenue
When Daily RFT arrived at Faraci Pizza around 6:30 p.m. Saturday, the pizza joint was being guarded by two police cruisers and officers near the door. Protesters chanted about "racist pizza" and demanded the officers investigate Jim Marshall, the eatery's owner. Many protesters claimed Marshall had pulled a gun on a group of non-violent demonstrators on Thursday night.
But Marshall's wife, Dawne, tells Daily RFT the protesters have it all wrong: She says her husband was afraid for his safety, so he cocked a pistol and placed it in his pocket while inside the store. She says he never aimed the weapon at anybody. She also says their business has endured days of harassment over a "lie that went wildfire" on social media.
Click here for RFT's complete coverage from Ferguson.
Here's a (very small) sampling of what's being said about Faraci Pizza on Twitter.
We interviewed Dawne Marshall Sunday night. A few hours before she'd discovered three scorched patches of sidewalk and broken glass outside the store, the result of what she believes were Molotov cocktails that rolled off the restaurant's sloped roof. (See update and police report on next page.)
She said her husband was still "too upset" to talk about the Thursday incident. The problems began that night when a large group of protesters marched on the street outside the store while shouting things like "Hands up, don't shoot!"
Dawne said her husband confronted the protesters after hearing them chant, "Shut it down!"
"So they were purposely trying to shut down businesses," she said. "When they got down here in front of our place, my husband told them they need to get out of the street, quit trying to block businesses. Well, they started surrounding him. I'm sure there were cuss words thrown back and forth, and when we finally got my husband back in here they were all at my windows, pointing at my husband and saying, 'We're going to get you.'"
"So," she continued, "he went over and grabbed a handgun. He cocked it, but he put it in his pocket."
Dawne said her husband didn't venture back outside that night, and did not point his handgun at anyone. After police arrived and the crowd dispersed, they drove home, she said.
But protesters claim they saw Jim Marshall pocket the gun. A live-streamed video from that night shows police responding to a disturbance at the restaurant while people surround store.
At the 1:25 mark the video shows Jim Marshall putting something in his left pocket, and someone yells, "He got a gun!"
See also: Ferguson Police Officer Shot Away From Protest Area, Suspect Still At Large [UPDATE]
However, Daily RFT has not yet seen photos or videos that actually show Jim Marshall brandishing a gun anywhere outside Faraci Pizza. There's also some inconsistency among the protesters' accounts of the incident; some told us he came out to the street holding a shotgun, while others said he was holding a pistol.
In any case, the video and resulting social media explosion turned Faraci Pizza into a target. On Saturday the restaurant received a flood of fake pizza orders over the phone. Dawne eventually took the phone off the hook, but she said her "good customers" showed up to demonstrate their support for the restaurant.
One of those customers, however, arrived with an "I am Darren Wilson" sign, which nearly started a brawl between him and a group of protesters gathered near the front door.
Continue for photos and video of the showdown at Faraci Pizza between a Darren Wilson supporter and Ferguson protesters.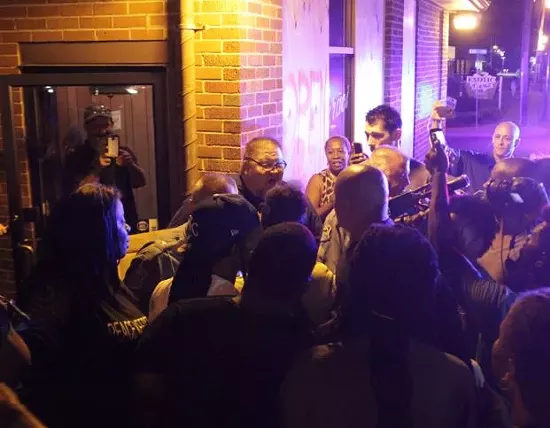 Danny Wicentowski
Cops put themselves between a Darren Wilson supporter and Michael Brown protesters.
See also: Businesses Damaged, Protesters Arrested in Ferguson After Michael Brown Memorial Burns
Police officers moved between the man (who was using a walker) and the crowd, which began chanting "Arrest him for assault!" after he allegedly pushed a female protester. The man shouted back, "Bring it! Come on!"
After a few minutes, police arrested the man and led him away. A cameraman from RuptlyTV captured the showdown:
"We didn't know he was coming with that sign," Dawne said. " He actually came in, ordered his pizzas that he was going to take home with him to his family. Then he says, 'I'm going to go wait outside,' and the next thing I knew he had the sign on his walker."
"He's been a customer here forever," she added. "I think he was just angry at what they were doing to us."
The social media attacks on Faraci Pizza continued over the weekend. Twitter users retweeted the allegations, and the restaurant's Yelp! page now features a handful of one-star reviews, including one that reads, "The owner assaulted a peaceful protester saying 'I am Darren Wilson' and will no longer allow black patrons into the restaurant. Has also pulled a gun on innocent people."
Courtesy of Dawne Marhsall
A photo of the aftermath of an alleged Molotov cocktail attack on Faraci Pizza, taken before police cleaned up the scene.
Business at Faraci Pizza is still good, and customers "came out in droves" on Friday night to show support, Dawne said. The Marshalls have owned the shop for eighteen years.
"We love our community," she said. "We grew up here, we're both graduates of McCluer High School. We are not a racist place. I'd like to tell the protesters that this young man that was killed has gotten lost in all the craziness. We need to get back to what's really going on here and quit trying to shut down the small businesses. We're just here to support our families and make a living."
See also: The Mayor Cares About Black People and 17 Other Clarifications from Ferguson City Council [UPDATE]
As it stands, the situation between Faraci Pizza, -- a staple of the Ferguson community for decades -- and the protesters is as messy as they come. Protesters on the ground and on the web maintain Jim Marshall pulled a weapon on harmless bystanders, and they perceive the restaurant as a symbol for the racist entitlement and systemic inequalities facing minorities in north county St. Louis.
The pizza joint's windows are now boarded up, and Dawne told Daily RFT that she filed a police report after finding shattered glass and sections of charred sidewalk that still smell of fuel. She said the police collected the glass but could not lift any fingerprints.
"We're here to serve the community," Dawne said with tears in her eyes. "That's all we want to do, to be given the opportunity to serve our community. We have worked our rear ends off to get to where we are, and if we were racist we would have picked a different community to put our business in."
And readers: If you witnessed the incident at Faraci Pizza on Thursday night, or if you have video or photos that you believe add clarity to what occurred, feel free to drop us an email at the address listed below.
Daily RFT has reached out to the Ferguson police department for information on the Thursday night incident, as well as the alleged Molotov cocktail attack on Faraci Pizza that took place at some point early Sunday morning. We'll update the story if we hear back.
Update 2 p.m. Wednesday: We submitted a Sunshine Request to the Ferguson Police Department asking for any reports from Thursday night describing the incident at Faraci Pizza. City clerk Megan Asikaninen responded that no records are available that are related to our request.
We also reached out to Ferguson police spokesman Tim Zoll, who said he can't confirm any details of that night since there were no calls for service from that location at that time, and therefore no police reports was written up.
Update 12 p.m.: The Ferguson Police Department sent us a copy of the incident report describing the remains of a molotov cocktail attack against Faraci Pizza yesterday. The officer writes that he found the remains of two bottles, one which still had part of a paper wick inside the neck.
Here's the full text of the officer's incident report.
I responded to 520 South Florrisant road, (Faraci Pizza) in reference to, two molotov cocktails that were discovered on the side of the business. Upon my arrival I made contact with one of the store owners (Dawne). Dawne informed me that she was checking the outside of her business to ensure that the protesters did not cause property damage. Dawne located two broken bottles within five feet of each, laying on the pavement of her property. The bottles were located on the southwest corner. The bottles were both charred as if they were set on fire, and had paper wick located inside of the neck of one of the bottles. The ground where the bottles had been smashed was completely charred as if it was on fire at some point. Dawne informed me that her business had been targeted by the protesters and feels that they were thrown at her business to threaten her. I seized as many pieces of glass bottles that I could for evidence and transported them to each station. The glass shards were properly packaged and place into evidence. There are no suspects or witnesses at this time.
Follow Danny Wicentowski on Twitter at @D_Towski. E-mail the author at Danny.Wicentowski@RiverfrontTimes.com