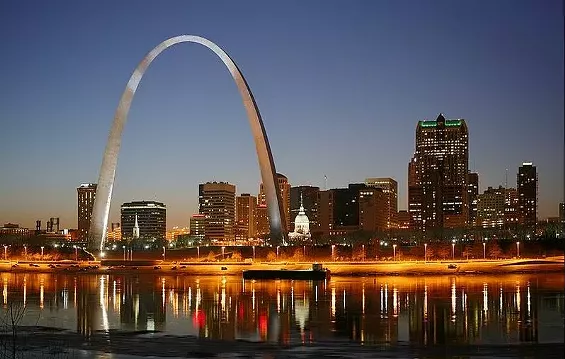 That the St. Louis area is heavily segregated is not necessarily news. But a new study details how that segregation plays out and how racial inequality in St. Louis compares to other cities around the country.
Where We Stand, a study conducted by the East West Gateway Council of Governments, found the St. Louis metropolitan area is the sixth-most segregated area in the country based on several social, economic, and health factors. For St. Louis, the study focused almost exclusively on black and white populations, due to low numbers of other race populations.
The five-most segregated areas, in order, are Milwuakee, New York, Chicago, Detroit, and Cleveland.
A major factor in the study was the disparity in education. Overall, St. Louis ranks 18th in high school diploma attainment, but blacks are twice as likely than whites to not have a high school diploma. That trend continues onto college, with 17 percent of blacks having a Bachelor's degree, compared to 33 percent of whites.
Jobs and income were major factors in the study. Blacks are almost as likely to be in the labor force as whites (62.6 and 66.9 percent, respectively), but they are more than twice as likely to be unemployed (12.7 percent to 5.1 percent).
St. Louis ranks fourth in the nation in black to white unemployment rates, with 2.5 unemployed black people for every unemployed white person. That's fourth in the nation, behind only Milwaukee, Minneapolis, and Washington D.C.
With lower job rates, it naturally follows that lower income and higher poverty affects the black population in St. Louis at a more substantial rate than the white population. And that difference has actually worsened over the past 30 years.
Over the past twelve years, income levels have dropped for blacks, as well as whites. But white median income has remained close to twice that of black median income, and the disparity has risen slightly over the past three decades.
In this category, St. Louis ranks eighth in the nation.
Furthermore, black families are 3.2 times more likely than white families to be in poverty. According to the writers of the report, the disparity in poverty rates between whites and blacks was one of the most significant they found.
"In the St. Louis region, 9 percent of white families have income below the poverty level while about one-third of black families have income below the poverty threshold," according to the study.
Infant mortality was also significant in how different the rates affect black populations as opposed to whites. St. Louis ranks third in infant mortality differences between the two races, with 15.8 deaths per 1,000 births for blacks, and 4.3 per 1,000 births for whites. Only Charlotte and Portland were worse in this statistic.
Interestingly, Kansas City had the lowest racial disparity in infant mortality with a rating of 1.8 black infant deaths for every white infant death. Its white infant mortality rate is higher than St. Louis with 6.9 per every 1,000.
As for what to do to improve the quality of life for everybody in St. Louis, the study points to recommendations made earlier this year in another study, For the Sake of All. That study, which was conducted by Wash U:
• Invest in quality early childhood development for all children. • Help low-to-moderate income families create economic opportunities. • Invest in coordinated school health programs for all students. • Invest in mental health awareness, screening, treatment, and surveillance. • Invest in quality neighborhoods for all in St. Louis. • Coordinate and expand chronic and infectious disease prevention and management
Follow Ray Downs on Twitter:
E-mail him at Ray.Downs@RiverfrontTimes.com.