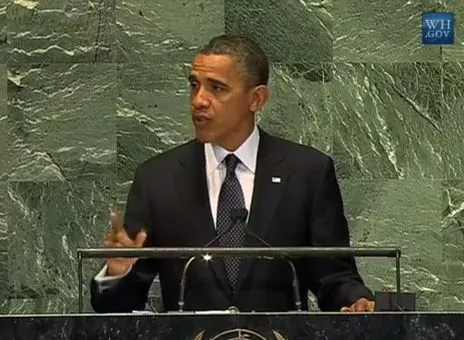 President Barack Obama gives his annual address to the United Nations General Assembly.
Reading international news has been uniquely terrifying lately: The Islamic State militant group grows stronger, richer and more determined by the day. The Ebola epidemic in West Africa could infect more than a million people. Russia just can't leave Ukraine alone.
We expected to hear about ISIL, Ebola and Vladimir Putin during President Barack Obama's annual address to the United Nations General Assembly Wednesday morning. What we didn't expect was his mention of Ferguson, a St. Louis suburb almost completely unknown internationally until violence erupted there last month after the police shooting of an unarmed black teen.
In a speech about the importance of uniting to face a global enemy, Obama used Ferguson as an example of America's fallibility, noting that Americans -- like Sunnis and Shiites, like Ukrainians and Russian rebels, like health care workers and African villagers -- are divided by race, ethnicity and culture, sometimes in ways that lead to conflict and violence.
Read all Riverfront Times coverage about Michael Brown and Ferguson.
Here's what he said about Ferguson:
I realize that America's critics will be quick to point out that at times we too have failed to live up to our ideals; that America has plenty of problems within our own borders. This is true. In a summer marked by instability in the Middle East and Eastern Europe, I know the world also took notice of the small American city of Ferguson, Missouri -- where a young man was killed, and a community was divided. So yes, we have our own racial and ethnic tensions. And like every country, we continually wrestle with how to reconcile the vast changes wrought by globalization and greater diversity with the traditions that we hold dear.
Click here to read Obama's full annual speech to the U.N.
Follow Lindsay Toler on Twitter at @StLouisLindsay. E-mail the author at Lindsay.Toler@RiverfrontTimes.com.