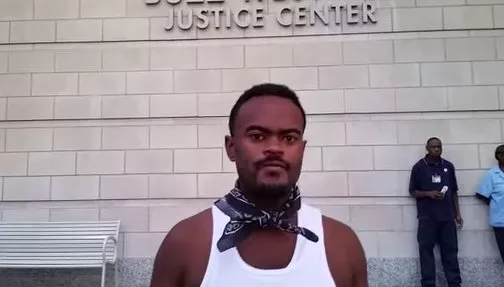 Screengrab from YouTube user Umar Lee
Talal Ahmed says St. Louis County police shot his dog.
Talal Ahmed says he was just trying to get home one night last month during the height of the Ferguson protests.
He was riding his bike through the Family Dollar parking lot across the street from his house in Jennings, located just blocks away from the apartments where Michael Brown was shot and killed by a Ferguson police officer, when he was stopped by four cops.
"'Get the fuck off the bike,'" he remembers an officer yelling.
Ahmed, 32, pointed across the street to his house and told the officers that he was going home. He planned to drop off his bike and feed his dog, Petey, which was locked behind the fence in the front yard. Afterward he hoped to return to to West Florissant Avenue, where he'd been an active participant in protests since Brown's death days earlier.
Next thing he knew, Ahmed found himself swarmed by the four St. Louis County officers and pushed to the ground with his arm twisted behind his back, he tells Daily RFT.
"They were just like, 'We're asking the questions,'" he says.
When he asked the officer who had a grip on his arm why he was twisting it so hard, Ahmed says the officer replied, "Because I don't like you."
Ahmed says he remembers thinking, "Why don't you like me? I've never met you."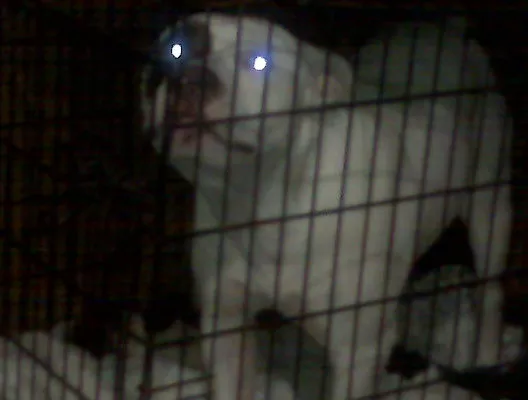 Talal Ahmed
Petey, Ahmed's dog.
When Petey, Ahmed's six-year-old pit bull, saw what was happening to Ahmed, he dug under the fence and started running toward his owner.
And then Ahmed heard it. Boom. Ahmed says he watched as a fifth officer killed Petey with one shot.
"Time slowed down," Ahmed says. "I couldn't hear anything. It was like one of those quantum-leap things, like a time freeze. When I came to, I had urinated on myself, they had me in cuffs and there was my dog lying dead in my driveway."
Ahmed says he was in shock.
"We're talking about my best friend," Ahmed says. "My daily companion, a birthday gift from my mom. Not only had I invested a lot of time and money in him, but we had a strong emotional bond. This was my boy."
The next day, he told his story to Umar Lee, a friend who's been very active in protests and other actions surrounding Ferguson. Lee posted it on YouTube:
The police shot Petey more than a month ago, and Ahmed still has not filed a complaint. He says it won't do any good.
"Me being a black male, I'm seen as a threat," says Ahmed, who grew up in St. Louis before moving to Jennings. "Growing up in the inner city, we don't call the cops because the cops aren't our friends."
Ahmed is a journalism student at Washington University. At one particularly busy point last school year, he spent about a week staying with a classmate at his apartment on Forsyth Boulevard because the commute back to north county wasn't worth it. When he returned, his front and back doors were open, his water heater and furnace gone.
"That's a common occurrence in my neighborhood," Ahmed says. "But I didn't call the police because I had outstanding traffic tickets."
Ahmed has countless stories police of harassment, some he's heard from friends, some he's experienced on his own.
"It doesn't make rational sense, I know," he says referring to the fact that he hasn't filed a complaint. "But unless you understand the culture and the history and the tone that's set by the police, then you don't get the rationale as to why we don't call the cops."
The police told Ahmed they were going to take him to jail, but after a conversation with a superior, they let him go, saying the jail was overcrowded.
Ahmed buried Petey in his front yard later that week. Here's a video:
Sargent Brian Schellman, the spokesman for St. Louis County police, tells Daily RFT that the department has no record of the incident and encouraged Ahmed to file a grievance with police.
"We certainly don't want to blow off any complaints from citizens," says Schellman.
Follow Mitch Ryals on Twitter at @mitchryals. E-mail the author at Mitch.Ryals@RiverfrontTimes.com.