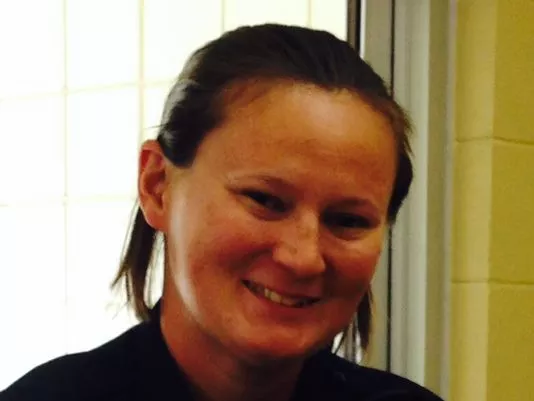 Courtesy of Andi Mooneyham
Ozark Fire Captain Andi Mooneyham married her wife in California last year.
Ozark Fire Captain Andi Mooneyham wants the same insurance benefits for her wife as any other firefighter's family gets in this southern Missouri town.
But after the Ozark Fire Board reluctantly decided to do nothing -- literally, nothing -- on the issue at a meeting this month, Mooneyham and her wife, who married in California a year ago, are stuck hoping a federal decision will eventually overturn Missouri's ten-year-old ban on same-sex marriage.
"We have faith in the justice system to find that Missouri's constitutional ban on same-sex marriage conflicts with the federal law and that one day the definition of a spouse will include same-sex marriages in the state of Missouri," Mooneyham said to the board, according to the Springfield News-Leader. "We understand the position of the Ozark Fire Protection District. However, we feel there is also some work that needs to be done to the current state statute that regulates to whom they can offer health coverage."
See also: Missouri Supreme Court Denies Benefits To Same-Sex Partner Of Killed State Trooper
Most members of the fire board, which oversees operations for the fire protection district, were supportive of extending insurance benefits to Mooneyham's wife after the district's health insurance carrier, Anthem, made a change to allow benefits to same-sex couples.
"All of a sudden, the insurance company said yes," said Jay Johnson, one of the fire board members, to the News-Leader. "This changes the ballgame."
With Anthem's approval in tow, Mooneyham tried to convince the board to change the definitions of a "spouse," like other organizations, including nearby Missouri State University, have done. The proposed definition of spouse would mean "any individuals who are lawfully married under any state law, including individuals married to a person of the same sex who are legally married in a state that recognizes such marriages, but who are domiciled in a state that does not recognize such marriages."
Three of the board's five members -- Kenny Martin, Johnson and Dale Bittle -- said they supported the change to give Mooneyham's spouse equal insurance coverage. That support came at a price; Martin says people have targeted him with "nasty, ugly" anonymous phone messages.
"They've said things about my family, my sons and myself," he said to the News-Leader. "I'm ashamed of the people who did this."
But before the issue could go up for a vote, the district's attorney Todd Johnson told members that state law, especially Missouri's ten-year-old ban on gay marriage, explicitly forbids the fire protection district from making the change Mooneyham and her supporters wanted.
"It is my opinion that the board does not have the authority to make the proposed policy change to redefine the term 'spouse' to include persons of the same sex," Johnson wrote to the board. "The board also does not have the authority to grant health benefits to a same sex spouse of an employee of the district."
With their hands bound by state law, the fire board decided not to act on the motion to redefine a spouse for insurance purposes.
"Legally, we're going to do what we have to do," board member Kenny Martin said at the meeting, according to the News-Leader. "But I think people that do the same work should have equal benefits. I'll leave it at that."
Anthony Appleton, a board member who opposed giving Mooneyham's wife insurance benefits from the beginning, said in the end, the issue is about the law, not about Mooneyham herself.
"One thing we want to make sure Andi knows is that, for me, this is a legal issue and a taxpayer issue," he said, according to the News-Leader. "I just want to reiterate that she is a model employee. This is certainly not about her. It's about the law."
Mooneyham said she'll continue working for legal ways to get benefits extended to her family.
But when Mooneyham got to work on Tuesday, a letter was waiting for her from trial attorney Dee Wampler, who wrote to tell her:
I agree with the decision of your board to refuse to grant and extend benefits to lesbians and homosexuals.

Missouri has a constitutional provision and a state statute providing that marriage is between one man and one woman which has been the law since time and memorial in our world's history.

I am tired of PROMO attempting to cram homosexuality and lesbians down our throats. You have followed the law and I congratulate you.

Now -- back to fighting fires.
Wampler sent the letter on the letterhead of his law practice, which he shares with Joseph Passanise, the campaign treasurer for Missouri Auditor Thomas Schweich. Now PROMO executive director A.J. Bockelman is asking Schweich to take a stand in a letter of his own:
Auditor Schweich;

Earlier this month, Captain Andi Mooneyham with the Ozark Fire Board was denied domestic partner benefits by the local fire protection district. Today, upon returning to work, Captain Moneyham was greeted by the attached letter from the Wampler/Passanise law firm, signed by Trial Attorney Dee Wampler.

Auditor, we have no reason to believe you to be anti-gay, however it is of great concern to us that the attached letter comes on the letterhead of your campaign treasurer, Attorney Joseph Passanise. The letter is demeaning and intentionally degrading to a public servant such as Captain Mooneyham.

While we know neither you nor Mr. Passanise authored this letter, we call on both you and your campaign treasurer to denounce this bigoted action. As a statewide office holder, you stand for all Missourians, including the LGBT community. Your Treasurer, by allowing such a letter to be sent utilizing his name, endorses continued discrimination and targeting of the LGBT community.

PROMO calls on you to be clear and swift in denouncing this type of discrimination.
Follow Lindsay Toler on Twitter at @StLouisLindsay. E-mail the author at Lindsay.Toler@RiverfrontTimes.com.