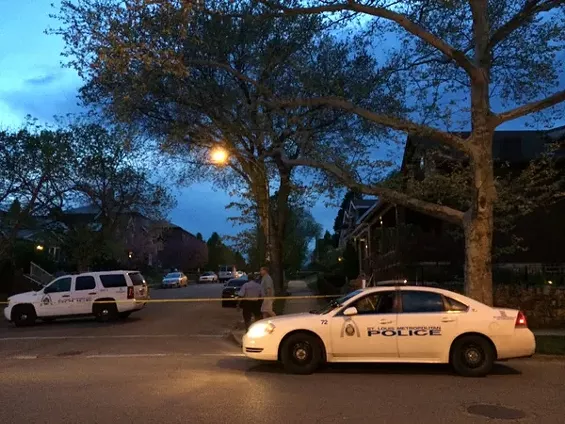 Lindsay Toler
St. Louis police investigate a shooting.
St. Louis metropolitan police had their work cut out for them Monday night.
From 9 p.m. on September 15 to 9 a.m. on September 16, police reported six shootings, including the homicide of Timothy Roberts, 37, of Maryland Heights. Five other people were injured in the shootings, which do not appear to be related.
The first five shootings happened within four hours.
See also: Four Teens Charged After South City Shooting, Robbery Spree Puts Victim in Hospital
It all started at 9:11 p.m. when an armed man approached a 42-year-old man walking north on Walton Avenue and pulled out his gun. The victim tried to run across the street, but the gunman followed and fired, striking him in the knee and grazing him on the hand. The victim was listed in stable condition at the hospital.
About fifteen minutes later, at 9:30 p.m., police got the call that Roberts was found dead lying next to his car in a vacant parking lot. Roberts had gunshot wounds to the torso and forearm, and first responders pronounced him dead on the scene.
At 10:22 p.m. a 34-year-old man reported someone shot him in the head in the 5300 block of North Kingshighway Boulevard, in the Mark Twain neighborhood. The victim says he didn't see who shot him. He was listed in stable condition at the hospital, but police said suspected illegal drugs were found in his pocket there.
An hour later police met a 24-year-old man at the hospital who said he was shot in the thigh while walking to his car with his girlfriend at the intersection of South Grand Boulevard and Delor Street. In what police called an inconsistent account, the victim said he didn't know where the shots came from and wouldn't identify his girlfriend.
As the busy night wrapped up, police got a call to a drive-by shooting at Lillian and Wren avenues. A 39-year-old man was shot in the hip and leg by a gunman pointing a weapon out of a burgundy Mitsubishi SUV's rear window. The victim was stable at the hospital.
Morning brought one more bloody crime. At 8:38 a.m. an unidentified man was shot in the shoulder by several gunmen in a red car. The victim was listed in stable condition at the hospital.
All of these incidents are being investigated, police said.
Here's the full report from Monday night's homicide:
Incident: Homicide

Location: 8600 block of Riverview

Date/Time: 9/15/14 @ 21:30

Victim: Timothy Roberts, 37-year old white male of the 2800 block of Cherry Point Ln., Maryland Heights, MO

Suspect(s): Unknown

Officers responded to a shooting at the above location and upon arrival, observed the victim lying next to his vehicle on a vacant parking lot. The victim had sustained gunshot wounds to the torso and forearm and was pronounced deceased on the scene. The investigation is ongoing.
Follow Lindsay Toler on Twitter at @StLouisLindsay. E-mail the author at Lindsay.Toler@RiverfrontTimes.com.