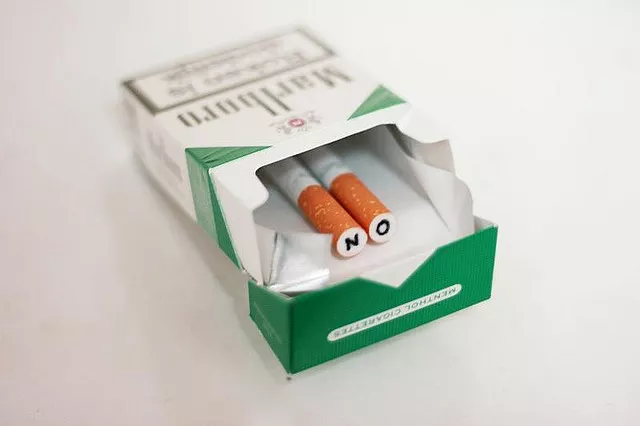 Don't worry, the age limit in St. Louis is still eighteen.
A college town two hours west of St. Louis wants to stop teen smoking so badly that officials are considering raising the minimum age for buying and using tobacco products to 21 from eighteen.
The city council of Columbia, home to the flagship campus of the University of Missouri, unanimously passed a motion Tuesday night to ask health officials for input before voting on a final bill raising the age limit, the Columbia Daily Tribune reports. The bill could also include a ban on e-cigarette use indoors.
First Ward Councilwoman Ginny Chadwick pitched the idea to the council Tuesday, saying that raising the minimum age would make it easier to identify underage buyers.
"This decrease will create lasting benefits on the prevalence of tobacco use and save thousands of lives in Columbia," Chadwick told the council, according to the Tribune.
See also: Smoking the Competition: St. Louis Named America's Top City for Smokers
Raising the minimum age also helps to keep tobacco products out of high schools, where the oldest students are eighteen or older. Jonathan Sessions, a member of the Columbia Board of Education, said he proposed this idea to Chadwick because he remembers kids passing cigs at school.
"It happened when I was in school, it happened, I'm sure, before I was in school, it happens to this day," Sessions said, according to the Tribune.
Dan Rader, a co-owner of a downtown Columbia bar, told the Tribune he supports making the age restriction for tobacco match the one for alcohol. Rader is a member of the Substance Abuse Advisory Commission, one of the groups that will get to examine the policy before it goes up for a city council vote.
"I think it's become quite clear over time that cigarettes are harmful," Rader said. "Bringing that minimum age more in line with the minimum age for alcohol, it makes sense."
In May, New York City upped the age limit for tobacco use to 21 from eighteen.
More than 22 percent of St. Louisans are smokers, and they go through 14.5 cigarettes a day, according to consumer behavior data from 2011.
Follow Lindsay Toler on Twitter at @StLouisLindsay. E-mail the author at Lindsay.Toler@RiverfrontTimes.com.