We're not sure what this mascot is supposed to be. A kidney? A jellybean?
We've had enough with the prototypical St. Louis question, "Where'd you go to high school?" After looking at the Missouri State High School Activities Association's list of every school mascot in the state, we think a much more entertaining question would be, "What was your high school mascot?"
Missouri has some doozies. Best-known are the Kewpies, the Hickman High School mascot named after a bald baby doll. There are the Joel E. Barber Middle School Buckskins, apparently named after clothing, and the West Plains High School Zizzers, named after nothing at all.
We looked through our list of favorite names and decided that they deserve some recognition. Drum roll please, as we announce the inaugural Riverfront Times Best Mascot Name Awards:
Best Mascot Named for an Unthreatening Animal: Maryville High School Spoofhounds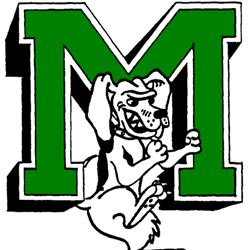 The field of high school mascots is crowded with tigers, lions, bears and other fierce, deadly wild animals, so it's always fun when a school picks a unique but decidedly less threatening animal to rally behind. While we love the idea of cheering for Santa's special helpers, rodents or nitrous oxide abuse (Oh, they probably mean the dog, huh?), this award has to go to the Spoofhounds. Legend has it the Maryville football coach used the term, derived from a 1920s carnival toy, as an insult during a particularly bad practice, and the name stuck.
Honorable Mention: Clarkton High School Reindeer Green City High School Gophers Ellington High School Whippets
Best Mascot Named after Venezuelan Politics: Bolivar High School Liberators
Bolivar, Missouri, is sort of named after the revolutionary and influential political leader Simon Bolivar. It's technically named after Bolivar, Tennessee, which is named after Bolivar, known in Venezuela as El Libertador for freeing Latin America from Spanish rule. In 1948, eighteen years after Bolivar died, then-presidents Harry S. Truman and Romulo Gallagos, of Venezuela, dedicated a statue to Bolivar as the town's (indirect) namesake. Three years later, the local high school took a vote to change its mascot from the tigers (yawn) to the liberators.
The Dan Snyder Award: Putnam County High School Midgets
This one took us by surprise. Dozens of Missouri high schools call their mascots the Indians, so we took special notice when schools distinguished themselves by, in a move worthy of Washington Redskins owner Dan Snyder, unapologetically choosing more derogatory and inflammatory terms for their Native American mascots. We were sure the Redmen would take this title home...until we stumbled upon the Midgets. The name is thought to be a reference to the stature of this Unionville high school's student athletes years ago. For no good reason, the name is still around, complete with a creepy cartoon mascot.
Honorable Mention: Cainsville High School Redmen Savannah High School Savages
Best Misspelled Mascot: Aurora High School Houn Dawgs
Aurora uses phonetic, rather than correct, spelling to distinguish its mascot from the rest. While poor spelling is usually not something people should try to teach high schoolers, it's easy to make an exception for any mascot name that forces you to speak with a drawl. Just try to say this mascot name out loud without swiveling your hips Elvis-style.
Honorable Mention: Rosati-Kain High School Kougars
Best Mascot Named After the School: Visitation Academy High School Vivettes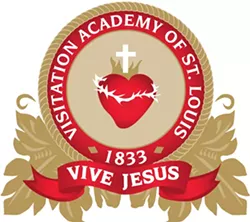 If you can't think of an animal, phenomenon or other inspiration for your high school mascot, there's no shame in making it a play off the school's name. Take the Vivettes at St. Louis' Visitation Academy. It may sound like a salad dressing, but the name seems to be based off the school's Latin motto "Vive Jesus," which means, "Live Jesus." The Vivettes take this title home because we love the idea of a doo-wop group with a crooning Jesus as frontman and some lovely Vivettes singing back-up.
Honorable Mention: Doniphan High School Dons
Best St. Louis Area High School Mascot: Roosevelt High School Rough Riders
We just love this local high school' rough 'n' tumble mascot. It's historical (Learn something, kids!), it's unique in Missouri, it's tough and it's alliterative, which makes it the perfect name for this city school. Go Rough Riders!
Honorable Mention: Nerinx Hall High School Hall Markers Vashon High School Wolverines Vianney High School Golden Griffins Crossroads College Preparatory High School Current
Follow Lindsay Toler on Twitter at @StLouisLindsay. E-mail the author at [email protected].