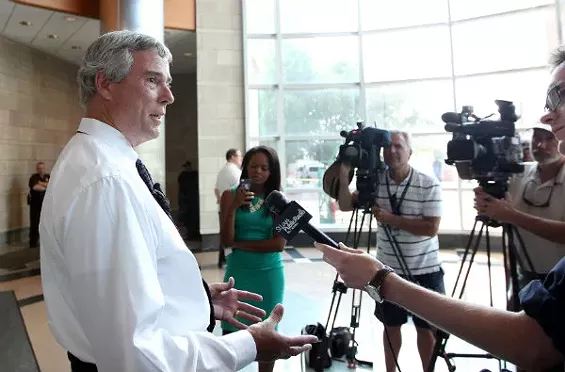 UPI/Bill Greenblatt
St. Louis County prosecuting attorney Bob McCulloch.
The Don't Shoot Coalition, a new alliance of St. Louis organizations and leaders, demanded that Governor Jay Nixon replace Prosecuting Attorney Bob McCulloch with a special prosecutor this week to restore public confidence in the trial over Michael Brown's death.
But an hour before the group was to make their demands public at a Clayton press conference, Nixon lifted the state of emergency he declared August 16, effectively ending his ability to appoint a new prosecutor.
See also: Grand Jury Hears Evidence in Michael Brown Shooting Case
"Over the past week, we've seen students getting back to school, businesses reopening their doors and folks getting back to their normal routines," Nixon said in a statement. "This progress is a testament to the efforts of community and faith leaders, working alongside state and local law enforcement officers, to bring peace to the streets of Ferguson and much-needed stability to its citizens."
Nixon's declaration throws a curve ball to demonstrators who wanted him to remove McCulloch from the case, including some who were planning on blocking highway traffic next week to protest for a special prosecutor. McCulloch has said he has no intention of stepping down, and without a state of emergency, the governor can't force him off the case.
"What they're doing is playing ping pong on the back of a dead man," State Senator Jamilah Nasheed, a member of the coalition, tells St. Louis Public Radio.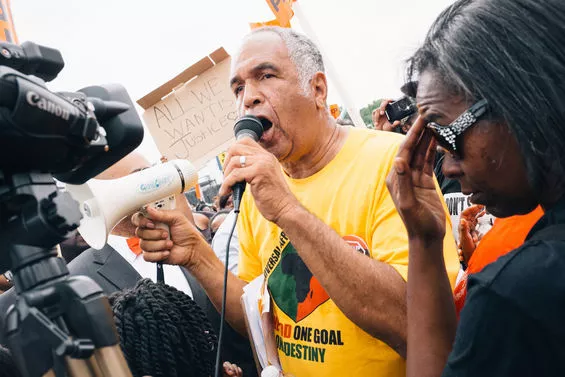 Bryan Sutter
Demonstrators protest Michael Brown's killing during the National March on Ferguson.
The coalition sent a letter to Nixon Tuesday denouncing the "sloppiness, irregularity and unprofessional behavior" from officials after Brown's death, including leaving Brown's body on the street for hours, withholding of details from the shooting and using force against peaceful demonstrators. Without a special prosecutor, "peace and healing will be elusive," the letter says.
"The appointment of a special prosecutor is key to the public's confidence in future proceedings of this case," says Montague Simmons of the Organization for Black Struggle, one of the leaders of the Don't Shoot Coalition. "We have witnessed unacceptable behavior from all levels of government in St. Louis County, and it has resulted in the loss of public confidence in law enforcement and existing systems of oversight."
The coalition was careful not to malign McCulloch, who has been critical of the governor's seeming indecision over whether to remove him from the case. The letter to Nixon says McCulloch shouldn't take the call to replace him on Brown's case as a "personal affront."
"Only [McCulloch's] recusal can demonstrate his concern for the needs of the community and willingness to open the matter for the process that has the greatest integrity," the letter says. "Failure to recuse himself from this case will show the opposite."
Here are the long- and short-term goals from the Don't Shoot Coalition:
1. A Special Prosecutor to conduct a transparent and independent investigation into Michael Brown's death, and an expanded Department of Justice investigation into patterns of civil rights violations across North County.

2. An end to ongoing racial profiling across North County as documented by annual Missouri statistics.

3. Accountability for police practices and policies, including effective civilian review regarding shootings and allegations of police misconduct.

4. Ongoing initiatives to ensure that local law enforcement departments represent the communities they serve.
The new list of demands is a condensed version of the local and national demands the coalition and its partners made last month:
Local goals: 1. Swift and impartial investigation by the Department of Justice into the Michael Brown shooting

2. Immediate arrest of Officer Darren Wilson

3. County Prosecutor Robert McCullough to stand down and allow a Special Prosecutor to be appointed

4. Firing of Ferguson Police Chief Thomas Jackson

5. Immediate de-escalation of militarized policing of peaceful protesters

6. Ensure the protection of the rights of people to assemble and peacefully protest

7. Hold law enforcement officers accountable for excessive use of force on peaceful protests

8. Immediate release of individuals who have participated in their right to assemble and peacefully protest

National goals: 1. Obama to come to Ferguson to meet with the people whose human rights have been violated by aggressive and militarized policing, including the family of the victim-Michael Brown

2. Eric Holder to use the full resources and power of the Department of Justice to implement a nationwide investigation of systemic police brutality and harassment in black and brown communities

3. Ensure transparency, accountability, and safety of our communities by requiring front facing cameras in police departments with records of racial disparities in stops, arrests, killings, and excessive force complaints

4. Immediate suspension without pay of law enforcement officers that have used or approved excessive use of force. Additionally, their personal information and policing history should be made available to the public
Follow Lindsay Toler on Twitter at @StLouisLindsay. E-mail the author at Lindsay.Toler@RiverfrontTimes.com.