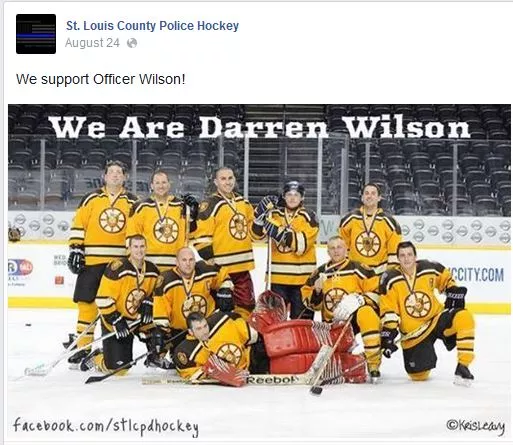 Facebook.com/stlcpdhockey
While the St. Louis County Police Department investigates Ferguson police officer Darren Wilson, who shot and killed eighteen-year-old Michael Brown in August, members of the department's hockey team are dropping their gloves for the cop at the center of the controversial killing.
The county police hockey team, whose website says it is a 501 (c)(3) nonprofit organization, plays around St. Louis and sometimes other states to have fun and raise money for charity. But lately, whoever runs the team's Facebook page has turned it into something of a fan site for Wilson, who was also known to play a little puck back in his high school days.
Here's a post supporting their "Ferguson Brother":
And here's the whole team, in a photo taken last year, under a mantra repeated by Wilson supporters:
These posts were made within a few days after the Facebook page shared an August 10 announcement from the actual STLCPD that says the department will treat the Wilson investigation like any other, and it will not "take sides."
According to the STLCPD hockey team's website, there are seventeen active-duty police officers lacing up their skates, including Vince Mullen from the Ferguson Police Department, as well as two members from the county's special ops team that made up the oft-criticized militarized presence during the protests: Steve Schue and Nick Leavy.
The team even has some NHL DNA on its squad with hall of famer Al MacInnis' son Carson playing defense, just like his dad did for the Blues. Carson MacInnis joined the county police as a patrol officer last year.
While critics of law enforcement might find it troubling, expressing support for Wilson as part of a police group isn't against any rules.
"The [posts do] not violate policies set forth by the STLCPD," Brian Schellman, spokesman for the St. Louis County Police Department, tells Daily RFT in an email.
See also: Cop in Ferguson Tweets Lies to Justify Tear-Gassing Protesters in Their Own Back Yard
So, no worries for these puck coppers. Just like in hockey, police officers have to support their teammates in good times and bad.
And given how much pressure the STLCPD has been under for firing tear gas, rubber bullets, wood pellets and flash grenades at people protesting police brutality, who could blame them for needing to express themselves?
That's why the other social-media sites the STLCPD hockey team links to is interesting: They provide a glimpse into how police officers and their families are feeling in these trying times.
Click on the next page for more musings from St. Louis police officers on social media...
A site called "Living On the Blue Line: Life of a Police Family" was set up shortly after Wilson killed Brown and the national media set its eyes on St. Louis.
See also: Ferguson Residents React to Dellwood Market Looting, Militarized Police Presence
The Tumblr site, along with its Facebook and Twitter accompaniments, reference events in Ferguson, criticizes the media's coverage of the protests, and shares the worry a police wife has for her husband on the front lines facing protesters:
For the last 14 days, my husband has been working 12 hour shifts in the front lines trying to disperse those that are rioting and participating in the violence in Ferguson, MO.

It's physically and emotionally draining for those officers who have been sent in to help. I'm exhausted and I haven't been directly in the chaos. I've started back to school for the year and I'm holding down the fort, taking care of all the things at home. He's tried his best to sleep during the day before each nightshift. I try to sleep at night while he's out having bottles of urine, bricks, Molotov cocktails, and rocks thrown at him. Oh, did I mention there have also been people shooting at them? These are the reasons they are equipped with the gear that some view as "militarized". Ummm, yes, they need it. They need it to protect themselves when the criminals start attacking them. Would you want to just stand there without protective gear while people are throwing things at you and shooting? No, no... you would definitely want the gear too.
The site also explains to novices -- and especially the media -- why the county police need to be militarized in the streets of Ferguson:
Living on the Blue Line is often retweeted by Leavy, the hockey-playing member of the county's special ops team, who tweeted out some unsolicited advice to his followers the very day that Wilson killed Brown in circumstances that are currently unknown:
See also: Nun Threatened with Arrest in Ferguson; Residents Bemoan Police Presence
Follow Ray Downs on Twitter:
E-mail him at Ray.Downs@RiverfrontTimes.com.