All photos by Bryan Sutter
Lesley McSpadden, Michael Brown's mother, throws up the "Hands Up, Don't Shoot" sign at the Ferguson Police station.
More than 1,000 people from all over the country joined together on Canfield Drive this weekend to march, like civil rights protesters before them, against police brutality in Ferguson and around the country.
The crowd invoked the spirit of Selma and sang out with chants as it marched to the Ferguson Police station, letting loose three weeks-worth of anger, sadness and frustration caused by the death of Michael Brown, the unarmed eighteen-year-old whose death ignited weeks of sometimes-violent clashes with police here.
See all Riverfront Times coverage of Michael Brown and Ferguson.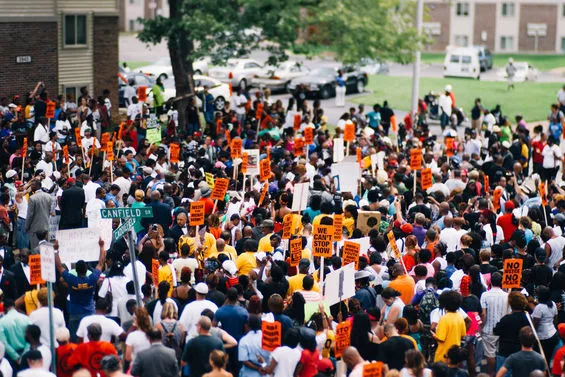 The crowd swells at the apartment complex where Michael Brown stayed with his grandmother.
At the heart of the march stood Brown's parents, father Michael Brown, Sr. and mother Lesley McSpadden, once again joining the supporters rallying around Brown's death to bring change and justice to Ferguson.
See more photos: Michael Brown's Funeral Draws Thousands
Here's a look at the fiery (and, at one point, rainy) march on Ferguson Saturday: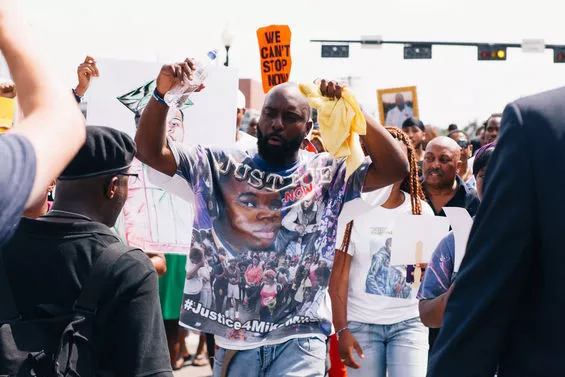 Michael Brown, Sr., Brown's father, marches in Ferguson.
See all photos: National March on Ferguson Leads Protesters to Police Station
In front of the station, demonstrators were angry but peaceful to Ferguson police.
Even rain couldn't dampen spirits at the march.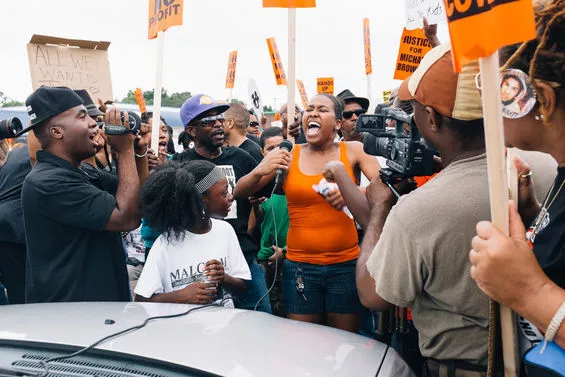 Cameras and microphones give demonstrators a chance to share their movement with the world.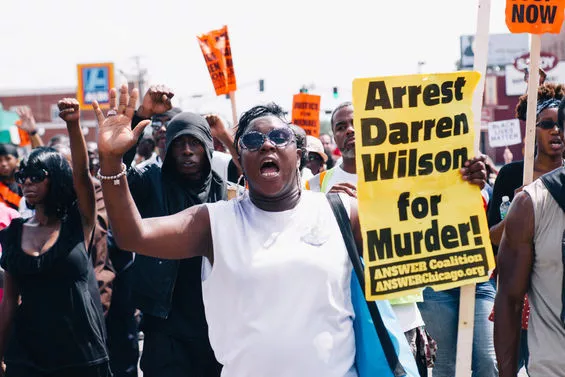 Follow Lindsay Toler on Twitter at @StLouisLindsay. E-mail the author at Lindsay.Toler@RiverfrontTimes.com.