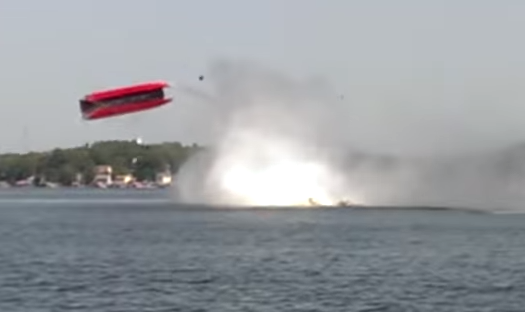 via YouTube
A boat racing in the Lake of the Ozarks Shootout flips into the air and crashes.
The founder of an offshore powerboat company died Tuesday after his boat launched into the air, flipped and crash-landed on the Lake of the Ozarks during a racing event.
Michael Fiore, 44, was the throttleman in a 42-foot catamaran when it crashed Saturday on the milelong racing course. He was airlifted to a hospital in Columbia, where he died after complications from surgery, according to Lake News Online.
The boat's driver and only other occupant -- Joel Begin, 47, of Valley Field, Quebec -- was injured and survived the crash at the Lake of the Ozarks Shootout event.
See also: Crazy Lake of the Ozarks Boat Crash Footage Goes Viral [VIDEO]
"We are devastated by what's happened," Ron Duggan, committee chairman for the race, said to the St. Louis Post-Dispatch. "We've never experienced anything like this in our 26 years."
The crash was caught on video by people filming the race. These racing fans watching from a nearby dock begin scream with fear as the boat flies into the air:
Commentators for Fox KRBK call the crash "one of the most harrowing pictures we've ever seen at this event":
The Missouri Highway Patrol blamed the crash on wind, which picked the boat up as it traveled about 170 mph, causing it to flip end over end and crash-land in the water. But other boats on the race course, including at least one traveling at a top speed of 244 mph, didn't have the same problem.
"It was a smooth course -- no waves, no bumps," Duggan told the Post-Dispatch. "A big bluff protects them from wind. For some reason, the boat just trapped air underneath it and flipped."
Fiore was the owner of the Rhode Island-based Outerlimits Offshore Powerboat Company and had a wife and three young children.
Follow Lindsay Toler on Twitter at @StLouisLindsay. E-mail the author at Lindsay.Toler@RiverfrontTimes.com.