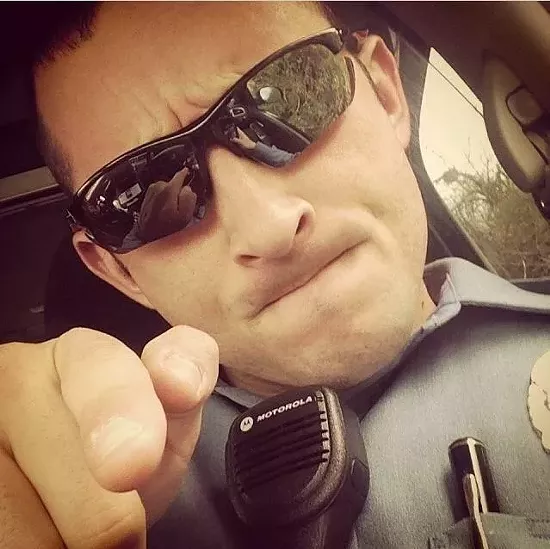 Twitter/RyanReilly
Ferguson police officer Justin Cosma arrested two journalists on August 13.
Forty million dollars.
That's the sum of the charges listed in a 28-page federal lawsuit filed yesterday against St. Louis County and Ferguson law-enforcement officials. The accusations themselves detail a pattern of civil-rights abuses against protesters in the days following the death of Michael Brown. Six plaintiffs allege they were beaten, tear gassed, shot with rubber bullets and falsely arrested, among other offenses.
Notably, the lawsuit -- which was filed by Malik Shabazz's Washington, D.C.-based Black Lawyers for Justice -- appears to target multiple "John Doe" police officers. They are unnamed because the cops didn't wear name tags and refused to identify themselves when questioned.
The lawsuit lists only one officer by name: Justin Cosma, the same Ferguson cop linked to the arrests of two national journalists who were sitting in a Ferguson McDonald's on August 13. According to the lawsuit, Cosma arrested a mom and her seventeen-year-old son in that very same McDonald's, on the same day, and apparently during the same incident that led to the reporters' arrests.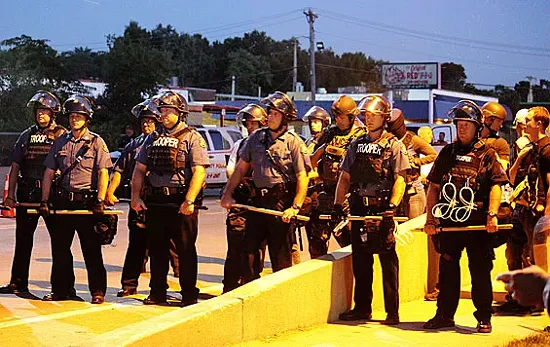 Danny Wicentowski
August 13 was among the most violent days during the unrest in Ferguson. Governor Nixon replaced St. Louis County and Ferguson police with Missouri Highway Patrol the very next day.
See also: Watch Police in Ferguson Arrest, Tear Gas Journalists [VIDEO]
The lawsuit states 38-year-old Tracey White and her 17-year-old son entered the McDonald's at the intersection of West Florrisant and Ferguson on Wednesday, August 13, after attending an afternoon rally and march. The two were waiting for White's husband to pick them up when a number of officers, including Cosma, stormed the restaurant "in what appeared to be army uniforms." They ordered everyone to get out. (See update below.)
White states that police began harassing her son after he came out of the bathroom. When she protested the treatment, she was thrown to the ground, handcuffed and told she was under arrest because she would not "shut up." White attempted to hand an iPad she was holding to her son, and then he too was arrested. Both were transported to Clayton, where they were told they had been arrested for "failing to disperse." Police released them five hours later.
Though the lawsuit doesn't specify an exact timeline of events, the incident appears to match what we know about the arrests of Wesley Lowery, a political reporter at The Washington Post, and Ryan Reilly, a Huffington Post justice reporter, shortly before 7 p.m. on the same day. According to Lowery, they were arrested for not leaving the McDonald's quickly enough, and for filming the officers.
Here's a video Lowery shot shortly before his arrest.
The identities of the officers who'd cleared out the McDonald's on August 13 remained secret until this week. On Sunday, Reilly and Huffington Post associate politics editor Ashley Alman revealed Justin Cosma, a Ferguson cop, as one of the officers who'd arrested Reilly and Lowery.
Reilly and Alman's article also revealed that Cosma is being sued for a 2010 incident in which he and another officer allegedly choked and hog-tied a twelve-year-old boy in Jefferson County. (That case is expected to go to trial early next year.)
After breaking the story, Reilly began tweeting more details about Cosma.
Reilly also found images of Cosma that appeared on the Facebook page "Tatted Cops."
See also: Why Police Will Continue to Arrest Journalists in Ferguson
As for the lawsuit filed yesterday, the other four plaintiffs describe brutal run-ins with unidentified police officers. Dwayne A. Matthews Jr., 23, claims he was walking to his mother's house when he was confronted by approximately eight officers aiming weapons at him. Here's the happened next, according to the suit:
Plaintiff immediately put his hands in the air whereupon he was shot multiple times with rubber bullets.

At that point, Plaintiff Matthews fell into a creek or sewer. Defendant John Doe officers pounced on him, slammed his face into the concrete, and pushed his head underwater to the point that he felt he was going to be drowned. Afterward, Defendant John Doe police officers continued to assault him and spray him with [pepper] spray.

Plaintiff Matthews was arrested for allegedly "failing to disperse" even though he had not been involved in any protests of any kind and was only in the neighborhood to check on his mother.
The other plaintiffs describe enduring similar incidents of civil-rights abuses, false arrests and excessive force. Along with the undefined number of John Doe officers, the lawsuit names St. Louis County and the city of Ferguson as defendants, as well as Ferguson police chief Thomas Jackson, St. Louis County police chief Jon Belmar and officer Cosma.
"We feel that the militaristic reaction that the police had early on was completely in violation of people's rights," says attorney Reginald Greene, who's serving as co-counsel on the lawsuit with Shabazz.
"Even if we cannot identify the specific officers, we know know at least one of the officer's names, and we know the police chief's name for Ferguson and the the police chief's name for St. Louis County," Greene continues. "At the end of the day they're responsible for their rank and file officers, so we can still hold them accountable for their polices and procedures."
Shabazz tells Daily RFT that the case could be expanded to include more plaintiffs in the future.
"This is a preliminary step," he says. "There are a lot of people calling, there are a lot of stories, and soon we will come in with an amended complaint. Right now it's a multi-plaintiff lawsuit, but there is a possibility that it will be upgraded to class action status, depending on how it goes."
Update 11:30 a.m.: Daily RFT reached out to Huffington Post reporter Ryan Reilly. We asked him if the lawsuit's description of Cosma and the McDonald's arrests matches his own arrest experience.
First of all, the officer in Lowery's video is not Cosma. Though there were cops wearing military fatigues in the McDonald's, Cosma was wearing his normal Ferguson uniform -- minus his name badge, of course.
Here's a tweet from Post-Dispatch photographer Robert Cohen that shows Cosma -- in standard uniform -- leading Reilly away in handcuffs:
In an email, Reilly writes that he believes he and Lowery were the first people cops arrested in the McDonald's.
"Everything happened so quickly and it was jarring, but I think there were probably only few other customers inside when they took me out. It was mostly empty. I just remember telling the McDonald's employees my information before the St. Louis County Police officer slammed my head into the door," he writes. "My understanding is that [the other customers] were arrested afterwards, Wesley didn't hear about it until a couple of days later."
As for a timeline of the arrests, Reilly estimates that police first entered the McDonald's at 6:53 p.m. They came back around 6:56, and he and Lowery were in cuffs by 6:58.
Continue for the full text of the lawsuit.
Follow Danny Wicentowski on Twitter at @D_Towski. E-mail the author at Danny.Wicentowski@RiverfrontTimes.com