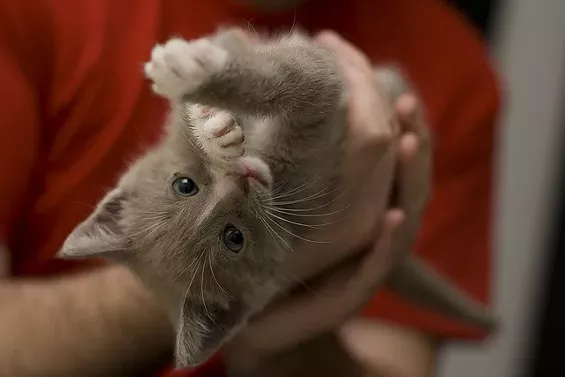 pinguino on flickr
"Will you adopt me on Caturday?"
Animal House, a nonprofit, no-kill cat shelter in St. Louis, is crawling with kittens, so it's turning Saturdays into "Caturday" adoption days.
More than 70 baby kittens have come to the shelter in the last few months, in addition to the nearly 250 cats and kittens already looking for a forever home. The shelter typically opens three days a week for adoptions, but starting on Saturday, September 6, it'll also open from 10 a.m. to 4 p.m. every Saturday.
See also: Chihuahuas Rescued from Roadside Dumping Pose for Cutest Photoshoot Ever
"'Caturday' will give potential adopters the opportunity to visit the shelter earlier and stay later, play with that special cat or kitten, fill out the adoption application and then have time to really think about the ramification of adding a cat or kitten to their household," says director Brandyn Jones.
Animal House - Adopt from Animal House on Vimeo.
People who adopt a new cat on "Caturday" will get a free gift bag with treats, toys and other goodies.
This week, Animal House -- partnering with KMOV (Channel 4)'s Meghan Danahey and St. Louis County Animal Care & Control -- donated 40 cubic feet of animal supplies, including food, soap, litter, treats, scoops and toys, to families in Ferguson.
Follow Lindsay Toler on Twitter at @StLouisLindsay. E-mail the author at [email protected].