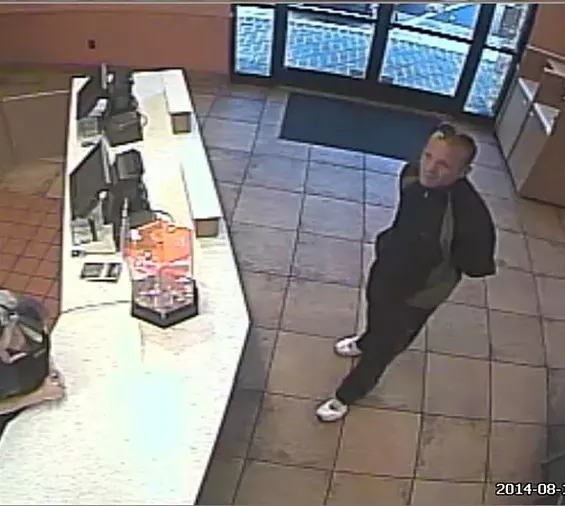 SLMPD
Police say this man robbed the Taco Bell on Hampton Avenue.
Have you seen this burrito lover?
St. Louis police are on the hunt for a Taco Bell customer who held up the store after finishing his breakfast.
After 7 a.m. on August 15, the suspect bought food at the Taco Bell at 1324 Hampton Avenue, just north of Manchester Avenue, police said. Once he was done, he reapproached the counter, pulled out a gun and demanded money.
An employee handed the money over, and the robber fled east across the parking lot.
No one was injured during the robbery.
See also: Hamburglers Rob Cahokia McDonalds, Get Caught by Crashing into Mayor's Car: Police
Police described the suspect as six feet tall, white, 200 pounds with a scar or sore on his cheek. He was wearing a dark blue jogging suit at the Taco Bell.
SLMPD
If you're going to rob a Taco Bell, maybe you should get food somewhere else?
Know something? Make an anonymous call to CrimeStoppers at 866-371-TIPS.
Here's the full report from police:
Incident: Robbery 1st

Location: 1324 Hampton (Taco Bell)

Date/Time: 8/15/14 @ 07:13

Suspect: White male, approx. 6'0", 200lbs., with scar or sore on cheek

The suspect entered the above business and purchased food. After eating the food inside of the business, the suspect re-approached the counter, displayed a firearm and demanded money from an employee. The employee complied and the suspect took the money and fled out of the store, east across the parking lot. There were no injuries reported. The investigation is ongoing.
Follow Lindsay Toler on Twitter at @StLouisLindsay. E-mail the author at Lindsay.Toler@RiverfrontTimes.com.