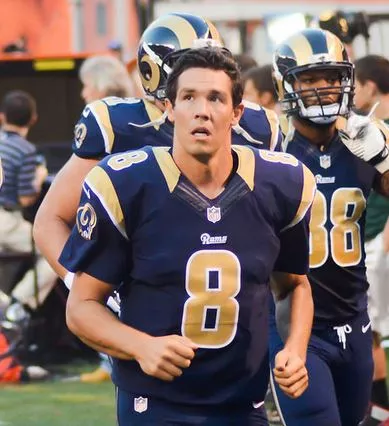 Flickr/Erik Drost
Sam Bradford: The unluckiest man in the NFL. But is he cursed?
Have you heard? The St. Louis Rams are cursed -- cuuuurrrsed!
Indeed, quarterback Sam Bradford's season-ending knee injury on Saturday has sports journalists and fans contemplating the supernatural to explain both the Ram's bad fortune and Bradford's ever-so-delicate ligaments.
Bernie Miklasz's Monday column got right to the point; the Post-Dispatch writer conceded that while his rational faculties normally prevent him from believing in curses, "the Rams and Bradford are really, really, testing me on that."
See also: Fan Promises Free Drinks Forever if Michael Sam Sacks Johnny Manziel, Sam Does Twice
ESPN beat writer Nick Wagoner upped the ante with his evocatively spooky column -- "Dark cloud still hovers over Rams." Possibly inspired by the anguished Tweets posted shortly after Bradford went down, Wagoner theorized that the past fifteen years of Rams heartache is somehow connected to the magical 1999 Super Bowl season.
"It's hard not to wonder," he wrote, "if one of the team's then power brokers, someone such as president John Shaw or president of football operations Jay Zygmunt, made some sort of deal with the devil to create that perfect storm."
In any case, Twitter users were quick to establish the "Rams are cursed!" bandwagon after Bradford went down clutching his left knee.
Granted, all this curse talk could just be fans' natural reaction to the prospect of another doomed season, especially since the Rams must somehow compete in the monstrously talented NFC West division. But Daily RFT doesn't shy away from paranormal investigation: If the Rams really are cursed, somebody must have put that hex on us. Here are the likely culprits:
1. Sam Bradford
Flickr/USDA
Milk may help build strong bones, but it didn't do anything for Bradford's ACL on Saturday.
Of course, the injured quarterback himself could be the source of the Rams' curse. Drafted in the first round in 2010, Bradford was hyped as the next Kurt Warner and given a rookie contract so bloated that it's now commonly referred to as "The worst contract in the NFL."
Then there are Bradford's performance issues on the field, his inconsistent accuracy and his tendency to dink-and-dunk with short passes while wasting the talent of speedy receivers like Tavon Austin. We could go on, but that territory is very, very well trod. Now, after four years of disappointment, most reactions to Bradford's injury are those of empathy toward a young man whose career may very well be over.
Continue for more possible sources for the Rams curse.
2. The 1999 Rams
Bradford's injury -- and 34-year-old Shaun Hill's imminent turn as starter -- has brought up all sorts of comparison's to Kurt Warner's ascension after Trent Green was injured in the third preseason game of the 1999 season. Can Hill become the next great St. Louis Cinderella story? Perhaps, though he was never that great during his brief stints as a starter with the San Francisco 49ers and Detroit Lions.
Others, like ESPN's Wagoner, see the Rams' fifteen-year misery as some kind of cruel karmic payback for the heights reached by the Greatest Show on Turf. One Twitter user brought up the Rams' treatment of Warner after the Superbowl-winning quarterback's own struggles with injuries.
3. Jeff Fisher
During the press conference Sunday night, Fisher told the assembled press that the first half of Saturday's game -- in which five players had to leave due to injury -- was every coach's nightmare. But we wonder if Fisher may have brought this particular nightmare along with him from his time as coach of the Tennessee Titans.
In 2008, Fisher's starting quarterback Vince Young went down for the season, but the Titans surprised everyone that year by going 13-3 behind aged backup Kerry Collins and budding superstar running back Chris Johnson. Some would see Fisher's past experience as a sign of hope -- that the Rams could do the surprising this year. But it's worth noting that Fisher and the Rams' front office are responsible for not building a better team around Bradford and ignoring the QB talent in this year's draft.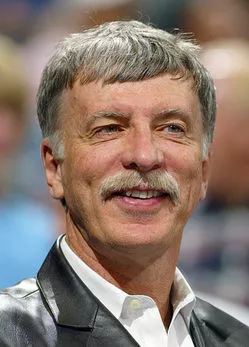 Wikimedia Commons
This man owns a possibly cursed football team.
4. Stan Kroenke
Stan Kroenke's ownership of the Rams is arguably a curse unto itself. The team is worth $930 million -- the lowest-value franchise in the NFL, according to Forbes, which charitably described the Edward Jones Dome as "antiquated" before mentioning that the team is "considered a likely candidate to be one of two NFL teams headed to Los Angeles." Ugh.
5. The Fans.
Could it be us?
In the context of curses, the party with the most emotional investment would presumably retain some responsibility. Maybe someone forgot to wear their lucky Rams socks during the play when Bradford got sacked? Does it work like that?
In reality, injuries in the NFL are a constant, largely inexplicable force. Multiple teams have invested in high-tech monitoring devices, computer simulations, nutritionists, experimental training schedules and more -- yet the hamstrings keep pulling. ACL injuries like the one Bradford suffered occur with depressing regularity. No one knows exactly why Bradford -- who seemed back to full strength after missing most of last year's season with a similar ACL tear -- crumpled to the ground after a seemingly minor hit.
Regardless, Rams fans must accept the mystery that is football injuries, and somehow find the strength to move on. Sure, it's frustrating. But just think what Bradford is going through right now.
Follow Danny Wicentowski on Twitter at @D_Towski. E-mail the author at Danny.Wicentowski@RiverfrontTimes.com