Ferguson is a crowded place these days. Social activists, volunteers, legal observers, medics, church groups, bloggers, anarchists, revolutionaries -- all have crashed into the St. Louis suburb since Michael Brown's death on August 9.
They've certainly made the situation on West Florissant Avenue more confusing. What began as a primarily local uprising against police brutality has become the national epicenter for dissent. The situation is only growing more complicated and contentious as the investigation into Brown's shooting drags on.
We've been reporting in Ferguson since the beginning, and it's no small challenge to understand the dynamics at work inside the protests. We've put together a reference guide to some of the most visible and vocal players on the scene.
See more Riverfront Times coverage of the unrest in Ferguson and the death of Michael Brown.
The Elders
They may not be grizzled by age, but these individuals carry the heaviest clout in the Ferguson protests. With outsized personalities and committed followings, these are the movers, the shakers and -- potentially -- the leaders.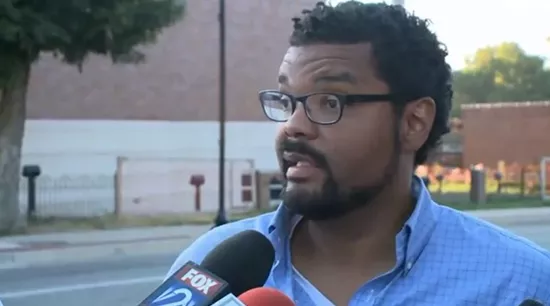 Alderman Antonio French was arrested last week, catapulting him to media stardom.
Antonio French
If you spot 21st Ward Alderman Antonio French in Ferguson, he'll likely be Tweeting. Or Vining. A former journalist, French hops between protest observer and protest participant with incredible ease; he's attracted 119,000 Twitter followers and a reputation as a calming force on the front lines between demonstrators and police. Though he doesn't live in Ferguson or politically represent its residents, French is arguably the loudest, most respected voice advocating for peace and justice.
Police arrested French last Wednesday for unlawful assembly, but he was released after 24 hours without bond. Since then, he's become the go-to local commentator for national and international media. However, some -- like the the French newspaper Le Monde -- have expressed unease over the alderman's sudden popularity, and characterize him as a skilled opportunist with higher political ambitions.
Maria Chappelle-Nadal There's nothing ambiguous about State Senator Maria Chappelle-Nadal's opinion of Governor Jay Nixon.
"FUCK you, governor!" she tweeted Thursday, expressing frustration with Nixon's silence after three days of tear gas and militarized police presence on the streets. It's not just Nixon in her crosshairs: At a press conference the day before, she asked Ferguson police chief Tom Jackson if she "was going to be gassed again, like I was on Monday night."
"I hope not," said Jackson.
Senator Chappelle-Nadal represents part of Ferguson, and her profane ire at police officials and Nixon netted the Democrat media attention and Twitter love, though far less than French. She hasn't stopped battering Nixon, either: She recently called out the governor for his lack of interest in the black community and publicly speculated that Missouri Highway Patrol Captain Ron Johnson is a "pawn" meant to distract the public from Nixon's failures.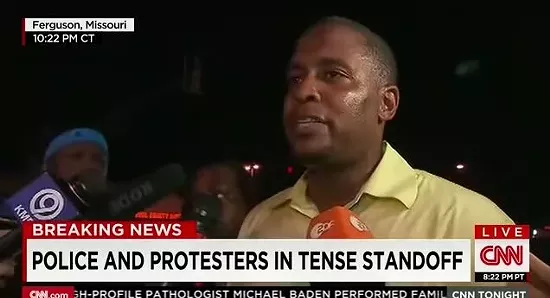 Malik Shabazz says groups like the New Black Panthers and Black Lawyers for Justice keep order in Ferguson.
Malik Zulu Shabazz If there's anyone really angling to become the leader of the Ferguson protests, it's Malik Zulu Shabazz, the former leader of the New Black Panther Party and current head of the Black Lawyers for Justice. He's been all over the protests. With megaphone in hand, he has urged rowdy demonstrators to to resist engaging with riot cops, and even encouraged crowds to go home before curfew. Riverfront Times reporter Ray Downs spotted him on Saturday hugging young protesters and telling them that he's their "big brother."
Depending upon who you ask, Shabazz is either a peaceful community organizer or a spotlight-chasing black supremacist. His tumultuous reign as head of the New Black Panther Party ended after more than a decade in 2013, and the Southern Poverty Law Center characterizes him as an anti-Semitic black nationalist with a penchant for provocation.
This past Saturday, Shabazz told Captain Ron Johnson that he and members of the New Black Panthers, Nation of Islam and Black Lawyers for Justice should be credited for the outbreak of peace on the night of August 14. Johnson responded that Shabazz was "absolutely correct" and thanked him and activists in general for keeping order. On Monday, Shabazz blamed "intentional provocateurs" and "outside infiltrators" for the violence in Ferguson.
The Activists
If you fight the power, people will come fight it with you. Ferguson has been inundated with various activist groups. Some are more ideological than others. Others are so ideologically driven they're kind of scary.
Chad Garrison
John Rodgers and Paul Muhammad (right) of the Peacekeepers
The Peacekeepers
They found their calling in the words of Matthew 5:9 ("Blessed are the peacemakers, for they will be called the children of God"), and since August 10, they've been attempting to serve as a buffer between angry demonstrators and police.
"We were borne out of this crisis in an attempt to de-escalate the situation," says Paul Muhammad, whose group has grown to some ten volunteers. Muhammad says protesters have generally been receptive to the Peacekeepers calls for nonviolence. The police, unfortunately, have not been as predictable. Earlier this week one of the Peacekeepers was hit in the face with a rubber bullet fired by police in what Muhummad says could "only be described as an indiscriminate, drive-by shooting."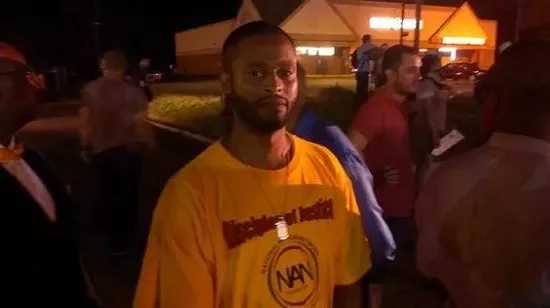 Ray Downs
Disciples of Justice's Alfred Long.
The Disciples of Justice
The Disciplines of Justice emerged last week as a sort of replacement Ferguson police force. Its members -- clad in identical yellow T-shirts -- could be seen standing in the median of West Florissant Avenue on Monday evening, directing demonstrators to "keep walking" (to avoid arrest) and to stay out of parking lots (again, to avoid arrest). Alfred Long Jr., one of a dozen or so members, says the group was started last week by community leaders and counts exhibitionist/social activist Anthony Shahid as its leader.
"What we're dong is trying to bring some unity, to police our streets with people that [residents] trust," says Long. Later that night he was jumped and searched by SWAT officers who thought he had a gun.
Danny Wicentowski
New Black Panther Party members directed traffic and kept the peace Thursday night.
The New Black Panther Party
The FBI report was chilling, and the KTVI (Channel 2) reporter was breathless. A member of the New Black Panther Party had landed in Ferguson, he told the camera, "advocating violence against law-enforcement officers." Who was he talking about? Chawn Kweli, the national chief of staff for the Atlanta-based organization.That night, Kweli was playing traffic guard, and about a half dozen other members -- some clad in black military gear and masks -- served as a protective barrier between protesters and the street. There's a St. Louis chapter as well, with the same imposing sense of style.
Kweli desclined to tell us how many New Black Panthers are actually in Ferguson, saying only that "we see all these people as party members. Everybody is deputized to take part in this community."
Though it appears the NBPP acts as a peaceful force in Ferguson, it does make some people uncomfortable. That's understandable reaction given that the group's Southern Poverty Law Center profile calls them "a virulently racist and anti-Semitic organization." (Interestingly, the profile hasn't been added to since 2012, which was shortly before Malik Shabbaz -- whose own SPLC profile features numerous past bigotries -- stepped down as chairman of the New Black Panther Party.)
The Revolutionary Communist Party Members of the Chicago-based Revolution Club arrived in Ferguson last Wednesday, and since then have been accused of actively working to destabilize Ferguson toward violence. Tensions are running high between other activists and the revolutionaries. On Monday night Anontio French even shoved an apparent RCP member to the ground.
In a statement released Tuesday on its website, the RCP argued that rebellion is the only way to resolve the injustices that led to Michael Brown's murder: "To everyone who really wants liberation, who wants a better day for our youth -- don't let them tamp this down. To the 'leaders' who attack the angry ones and tell us to trust in the system -- NO. If you can't do any better than that, get out of the way."
Tibetan Monks
If you still doubt the breadth of global attention on Ferguson, then you must not have met the six Tibetan monks who arrived at the West Florissant QuikTrip on Sunday. They came all the way from India.
The Watching World
"The World Is Watching" is more than a social-media catchphrase or a fodder for protest signs. Indeed, Ferguson is being watched, and the world seems disturbed by what it's seen so far.
Jessica Lussenhop
The Amnesty International delegation in Ferguson is the first of its kind -- ever -- to set foot in the United States.
Amnesty International Things must be bad if Amnesty International arrives on scene. The global human-rights watchdog group makes frequent stops in countries beset with corruption and strife, and the Middle East keeps the organization busy. But now a thirteen-member delegation is exploring Ferguson.
"This is a human-rights crisis in America," executive director Steven Hawkins told Daily RFT earlier this week. He says the group is alarmed at police's expansive "must walk" laws enforced on West Florissant Avenue. He characterized the police's tactics toward protesters as a threat to free speech.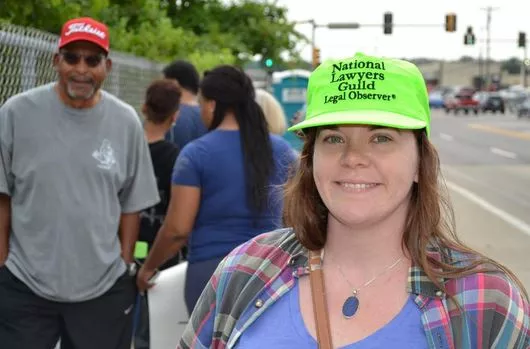 The National Lawyers Guild's observers wear hats that are, in fact, quite easy to observe in a crowd.
Legal Observers If you're a Ferguson protester, you should know that the probability of getting arrested has risen sharply in the past several days. Police in Ferguson arrested more than 100 people since Sunday, and at times officers appeared to simply target the nearest young black man in sight.
The deteriorating situation in Ferguson has attracted dozens of lawyers from across the country to don the neon green hats of Legal Observers for the National Lawyers Guild. They can be seen handing out pamphlets or advising protesters on their rights -- but even lawyers aren't immune from arrest: The National Lawyers Guild reported that police arrested Legal Observer Max Suchan and detained him for four hours Wednesday morning.
The Celebrities
Ferguson's meteoric rise to public interest compelled St. Louis' most famous natives to leave their mark, as well as the country's two best-known celebrity activists.
Jack Dorsey
Twitter-founder and St. Louis' favorite native-born billionaire arrived in Ferguson on Friday, and he has been
live-tweeting and vining
his way through the protests ever since. He's even found a new BFF in
Alderman Antonio French
.
Nelly
Ferguson residents and protesters greeted Nelly with roses when the hip-hop star arrived Monday afternoon, and he reciprocated with a
speech
asking for the looting and violence to stop.
"We've got to understand that we have options, and stop choosing the reaction option, 'cause at the end of the day, we gonna pay -- our brothers are gonna be the ones in jail," said Nelly. "We don't want to deal with the reality, we just want to be so mad, that we got our own personal agenda."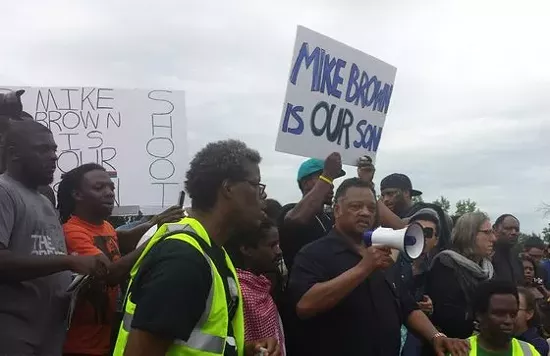 Danny Wicentowski
Jesse Jackson addressed a crowd in the back lot of a local church on Saturday.
Al Sharpton and Jesse Jackson
Opinions diverge on the subject of Al Sharpton's and Jesse Jackson's respective visits to Ferguson last week. Neither man lacks for charisma or a sense of gravitas. For instance, when Sharpton took the dais at the Greater St. Mark Family Church he called upon "100 brothers" to join him before the congregation; he then asked them to commit their youthful energy to protecting the community, not destroying it. A few days later Jackson stood before different crowd at St. Mark's and asked God to "gracefully accept Mike into your loving grace...we who are left will tell the story."
Critics say both men are opportunists who milk tragedy for a few spotlights and then jet off to the next gig. Jackson managed to anger his crowd by asking them for $100 donations to the church, and Shartpon's mainstream-media presence makes some here suspicious of his motives. As one Ferguson man succinctly put it -- " We don't need them here.... They come out here, they shake a few hands, they go to the scene of the crimes, pray and go home. That's not solving nothing."
The Inexplicable
With a protest the size of Ferguson's, you're going to see some things that seem to defy explanation.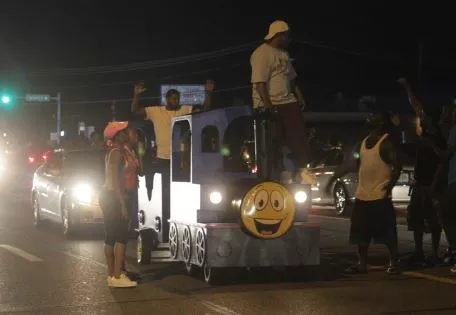 Danny Wicentowski
Thomas the Train made his grand entrance last week.
Thomas the Train We first spotted Thomas the Train during the paradelike protest Thursday night, and his presence quickly went viral over social media. It returned Tuesday night with a sign proclaiming it the Peace Train, and the next day someone created a Twitter profile for the rolling, anthropomorphic locomotive.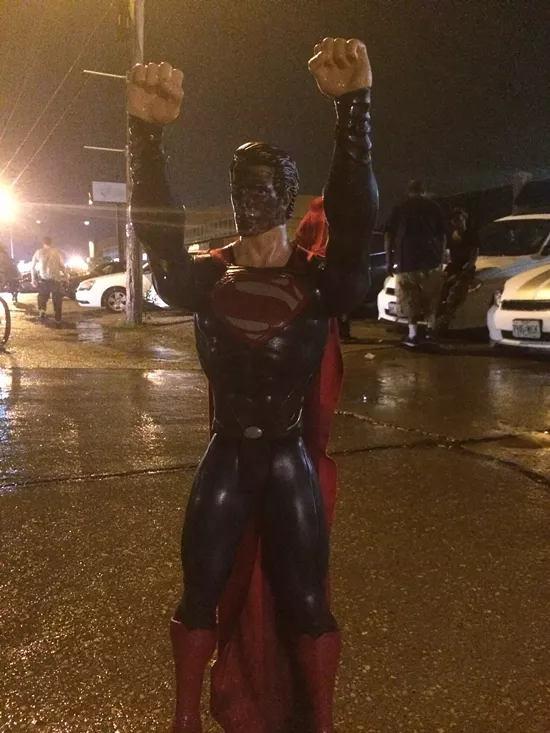 Mitch Ryals
Well, Superman's hands are up, so it sort of makes sense. Sort of.
Black-Face Superman As far as weird protest props go, this one takes the cake. Basically, there is a man who carries around this roughly two-and-a-half-foot-tall action figure of the Man of Steel with his face drawn over with black marker. We get strangely uncomfortable just looking at it.
Continue for the most important group of all...
The People of Ferguson
Obviously, these collections of competing interests, ideologies and politics make Ferguson a staggeringly complex situation to comprehend, let alone analyze. But from another perspective, Ferguson is actually very, very simple to understand:
People live here.
Put aside the high-minded talk of a nation confronting its historical racism -- it is the residents of this St. Louis suburb who must smell tear gas leaking into their homes each night. They are the businesses owners suffering after each round of looting. They are the parents whose children are not going to school. They are the workers missing shifts because police have blockaded the roads.
They are the homeowners who allowed photographers and reporters to hide in their living rooms while armored trucks lobbed tear gas into the streets where children play. Or used to play. They were the first ones to shed tears of grief for Michael Brown and his family. They are the families who cannot burn their community to the ground for a cause. Because for the people of Ferguson, the future of their community hangs in the balance. There can be no other cause.
Follow Danny Wicentowski on Twitter at @D_Towski. E-mail the author at [email protected]