Photo courtesy of O'Fallon, Illinois, police
Jerry Vinson is accused of hitting a cyclist with his truck after threatening to hit a group of them with a pole.
Prosecutors in St. Clair County, Illinois, yesterday charged Jerry Vinson with reckless driving and leaving the scene of accident for his role in a bizarre provocation he had with bicyclists earlier this month in O'Fallon, Illinois.
According to cyclists, Vinson pulled up onto a group of bikers August 5 and yelled at them to get off the road. Vinson then began swerving toward the cyclists and -- at one time -- allegedly swung a pole at the bikers from the cab of his pickup truck.
James Lewallen, a cyclist who ran into Vinson's vehicle after the motorist allegedly slammed on the brakes in an attempt to cause a collision, suffered road abrasions and thousands of dollars in damages to his bike from the incident. Reached for comment Wednesday, Lewallen wasn't satisfied with the charges against Vinson.
"He should be charged with more. He intentionally hit me and almost another," Lewallen says. "It's good he's being charged with the crime, but he should have been arrested the hit and run."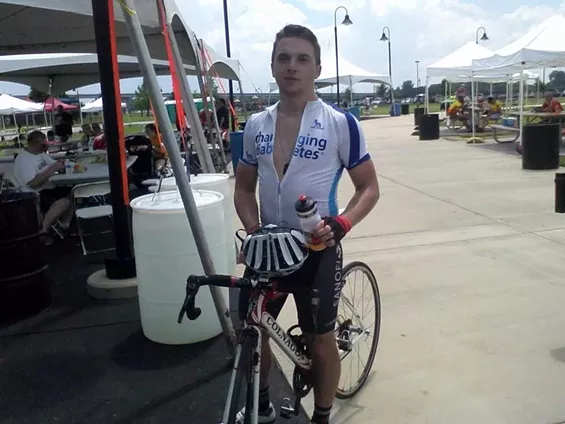 Photo courtesy of James Lewallen
James Lewallen stands astride his bike after a 100-mile race two months prior to the collision.
See also: Another St. Louis Area Bicyclist Says He Was Intentionally Struck by Motorist
As Daily RFT reported previously, the cyclists shouted Vinson's license plate number in an attempt to stop the harassment, but it persisted. Lewallen says he was about a foot from the curb when Vinson's pickup got too close. He put his hand on the tailgate for balance, and the impact caused his bike wheels to fly out from under him. Then Vinson sped off.
Vinson was officially charged Tuesday with one count of reckless driving and one count of failure to give information and render aid after an accident. Both are class A misdemeanors punishable by up to one year in jail. Vinson was released after posting a $10,000 bond. A court date has not yet been set, and he did not return calls from Daily RFT. Click here for the law in Illinois regarding cyclists on the road.