All photos by Danny Wicentowski
Police appeared committed to nonviolent responses Monday night.
Ferguson residents are getting used to the clinging aroma of tear gas every morning.
On Monday night law enforcement launched volley after volley of tear-gas canisters at Canfield Drive, West Florissant Avenue and Northwinds Estates Drive -- not to mention rubber bullets and the expected variety of flash-bang grenades, pepper bombs and smoke. Add in two people shot, 31 arrests and numerous journalists detained, and you've got another thoroughly awful night in Ferguson.
However, Daily RFT observed police officers willfully ignoring countless taunts and minor threats. Even not so minor threats, like thrown glass bottles and rocks, failed to set off police reprisals as they did during prior confrontations.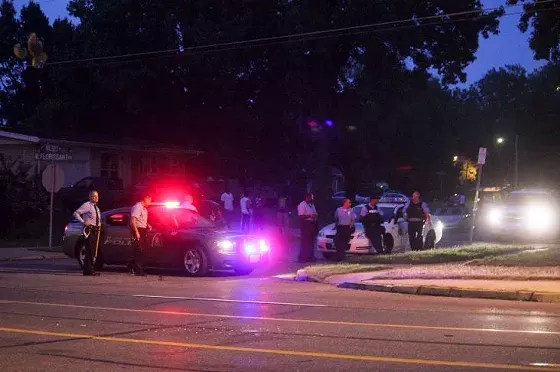 Police stood guard at entrances to many residential streets on Monday evening.
See all Riverfront Times coverage of Michael Brown and Ferguson.
For hours, hundreds of protesters looped up and down West Florissant Avenue, from Ferguson Avenue to as far north as Chambers Road. Police prohibited protesters from gathering on sidewalks or parking lots on West Florissant, resulting in an ever-roaming mass. During the day police arrested several protesters and even a Getty photographer for violating the "no congregating" rules.
But as evening descended, the crowd swelled with families and young children. Police stopped harassing protesters as long as they kept off of parking lots.
At 9 p.m. protesters made their first confrontation with the southern police line at Ferguson Avenue. A large group linked arms and approached officers before turning their backs and marching slowly away. Other protesters surged toward the police line, and some threw water bottles.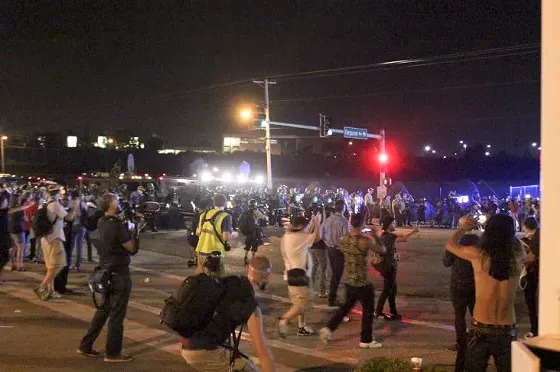 The tense situation at the corner of West Florissant and Ferguson avenues.
Police did not react to the bottles or the crowd's close proximity. We even observed Missouri Highway Patrol Captain Ron Johnson parlaying with protest leaders in an effort to diffuse the situation.
It worked. The protesters moved north without incident, though not before an armored police vehicle sped through a gap in the crowd and parked a couple blocks down the street. The truck deployed SWAT members, but they did not engage protesters as they approached them.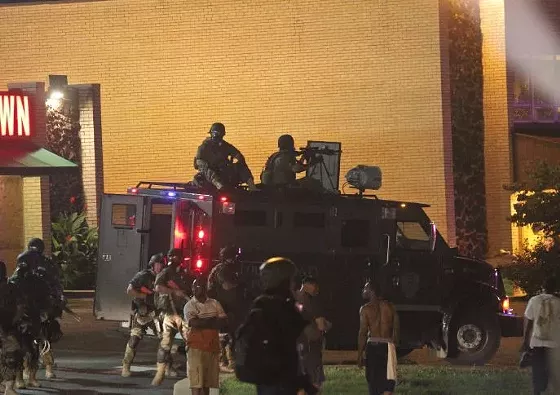 This armored truck took up an advance position on West Florissant, then moved on to the QuikTrip.
But by 9:20 p.m. several armored trucks had taken up position near the QuikTrip, and a crowd of around 40 gathered in the street while officers shouted through a megaphone for protesters to return to the sidewalk.
A crowd congregated near the entrance of Northwinds Estates Drive around 9:30 p.m.
Again, police appeared committed to not responding to thrown objects -- such as the water bottles -- though Daily RFT did not see the objects actually hit officers. (Police said four officers were struck and injured by thrown debris.) This was a significant departure from previous clashes, like on Sunday night, when police appeared to need very little provocation to start lobbing tear gas.
However, shots fired toward police from the direction of Northwinds Estates Drive shattered the uneasy balance around 9:40 p.m. Police returned fire with volley after volley of tear gas, in addition to a suffocating blanket of tear gas on the modest crowd of protesters near the QuikTrip.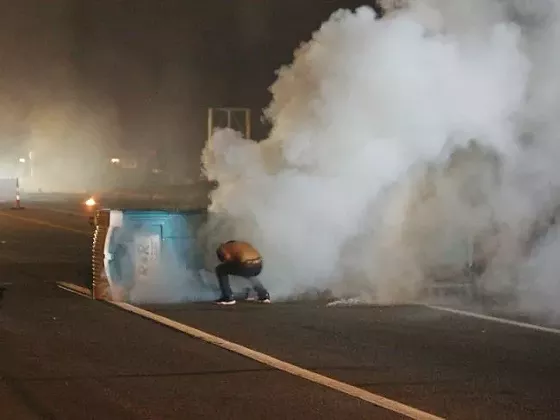 Things only got worse from there. Daily RFT was on the ground and monitoring terror-filled media reports throughout early Tuesday morning. You can read that coverage here.
Follow Danny Wicentowski on Twitter at @D_Towski. E-mail the author at Danny.Wicentowski@RiverfrontTimes.com