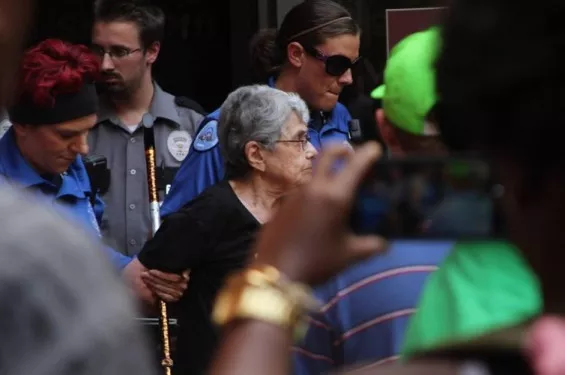 @dylanbrady | Twitter
Hedy Epstein, center, is arrested outside the Wainwright Building in downtown St. Louis on August 18.
Hedy Epstein knows a thing or two about human rights. As a Holocaust survivor, German-born Epstein has seen her share of abuse and oppression. After all, the Nazis didn't care much for the civil liberties of Jews or for anyone who wasn't of the Aryan race.
Epstein's experience is why she eventually immigrated to the United States, where she has been an outspoken activist for affordable housing, anti-war and pro-choice issues. The St. Louis resident, who was born in 1924, even founded the local chapter of Women in Black, a group that began as a response to Israel's occupation and has broadened to become anti-war in general.
With that kind of résumé, it's no surprise that Epstein wanted to voice her opinion about Michael Brown's death and the handling of the investigation. But what's surprising to many is that Epstein would be taken into custody while doing so.
See also: Cops in Ferguson Detain Journalists, Threaten to Shoot Cameraman, Mace Reporter
Epstein was part of a crowd of about 100 people who gathered in downtown St. Louis on Monday, August 18. The group's plan was to march down Market Street near Kiener Plaza and turn toward the Wainwright Building on North Seventh Street, where Missouri Governor Jay Nixon has an office:
The group arrived at the Wainwright Building, perhaps confusing bike patrol officers:
Protesters tried to enter the building, ostensibly to meet with Nixon:
But then the group turned the protest into a sit-in:
Eventually, some protesters spoke on a bullhorn and led the group in chanting "Hey, hey, ho, ho, the National Guard has got to go," and "Whose building? Our building," among other things:
The police and security officers again denied protesters entry to the Wainwright Building:
And that's when the St. Louis Business Journal reports that police arrested eight protesters -- including Epstein, who was wearing a shirt that said "Stay Human" -- for blocking the Wainwright Building's entrance:
Read the Riverfront Times' complete Michael Brown / Ferguson coverage.
Follow Allison Babka on Twitter at @ambabka or email allison.babka@riverfronttimes.com.