Ray Downs
Protesters Monday night.
It started out as a day of walking and ended up a night of gas, gunshots and a protester who came back to the scene just to pick up the trash left by his fellow protesters.
"Keep moving!" barked a police officer at a protester who stopped on the street to talk to a friend.
That was the rule Monday afternoon: Keep moving, and you can protest. Stop, and you'd be subject to arrest. For most of the day, protesters marched back and forth on the West Florissant sidewalk between Canfield Drive and Ferguson Avenue. They weren't allowed to go any further. And walking into the street could mean a night in jail.
Not everybody appreciated the rules, especially in the August heat. As the day went on, protesters complained about the restrictions on the protest set forth by police.
"Martin Luther King wouldn't have done it like this," shouted a frustrated protester. "He'd keep on going!"
Despite disagreeing with the rules, he, along with many others, kept marching on. But the overall sentiment was that the police were simply tiring the protesters out so they would leave sooner. And many felt the rules -- being told where to walk, told not to stand on the sidewalk, and even told not to sit in front of a closed business -- was just an attempt to curb their First Amendment rights.
See all Riverfront Times coverage of Michael Brown and Ferguson.
In front of a closed dentist office, several people sat down in a shaded area, resting their feet and taking in some shade. Every few moments, fellow protesters would come by to warn them they could be arrested if they sat down too long.
Deborah, who asked Daily RFT not to use her last name, was taking a seat in front of a closed dentist office.
"I think the way they're handling the protest is unconstitutional," said Deborah. "They have not given us a reason why we have to walk. They've not said anything to us. How is that legal, what they're doing to us?"
She added: "Just give us our rights -- they're stripping it again right now. But there's a way to end this: Arrest the officer."
"We all want justice for Mike Brown," said Michelle Pierce, who was also taking a break from the sun. "We've all been out here, protesting, being peaceful, so we should be able to remain out here. And we just want the officer arrested for murder. He shot [Brown] six times, so he ought to be arrested for murder."
Police cruisers started driving up and down the street with more frequency. Another protester came by to warn those sitting by the dentist office that police were making sweeps and arresting those who have congregated. Ernestine Hudson, 64, slowly got up.
"My legs are tired and my knees are tired, but I'll keep walking," she said. "And I'm gonna walk real slow, too."
A younger man who had been sitting nearby also got up.
"You go ahead and walk as slow as you want, sister," he said. "And I'm gonna walk right with you."
But as the night went on the rules loosened, and the police presence increased drastically. During the day, city and county cops in regular uniform patrolled the area and sat in cars or SUVs. But around dusk, the military presence that has become a symbol of the Ferguson protests took over.
Seemingly, police have tried something a little different each night. And on Monday, they blocked off both ends of West Florissant between Ferguson Avenue and Canfield Drive with several armored trucks and 100 to 150 riot-gear police. And as the night went on, things became tense -- something many protesters attribute to the militarized might that dominates the protest scene each night in Ferguson.
Click on the next page for more about individual protesters...
"They just provoke people with all this," said Jacquelyn Hall, a protester who said she got hit by a rubber bullet a few days ago. "They make people angrier because it's trying to tell them they don't have control over where they live, even though this is their home."
On the Ferguson Avenue side, water bottles were hurled at police. This caused them to advance, with the riot gear cops edging forward, ready to move. An officer on a bullhorn ordered people to move back and get on the sidewalk. This infuriated some people in the crowd, who yelled back at the police -- some with insults, others with reminders about the text of the U.S. Constitution. But the crowd was beginning to look angry and the police became anxious.
Self-appointed leaders like former Black Panther Malik Shabazz, who has at times attempted to wrestle control of the protest throughout the past few days, pleaded for people to be peaceful and to calm down. Although most people were calm, a few were aggressive, wanting to move forward. At one point Alderman Antonio French violently shoved a protester back so hard the protester fell backward and appeared to be hurt, at least momentarily. Fellow protesters offered him assistance.
On the Ferguson side of the street, the scene calmed down, but police were still watching the crowd with intensity. At one point, a protester named Alfred was talking to friends when an armored truck with several SWAT officers charged up to him. Police immediately jumped off or out of the vehicle and grabbed him, pulling him to the ground. Several others had their rifles pointed at him. They searched him, found nothing, and then left. A black officer patted him on the shoulder as he left.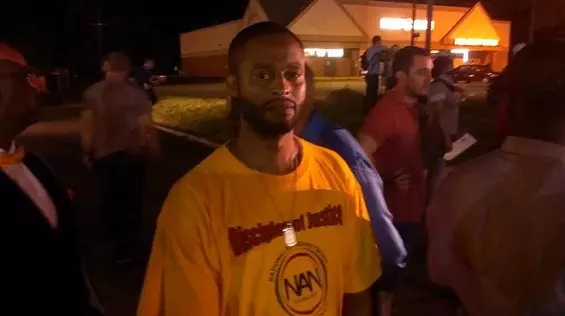 "They said they thought I had a gun," said Alfred. Asked if he was scared, Alfred replied, "I don't have the spirit of fear, brother."
Similar events happened at least twice more with cars attempting to leave the area.
On the other side, by Canfield Drive, things were more hectic. Gunshots were reportedly fired near the protest area, possibly from a residential area, which led to a barrage of tear gas.
People ran to get away from the tear gas, and some were deeply affected by it, coughing and throwing up. A woman with a Maalox and water solution used to quell tear-gas effects walked around offering assistance.
A man going by the name of John, said he's an army reservist who came down to protest police militarzation.
"I don't think the government should wage war on its own people," he said. "And this looks like a war."
After gassing on end of West Florissant, police were able to corral nearly all media into one area. Once they achieved that, media was told to stay put in a media tent. And soon after that, they were told to leave the area altogether for "safety reasons."
Meanwhile, 150 cops in full riot gear advanced on a group of 15 to 20 protesters, ordering them to leave.
In all, two people were reportedly shot and 31 arrests were made that night.
After police managed to clear out almost all the media and protesters, Justin Hubbard, a protester who lives in the area, came out to pick up trash in the street from the event.
Ray Downs
Justin Hubbard
"It's just my way to add a little positivity to all of this," he said. "There's a lot of negativity out there int he media about the protest, but I just wanna show there's some positive, too."
Follow Ray Downs on Twitter:
E-mail him at Ray.Downs@RiverfrontTimes.com.