Authorities in Kentucky released a dash cam video last April for what they argued was the justifiable shooting of nineteen-year-old driver.
Much of the frustration in Ferguson since the police shooting of Michael Brown on August 9 has been with the excruciatingly slow trickle of information coming from law enforcement. On Friday -- six days after Brown was killed -- Ferguson police finally released the name of the officer, Darren Wilson, as well as an incident report suggesting that the eighteen-year-old victim had been involved in a convenience-store robbery moments before the cop's run-in with Wilson.
Authorities have yet to release, however, an incident report of the shooting or any photos of Wilson, who the Ferguson Police Department says was savagely beaten by Brown prior to the shooting. Last week the American Civil Liberties Union filed a lawsuit yesterday against St. Louis County and the St. Louis County Police Department for violation of Missouri's Sunshine Law. The ACLU requested the incident report involving Brown's death under Missouri Revised Statues 610 claiming that the report is a public record.
But regardless of when the police report of the shooting enters the public domain, there's one thing it's unlikely to contain: a police video of the incident. That's because Ferguson police do not have dash cams in their vehicles or wear body cameras as a growing number of police agencies do.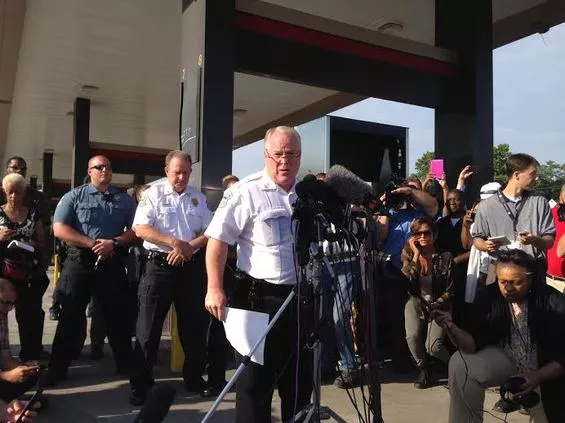 Chad Garrison
Chief Tom Jackson speaking to reporters last week in Ferguson.
In a press conference held last Wednesday, Ferguson Police Chief Tom Jackson acknowledged his department received a grant from the Department of Justice to purchase dashboard and body cameras and acquired two of each. But, Jackson said, the department doesn't have the money to implement the technology.
Kirk Siefert, 22, of University City, isn't satisfied with that. Last week Siefert started a petition on Change.org that has attracted a lot of attention. The petition asks that all St. Louis city and county police officers wear body cameras and record interactions with the public at all times.
See all Riverfront Times coverage of Michael Brown and Ferguson
Siefert started the petition two days after Brown's death and got 500 signatures within the first 24 hours. It's up to nearly 40,000 signatures and continues to grow by about 100 signatures every five minutes.
"I think this whole thing could have been avoided had the Ferguson police used the cameras they already purchased," Siefert said.
The petition gained so much attention that Justin Lyons, senior campaigner with Change.org, contacted him late last week to offer support. The petition is now featured on the Change.org homepage and has gained about 10,000 signatures in 24 hours.
Other police departments throughout the country, including Columbia, have started using dashboard and body cameras to record interactions with the public with much success.
Assistant Chief John Gordon of the Columbia Police Department said purchasing and implementing 102 body cameras for all his officers cost about $150,000. Columbia police began equipping its officers with body cameras earlier this summer, according to the Columbia Daily Tribune. Gordon acknowledged that a few benefits of the body cameras include a greater transparency and accountability for the department, as well as more plea agreements, and therefore fewer court cases. Gordon also said the cameras can help improve the department's relationship with the community.
Police in Rialto, California, have been using cameras to record interactions with the public since 2012. According to a New York Times article, the number of complaints against police dropped by 88 percent in the first year, and the use of force by officers fell by 60 percent.
For more information, check out this report from the Police Executive Research Forum on the current state of body cameras.
Follow Mitch Ryals on Twitter @mitchryals. Email the author at mitch.ryals@riverfronttimes.com.