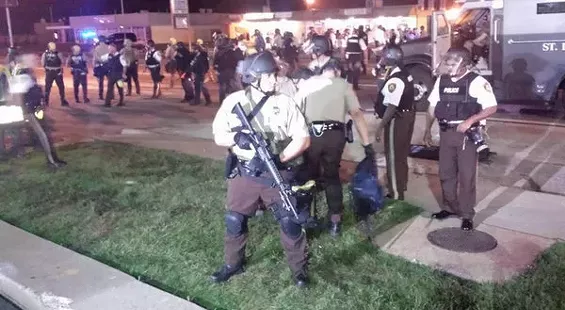 Danny Wicentowski
Police clear the streets after shots are fired.
Another long night begins.
After two nights under a state-mandated curfew failed to quell escalating violence in Ferguson, the St. Louis suburb prepared Monday for a night without a curfew under the watchful gaze of the newest security force on the scene, the National Guard.
The atmosphere in Ferguson has already become a tense one, with protesters and journalists arrested. Clearly, police are strictly enforcing rules against gathering in certain areas, including a blanket ban on standing in demonstration on West Florissant Avenue.
As Ferguson prepares for its first night this week without a curfew, we'll be live updating this Daily RFT blog post with news from the scene and dispatches from our reporters on the ground. Check back with us throughout the night for the latest.
See all Riverfront Times coverage of Michael Brown and Ferguson. --- 3 a.m. - OK, folks, that's all we have. Check back in the morning for our story on the Holocaust survivor arrested at a Michael Brown rally in Ferguson and more coverage of this awful, awful night. Take care of yourselves, St. Louis. --- 2:21 a.m. - Press conference is starting. Our reporters are safely back at the office.
Police arrested 31 people -- some from as far away as New York and California -- that Missouri State Highway Patrol Captain Ron Johnson, Ferguson's police security leader, called "violent agitators" using peaceful protests as cover. Two men were shot.
Johnson said police came under heavy gunfire at the Canfield Green Apartments. Police confiscated two guns from a car with its windows down parked across from the media staging area. Despite being fired on, police did not discharge weapons, Johnson said.
Johnson made an emotional, nearly tearful plea to journalists not to glamorize violence or interfere with police operations.
"We can't have this," he told reporters. "We do not want to lose another life in this community." Johnson said trouble began around 9:40 p.m., when a loud, non-aggressive group of protesters walked up to the police line. This had been happening all night as demonstrators weren't allowed to stop walking on West Ferguson Avenue, the main drag of late-night violence, but this time was different. The crowd grew large and unruly, and people in the middle and back of the crowd began throwing bottles.
Then came the gunshots. Then the rescue mission, when police sent a SWAT vehicle down West Florissant Avenue to clear the crowd and retrieve gunshot wound victims. Two fires were reported, in a business and in an empty home. And at the Canfield Green Apartments, "our officers came under heavy gunfire," Johnson said.
A step behind police and gunmen alike were journalists -- some with credentials, some without, some working for international outlets, some volunteers with an ambitious livestream -- racing for the best shot. Johnson did not apologize for detaining journalists, saying officers released them immediately once their credentials are verified.
"We do take some of you into custody," Johnson said. "In the midst of chaos, trying to move people up, we have to be safe. We have to be safe."
St. Louis County police tweeted photos of the items confiscated: ---
1:55 a.m.
- Ryan Deveraux, journalist for
The Intercept
, was detained: Here are his last tweets, sent as others (see below) reported tear gas and rubber bullets at West Florissant Avenue and Northwinds Estates: ---
1:23 a.m.
- A harrowing account from the
Belleville News Democrat
at West Florissant Avenue and Northwinds Estates: ---
1:10 a.m.
- More. News of tear gas and rubber bullets is coming from people who've been tweeting from the scene for the last nine days. Police held back from gassing protesters tonight, except at Canfield Drive and West Florissant Avenue, says Antonio French. "They just tear gassed a whole neighborhood:" "People are getting rubber bullet-ed, this is not OK:" ---
12:55 a.m.
- Police say we'll have to wait an hour for a press conference, which is frustrating because media aren't allowed out of central command right now. A few reports are trickling out: ---
12:34 a.m.
- Amnesty International is not happy that no one is witnessing the fighting that police say is going on now at Canfield Drive and West Florissant Avenue. ---
12:20 a.m.
- Blockades are making it difficult for anyone to move around out here. Press are unable to reach their cars. Police are keeping media from accessing West Florissant Avenue by Canfield Drive. Antonio French says there's a good reason why: This hero is holding it down strong: ---
12:06 a.m.
- Journalists are being shepherded down to the command center, away from any action. More demonstrators are being arrested. There will be a press conference shortly at the command center.
Continue reading for more updates. 11:50 p.m. - Police are ordering protesters off the street and corralling media into a staging area. This is weird because the governor told Ferguson there would be no curfew tonight.
Arrests happening. At least four people were put on the ground and ziptied, says our reporter on the scene. Police are wearing gas masks.
"Those that didn't move fast enough were arrested here," says Danny Wicentowski,
RFT
reporter. Police are pushing protesters to the police line on the north end of West Florissant Avenue. This is all in response to shots fired, says St. Louis Metropolitan Police Chief Sam Dotson. ---
11:40 p.m.
- Code 2000 called, KSDK (Channel 5) says. That means police need 50 more officers. Things are calm as everyone recovers from tear gas. ---
11 p.m.
- Tear gas and flash bangs fired at QuikTrip.
Police have fired multiple tear-gas and flash-bang canisters into the crowd at QuikTrip. An ominous cloud of gas is moving down to the other end of the street, where there's a strong line of police.
Danny Wicentowski, the
RFT
reporter at the QuikTrip, says protesters are throwing canisters back at police and using portable toilets to block the road from police vehicles. From Wicentowski: "I heard six loud cracks that didn't come from police (from Canfield Drive, behind the QuikTrip). I believe they were gunshots, but whatever they were, police had already resisted when a glass bottle was thrown and many, many water bottles. Whatever set them off came from a different group of protesters from the rear parking lot." Protesters are washing the tear gas out of each other's eyes. That fire appears to be from a street sign. Chaos at QuikTrip makes this super creepy: ---
10:45 p.m.
- Someone stole a yield sign. Police don't like it. A woman who's been demonstrating all night holding up a sign has been arrested. Leaders are asking protesters to move away from the police line, but few are leaving. A crowd has been gathering at the QuikTrip. Police don't like that either. They're not supposed to be there. Danny Wicentowski, the
RFT
reporter at the QuikTrip says, four armored tanks and about 24 SWAT team members are showing restraint to the about 40 people demonstrating illegally in the parking lot. Another 30 or so people are watching from the rear parking lot, and media have gathered to watch along the road. The only thing keeping folks calm tonight is the tireless effort of community members and faith leaders. And Governor Jay Nixon knows it. Thanks for nothing, Governor: ---
10:33 p.m.
- And again, Ferguson is a
no-fly zone
. The governor's office has ordered that only relief aircraft be allowed under 3,000 feet above Ferguson.
St. Louis County Police asked the FAA for a no-fly zone last week because rioters were shooting at police helicopters. ---
10:30 p.m.
- Protesters are leaving the scene, leaving swarms of media behind. Police frantically back protesters onto the sidewalk, then suddenly stand back. ---
10:14 p.m.
- Police are ordering everyone onto the sidewalk. Reports of water bottles thrown. No tear gas yet. Just north of the Quiktrip, a crowd of about 75 people are lining up and antagonizing police, says
RFT
reporter Danny Wicentowski. Two armored trucks guard the area with SWAT team members with assault rifles and gas masks. Suddenly, things on West Florissant Avenue are calm again. ---
10:05 p.m.
- Shots fired. This could explain the line of police vehicles and officers who just sped off toward Canfield Drive minutes ago. ---
10 p.m.
- There's a standoff between protesters and police, but cooler heads are trying to keep things calm.
The sound cannon has been turned off, and community leaders are still forming a peaceful line in front of police. Oh, just kidding, the sound cannon is back on.
An armored police vehicle drove through the crowd on the street, dispersing demonstrators.
See more on the next page. 9:50 p.m. - Uh oh, things are changing rapidly. Sound cannons are going off. Here's what happened:
The crowd swells as protesters march toward police during their moving protest, and things quickly become tense. Someone throws a rock. Police form a line, and things calm down for a second. Then the trucks come out and over the megaphone, protesters hear: "Disperse now! Back up now!" Debris is thrown at police. Now the sound cannon is going off. Riot cops are gathering with wooden batons but no heavy weapons, says
RFT
reporter Danny Wicentowski. ---
9:45 p.m.
- From
Riverfront Times
reporter Ray Downs: "Only businesses open are barber shop and burger joint. You can still get a snack and a shape-up."
Ray Downs
Open for business in Ferguson.
And if you can't afford to pay for a meal, this family is handing out free food to protesters:
Ray Downs
A family giving out free food to protesters Monday night.
Captain Ron Johnson is updating the press and says things are much more low-key tonight: "Today we have more community leaders out here. Some are just mothers and fathers. Sisters and daughters are out here helping, asking people to leave the protest in peace." ---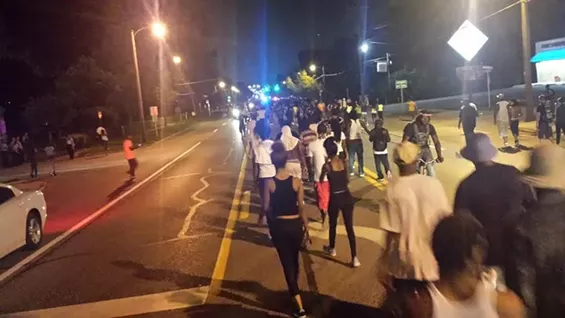 Danny Wicentowski
Protesters move south on West Florissant Road. They have to keep moving or risk arrest.
9:30 p.m.
- Students in Ferguson were supposed to start school Thursday. Now, classes are cancelled all week. This is a tough break for families who depend on free or reduced breakfast and lunch programs, especially with local stores closed or limited by looting and unrest in the neighborhood.
More on the next page.
9 p.m.
- Scott Olson, the Getty Images photographer who was arrested, is now free. So far, protesters marching up and down West Florissant Avenue are calm, peaceful and wary, says Riverfront Times reporter Danny Wicentowski. Demonstrators, including parents with children, are walking on the sidewalks or gathering in parking lots, and "it looks like the cops are letting people do their thing," he says.
The scene on the street:
Danny Wicentowski
Demonstrators, closely followed by press, walk up and down W. Florissant Avenue.
--- 8:45 p.m. - Oh, also, Nelly is here. Of course.
We may be in turmoil, y'all, but this is still the Lou.
More live updates on the next page. ---
Jessica Lussenhop
The National Guard stations at the command post before night falls in Ferguson.
8:35 p.m.
- Captain Ron Johnson, the Missouri State Highway Patrol officer in charge of security in Ferguson and a hero of sorts to a community that feels disconnected from its mostly white police force, explains why demonstrators can't gather on the sidewalks in Ferguson tonight. And these are the guys who will be in charge of "addressing" that criminal element: ---
8:30 p.m.
- Things are tense yet peaceful, and it's only just after dark. Several people have been arrested, including Getty Images photographer Scott Olson, who took this quintessential photo: Pancho Bernasconi, vice president of news at Getty and a man with an incredible name, condemned the arrest in a statement: "We strongly object to his arrest and are committed to ensuring he is able to resume his important work of capturing some of the most iconic images of this news story."
Riverfront Times
managing editor Jessica Lussenhop caught this arrest on camera in front of the McDonald's that was busted into last night. Police say it was attacked by looters, but images show many protesters using milk from the restaurant to help people hit by tear gas.
Update, 9:18 p.m.: Police arrested at least two people for failure to disperse and disorderly conduct, the Associated Press reports.
Police aren't messing around, even if the world is watching. While Don Lemon was broadcasting live on CNN, police tried to shove him down the road along with a group of protesters.
"I think we're about to be arrested because we're standing on a sidewalk," Lemon tells the CNN anchors who ask what it's like in Ferguson today. "You can see what's happening. We've been standing here all day. They told us to come here. I can't move. I'm not going to resist a police officer."
Follow Lindsay Toler on Twitter at @StLouisLindsay. E-mail the author at Lindsay.Toler@RiverfrontTimes.com.