All photos by Danny Wicentowski
Protesters who violated last night's midnight curfew were treated to a violently familiar police response.
After Friday night's chaos in Ferguson, the atmosphere here returned to uncertainty, fear and anger. A quick recap: On Thursday, police authority in Ferguson shifted from the St. Louis County Police Department to Captain Ron Johnson of the Missouri State Highway Patrol. Johnson boosted residents' hopes that a less militarized, more communicative police force could eliminate the heavy-handed police tactics -- like the use of tear gas -- seen in previous days. Those hopes seemed to bear out Thursday night, when West Florissant Avenue played host to a spontaneous, non-violent block party.
Then Friday night rolled around, and residents watched horrified as looters again ransacked local businesses. So when locals and demonstrators returned to West Florissant on an overcast Saturday afternoon, their outlook was understandably cloudy as well.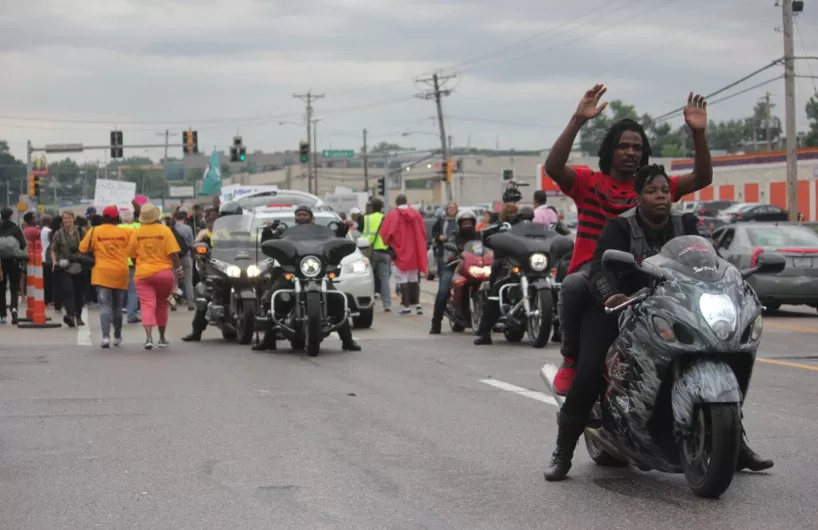 Bikers led hundreds protesters down West Florissant Avenue early Saturday afternoon.
See also: - Ferguson Protesters Defy State of Emergency Curfew and Fight Tear Gas - LIVE: Ferguson Protesters Break Curfew, Face Off With Police
"The looting and shit is taking away attention on what the main focus here should be, and that should be that an unarmed black male was killed, in the street with his hands up," said Eric, a 23-year-old Ferguson resident and father of one. He requested Daily RFT not print his last name.
"I think everybody else is spending more time reporting on looting and the acts of few instead of focusing on the acts of many," he said.
Eric was standing near the charred remains of the QuikTrip on West Florissant Avenue, which had been torched by looters the day after Ferguson police officer Darren Wilson shot and killed eighteen-year-old Michael Brown.
Since then, various organizations have stepped up to provide food and water to protesters and residents. When Daily RFT arrived at the QuikTrip, volunteers were barbecuing and cleaning the area of trash.
"Look how all these black young people out here," Eric said. "You got people out here straight supporting each other, you got black people out here unifying, right here and trying to make the best out of a bad situation."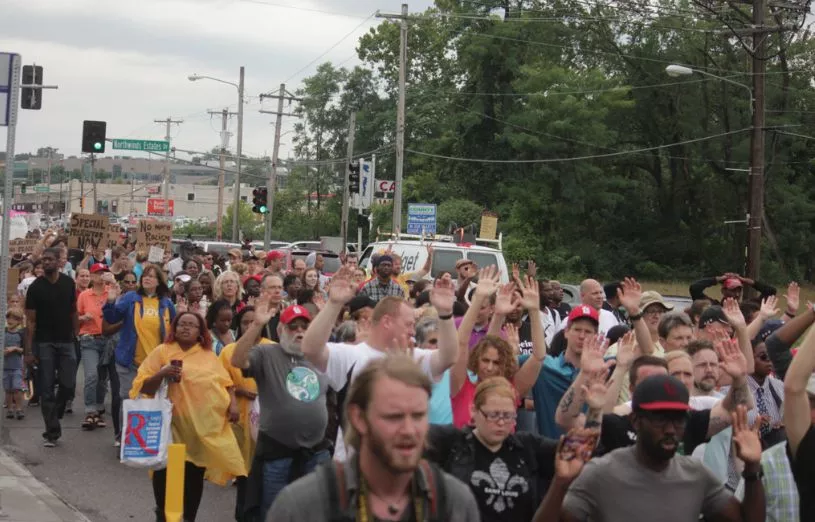 Yet, Eric said he struggles to remain positive. The influx of support to Ferguson has also drawn activists and ideological groups from all over St. Louis -- not to mention the country. There are too many voices, and no one to direct them.
"All these people are coming here, and there's no leader here. You got the Nation of Islam here, you got the Black Panthers, you got the pastors and the different preachers that's out here. You got young people that's out here trying to lead."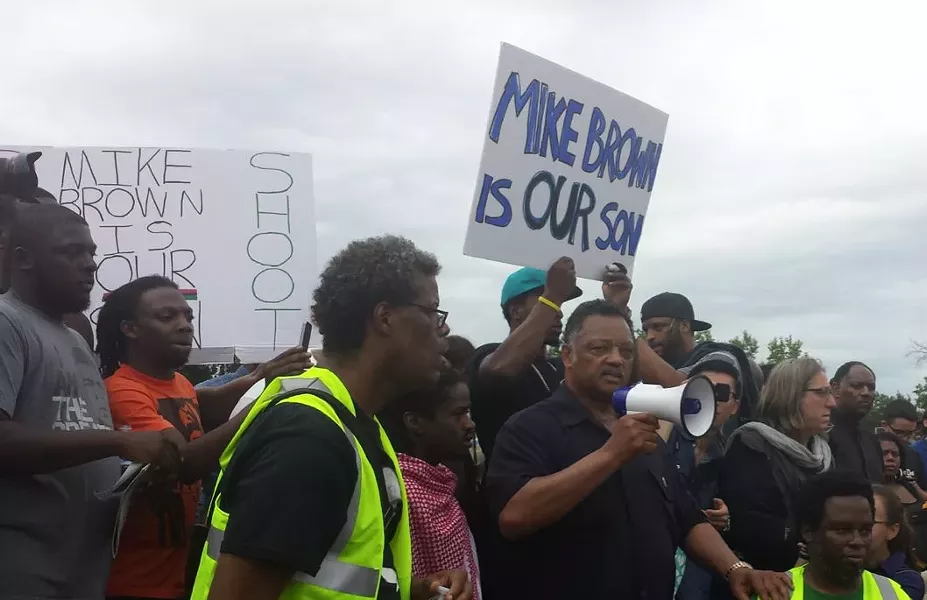 Jesse Jackson addressed protesters who'd marched to a nearby church.
But Eric said there are other kinds of opportunists lurking in Ferguson.
"Everybody's pushing their own agenda, everybody wants to push 'come to my church' or 'buy my book' or 'follow me on Twitter' -- that's the problem," he said. Everyone is trying to build their own following instead of actually doing something as a unit."
Eric reserved specific criticism for church groups. Megaphone-wielding street preachers have become a ubiquitous sight at the QuikTrip, while major community meetings of the past week have all taken place at prominent local churches.
"We don't want to have to go to church to have a voice," Eric said. When asked about arrival of Jesse Jackson and Al Sharpton, he held nothing back.
"Man, fuck Jesse Jackson! Fuck Al Sharpton and his saggy ass neck too! We don't need them here. They the main ones who are trying to push their own agendas. They come out here, they shake a few hands, they go to the scene of the crimes, pray and go home. that's not solving nothing. We don't need Jesse Jackson, we don't need Al Sharpton. We don't need all these old ass people telling us how to run shit now."
Eric wasn't the only one with an apparent issue with Jesse Jackson. At 3:30, the Baptist minister and civil rights activist led a prayer service for the roughly 200 demonstrators who had marched from the QuikTrip to the rear lot of the Greater St. Mark Family Church. Before the prayer, however, Jackson asked the crowd to recognize the church's generosity with a $100 check.
"We're here for Mike! We're struggling!" one woman shouted back. Jackson attempted to calm the grumbles spreading in his flock, but he was again interrupted.
"Some of us don't have jobs! Some of us gave our hearts, that's enough!"
After some more back-and-forth, the crowd finally calmed when Jackson led an impassioned prayer. With bowed head, he asked that God "gracefully accept Mike into your loving grace...we who are left will tell the story."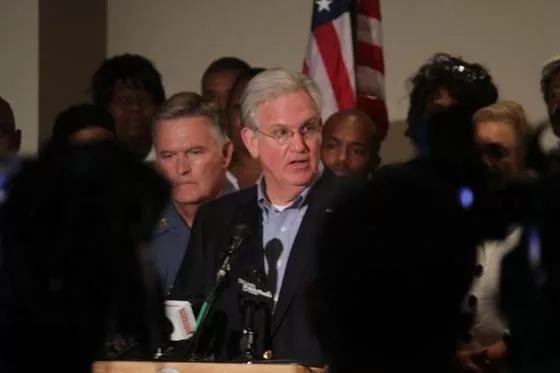 Governor Jay Nixon addressed the press and Ferguson residents on Saturday.
An hour later, Governor Jay Nixon declared an official state of emergency in Ferguson during a press conference held in the St. Mark's sanctuary. There would be a curfew from midnight to 5 a.m. Captain Ron Johnson also spoke, and reassured concerned citizens that no tear gas or armored trucks would be used to enforce the curfew.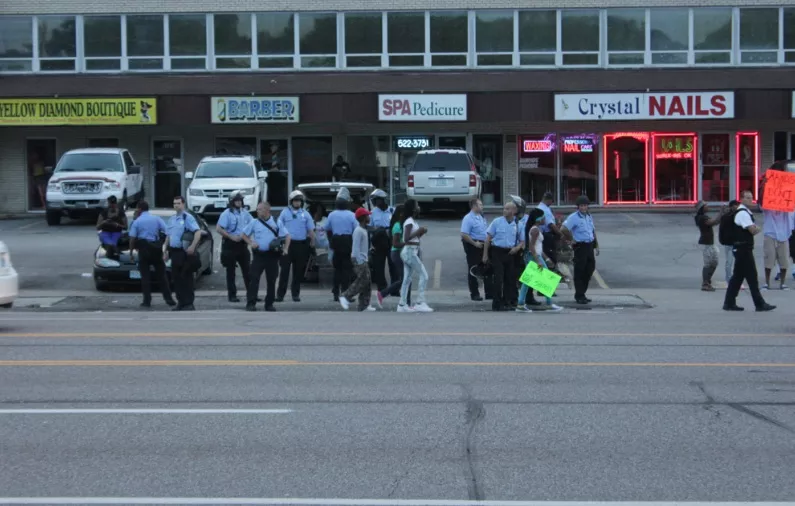 Police officers stood guard in front of Ferguson businesses from Saturday afternoon till after the curfew.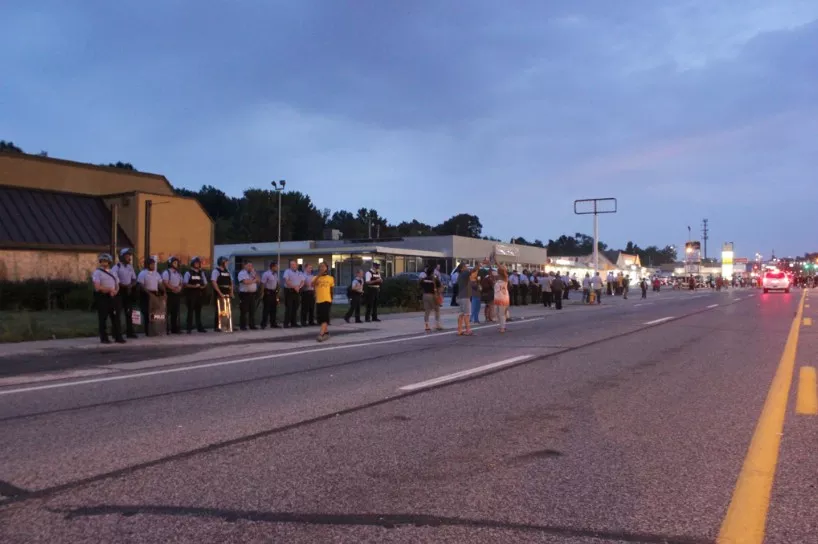 Protesters continued to march into the night.
See also: Gov. Jay Nixon Declares State of Emergency, Imposes Curfew on Ferguson
Johnson broke his word later that night, when protesters and journalists documented police firing tear gas canisters at groups of protesters defying the curfew. Johnson later justified the tear gas due to a reported shooting near the QuikTrip.
Daily RFT was on the scene of the rain-drenched showdown between protesters and police, and you can further dig into yesterday's roller-coaster of events on our live blog.
Follow Danny Wicentowski on Twitter at @D_Towski. E-mail the author at Danny.Wicentowski@RiverfrontTimes.com