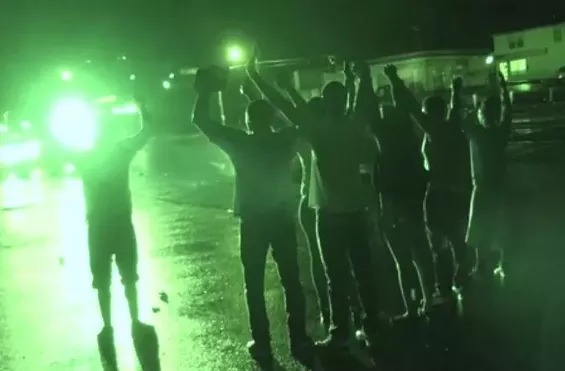 Ray Downs
The last remaining protesters after several canisters of tear gas were launched.
The Ferguson protesters were given a 12 a.m. curfew Saturday night, a result of Governor Jay Nixon's declared state of emergency. Many went home before midnight. But approximately 100 other protesters said, "Fuck twelve."
For the most part, Saturday was a lively and peaceful protest with marches up and down West Florissant Avenue, several people shouting into bullhorns about "justice," and even families sitting in lawn chairs as they witnessed an historic moment in St. Louis history.
But throughout the day, many young people announced they would definitely not be forced away once the clock struck midnight. Vehicles with the words "Fuck 12" painted on the sides and windows drove down West Florissant Avenue, honking in support of protesters on the street as others would chant the straight-to-the-point slogan.
Once the curfew went into effect, things tensed up. Protesters weren't sure when police would start to force them away. For about an hour after midnight, protesters were allowed to peacefully assembly. But then the police pushed them out. Read all of our coverage on Michael Brown and Ferguson here
"You are violating the state-imposed curfew. You must continue to disperse, or you will be subject to arrest," boomed a voice through a bullhorn from behind the bright police lights.
The protesters responded with shouts about their right to peaceful assembly, their freedom of speech, and started with annother round of what has become the signature chant of the Michael Brown saga: "Hands up! Don't shoot!"
And then the tear gas started.
Police shot several canisters toward protesters. But there was a much wider distance between protesters and police than on previous nights. That seemed to have allowed a few protesters extra time to see where the gas canisters landed, grab them and hurl them back toward the officers.
Ray Downs
A protester throws a tear-gas canister back at the police who shot it.
After a barrage of tear gas, fewer than ten protesters remained. They still wanted to defy the curfew order. So instead of running away, they all held hands and raised them in the air, facing an armored truck and several officers dressed in military clothing and weapons.
Police fired tear gas at this last group of protesters, causing a few to leave.
"We still won, y'all! We still won!" a protester shouted at the cops.
There were seven arrests made early Sunday morning. It's not clear if any of these few remaining protesters early on Sunday were among those arrested.
During a predawn press briefing, Captain Ronald Johnson said tear gas was used because police received information that there were people in the crowd with guns on top of Red's Barbecue.
A man was shot and critically wounded during the tear-gassing.
Not long after the gassing, there were rumors that no tear gas was used. However, Captain Johnson confirmed that tear gas definitely used.
Follow Ray Downs on Twitter:
E-mail him at Ray.Downs@RiverfrontTimes.com.