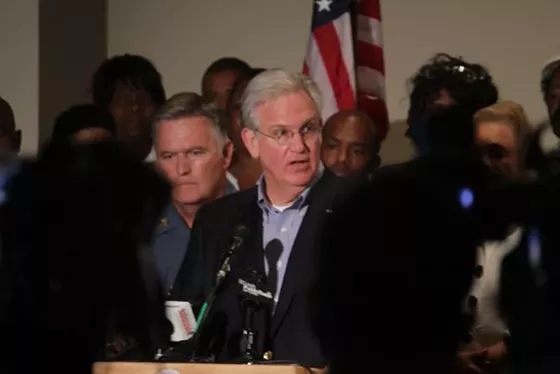 Danny Wicentowski
Governor Jay Nixon addresses the crowd at Greater St. Mark Family Church on August 16.
Amid a gathering of law enforcement, members of the media, protesters and citizens at Greater St. Mark Family Church on Saturday afternoon, Missouri Governor Jay Nixon declared a state of emergency in Ferguson and imposed a curfew for this evening that will require city streets to be clear between midnight and 5 a.m.
In an ongoing effort to calm the tension between citizens and police forces after the August 9 shooting death of Michael Brown by Ferguson police officer Darren Wilson, Nixon thanked both groups for working together during the relatively peaceful August 14 and August 15 protests and declared his support for protesters' First Amendment rights. But the late-night looting in Ferguson by a few individuals last night forced his hand, he said.
"I share their frustration and their conviction that we cannot allow the ill will of the few to undermine the goodwill of the many, while putting the people and businesses of this community in danger. If there was an easy way to separate those who hurt from those who help, we would," Nixon said. "But it's hard, and especially at night, we can't.
"So to protect the people and property of Ferguson, today I signed an executive order declaring a state of emergency and implementing a curfew in the impacted area of Ferguson," Nixon continued.
See also: - Ferguson Protesters Protect Stores from Looters, Riots As Police Hold Back - New Black Panther Party Maintains Peace in Ferguson, Directs Traffic During Protest
Citizens resoundingly refused the curfew, reminding Nixon about their self-policing efforts and their success at blocking looters from entering many Ferguson businesses early Saturday morning. A New Black Panther leader requested that Nixon extend the curfew's start to 2 a.m. to give his and other groups time to peacefully mobilize protesters from the area once again.
Missouri State Highway Patrol Captain Ron Johnson, whose patrol had taken command of police activities in Ferguson on August 14 under Nixon's orders, acknowledged many groups for helping his squad maintain order. However, he agreed with Nixon that a curfew was the best course of action to keep the area calm and to clear the streets for emergency vehicles.
The news conference became heated as citizens argued with Johnson, Nixon and even themselves over how to handle this evening's planned protest.
Johnson later confirmed that tear gas and armored trucks would not be used to enforce the curfew Saturday night.
Nixon said that Johnson would set up a staging area for media so reporters can observe "openly and fairly."
Johnson added that 40 FBI agents are assisting in Ferguson now and went door-to-door handing out contact cards, and St. Louis mayor Francis Slay is providing police as well.
"If we are going to achieve justice, we must first have -- and maintain -- peace," Nixon said.