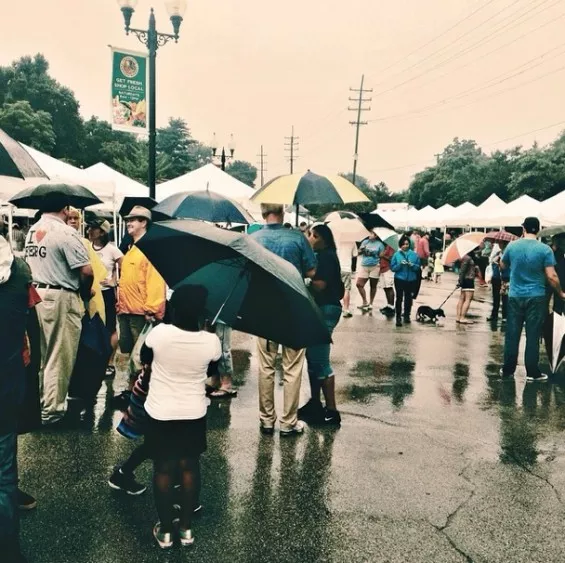 juliejay00 | Instagram
The Ferguson Farmers Market sees showers of love on August 16.
Rain usually puts a damper on outdoor events, but the waterworks only whipped up a storm of support for the Ferguson Farmers Market on August 16.
The morning after a tumultuous night, community champions braved a downpour to purchase fresh produce and share a few smiles in a town that has been at the epicenter of international news after the shooting death of resident teen Michael Brown on August 9.
See also: Ferguson Protesters Protect Stores from Looters, Riots As Police Hold Back
The Ferguson Farmers Market, located at 20 South Florissant Road, has been in business since 2002, quickly becoming a source of pride and camaraderie for the city's residents. The market's website boasts, "This Saturday morning tradition brings you fresh fruits and veggies, picked within 24 hours of our market and brought directly to you by the friendly farmers who grow them."
The August 16 market began at 8 a.m., with 40 vendor tents and plenty of colorful umbrellas dotting the scene:
Hungry tummies quickly drew shoppers to the food tents, where people picked up local fruits and vegetables, sauces and spices and plenty of desserts:
After participating in last night's protest and leading a prayer event today, civil rights activist Rev. Jesse Jackson visited the farmers market:
Ferguson pride was everywhere:
And many sales benefited Ferguson charities:
One thing shoppers didn't need money for was hugs; those were free:
And despite the lingering unrest and the stormy weather, the Ferguson Farmers Market brought a little joy to a Missouri town that's been around since the 1800s:
Read our complete coverage about Michael Brown and Ferguson.