Jessica Lussenhop
NAACP President Cornell Brooks, Michael Brown Sr., Lesley McSpadden and attorney Benjamin Crump.
Hours before another long evening in Ferguson that included looting, arrests and police firing tear gas at crowds, Michael Brown's parents pleaded for a return to order. They also asked for more information about the shooting death of their son in an emotional press conference at a Jennings church.
Michael Brown, Sr. and Lesley McSpadden stood at a table at the front of a sweltering chapel room at Jennings Mason Temple holding a large photo of Michael Jr.
"If you have any information please, please give it to us," said Michael Brown Sr. "We want everything. We want this done. We want to do this right. I don't want no violence -- we don't want no violence."
"Michael wouldn't want that," said McSpadden.
It was the first time the parents appeared with their new attorney, Benjamin Crump, who also represented the Florida family in the Trayvon Martin case. In his remarks, Crump made it clear that the family does not believe the version of events that the Ferguson and St. Louis County police are putting out in the death 18-year-old Michael.
See our extended coverage of the shooting and the subsequent unrest in Ferguson: -- Family of Michael Brown, Teenager Shot to Death By Ferguson Police, Talks About His Life -- FBI Launches Independent Investigation into Shooting Death of Michael Brown -- Ferguson Riots: North County Business Owners (Some Armed) Survey the Damage
A still-unnamed Ferguson police officer shot and killed Brown on Saturday, August 9, around noon. Brown and a friend were walking toward his grandmother's apartment when the officer confronted them. According to some witnesses, the officer shot Brown multiple times while the teenager had his hands in the air. According to the police, Brown pushed the officer back into his squad car and the two wrestled for the officer's gun. St. Louis Police Chief Jon Belmar told reporters on Monday that a single shot went off inside the car and that after Brown fled the vehicle, the officer shot him "more than a couple" times. Brown died in the street. He did not have a weapon. There was no ambulance or EMT effort to resuscitate, one of the many reasons the family is upset with authorities.
"In broad daylight, he had his t-shirt, his shorts, his sandals, just walking with a friend, minding his business and in broad daylight -- where it is clear he has no weapon -- that he would be chased and shot, and then when he puts his hands up that the police who were suposed to protect him repeatedly shoots him?" said Crump.
"Oh, god," sobbed Desuirea Harris, Brown's grandmother, from the front pew.
"I don't want to sugarcoat it. Their baby was executed in broad daylight," continued Crump.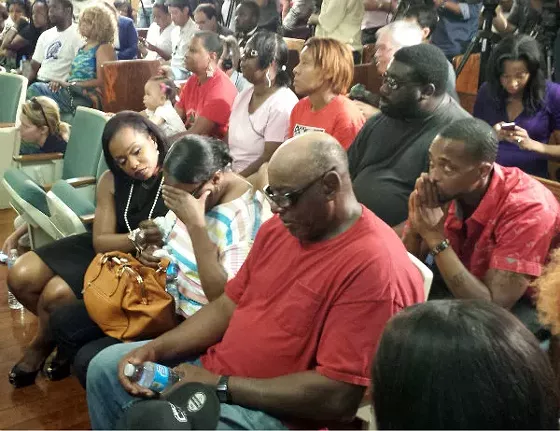 Jessica Lussenhop
Michael Brown's family wept as Benjamin Crump spoke of the shooting.
Both the teen's father and Crump repeatedly implored witnesses who might have filmed the shooting on their cell phones to come forward. Yesterday, it was also announced that the FBI and the U.S. Department of Justice will be running a concurrent investigation, and Crump expressed optimism that the witnesses will be able to go to these federal authorities with less fear of intimidation or retribution. However, Crump also mentioned that the family is contemplating a second autopsy.
"We want to know and see exactly what happened because this family rejects what the police authorities said at their press conference about how this played out. The witnesses reject what the police said at their press conference, how this played out," said Crump. "These parents know in their heart and they reject what the police authorities said at their press conference, how this played out. So they expect -- they demand and they will not shut up until they get the truth, because they knew who their son was."
McSpadden, who wept silently throughout the press conference, clearly found it difficult to speak about who Michael, or "Mike Mike," was.
"That's my first born son and anybody who knew me knew how I felt about my son," she said. "I just wish I could have been there...he didn't deserve that. My son..."
There she broke off and Crump ended the event soon after. Outside the church, Brown's grandmother was so overcome with grief she had to be held up and helped to a vehicle.
At another church about ten minutes southwest of Jennings Mason Temple, a overflowing community meeting with the NAACP convened. We'll have a link to our coverage of that event here soon. Hours after that, marchers and residents confronted police near Highway 270 and West Florissant, and were met with tear gas. Read our reporter's firsthand account of those events here.
Email the author at Jessica.Lussenhop@RiverfrontTimes.com.