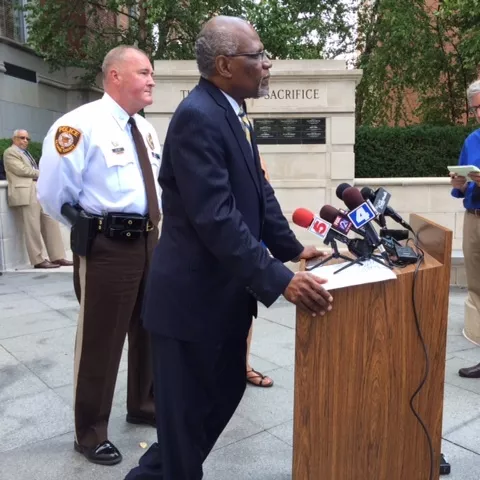 Lindsay Toler
County Executive Charlie Dooley, with police chief Jon Belmar behind him, tells media he is disappointed in the lootings Sunday night in Ferguson. "I understand the community's frustration and desire for information."
The Federal Bureau of Investigation has joined the probe into the shooting death of unarmed teen Michael Brown in Ferguson last weekend.
Governor Jay Nixon announced Monday, just two days after Brown was shot several times by an unidentified Ferguson police officer, that he asked the U.S. Department of Justice to hold an independent investigation -- a move supported by County Executive Charlie Dooley and St. Louis County Police Chief Jon Belmar.
"It is vital that the facts about this case are gathered in a thorough, transparent and impartial manner, in which the public has complete confidence," Nixon says. "Our thoughts and prayers go out to all those affected by this tragic event, and I ask St. Louis County residents to exercise patience and respect for their neighbors as federal authorities work to get to the bottom of what happened through this comprehensive, independent review."
Belmar says he expected the FBI to join the investigation because of the "magnitude" of the shooting, which spurred violent looters to burn businesses and fire gun shots Sunday night after a peaceful vigil in Brown's honor. Belmar also says he thinks the bureau's findings will add validity to the results of a police investigation.
See also: Ferguson Riots: North County Business Owners (Some Armed) Survey the Damage
"This is a very complicated investigation, as it should be," Belmar says. "A man lost his life. There was a police officer involved in this. We need to make sure this investigation is done right. We get one chance to do it."
The FBI isn't taking over the police investigation. Rather, they'll review the case concurrently. Belmar says police will send findings to both the St. Louis County Prosecuting Attorney, who will decide whether the police officer will be charged with a crime for shooting Brown, and the FBI at the same time.
Belmar says there's still lots of evidence to take in, including interviews with "scores of people" living in a neighboring apartment complex and several key witnesses.
"Frankly, we are still waiting to talk to some folks we think would have information," Belmar says. "We need to understand that even detectives who are investigating right now don't have access to everything. There has not been a rush to judgment."
Police are not releasing details of the autopsy, which was performed Sunday morning, except to confirm Brown was shot "several times."
Brown's family has hired Benjamin L. Crump, the attorney who represented the family of Trayvon Martin, a teen shot to death by a Florida neighborhood watchman, as its legal representation.
Three U.S. Congressmen are urging U.S. Attorney General Eric Holder to expand the scope of the Ferguson investigation to include "potential for any pattern or practice of police misconduct by the Ferguson Police Department," according to the St. Louis American. Congressman Lacy Clay from Missouri, Congressman John Conyers from Michigan and Congresswoman Marsha Fudge of Ohio -- all Democrats -- sent this letter:
We understand that the St. Louis County Police Department is investigating the matter in order to have some level of independent investigation take place, but this arrangement is insufficient for at least two reasons.

First, the St. Louis County Police Department may not be the most objective or credible body to investigate civil rights matters involving law enforcement given evidence of racial profiling by that department in the recent past, which Congressman Clay had asked the Department of Justice to investigate.

Second, only the federal government has the resources, the experience, and the full independence to give this case the close scrutiny that the citizens of Ferguson and the greater St. Louis area deserve. Moreover, to the extent that a pattern or practice of police misconduct may exist, such misconduct would be a clear violation of federal law, including 42 U.S.C. § 14141, which makes it unlawful for State or local law enforcement officers to engage in a pattern or practice of conduct that deprives persons of rights protected by the Constitution or laws of the United States. Such conduct would include the use of excessive force by police.
Only the Ferguson police, not county police of the FBI, can identify the officer who shot and killed Brown. Ferguson Police Chief Thomas Jackson tells media he'll announce the officer at a noon press conference Tuesday.
See also: Family of Michael Brown, Teenager Shot to Death By Ferguson Police, Talks About His Life
Belmar says despite the FBI's involvement, there's nothing that sets this case apart from other officer-involved officer shootings. But Sunday night's violence and looting are a different story.
"I've been doing this 28 years, not only have I never seen anything like this, I've never even heard about it, at least in St. Louis," Belmar says. "This is a very unusual event."
Follow Lindsay Toler on Twitter at @StLouisLindsay. E-mail the author at Lindsay.Toler@RiverfrontTimes.com.