Photos by Mitch Ryals
Davion Lorich asks police officers if they feel bad about what happened.
By 9:30 a.m. Monday, with the smoke and violence of last night's looting and riots gone, a crowd of some 50 demonstrators arrived in front of Ferguson's police and fire departments to continue the protests over the death of Michael Brown.
Meru Muad'Dib of Bellefontaine Neighbors and Camelia Murphy of Pagedale stood directly across from Vincenzo's Restaurant where officers in riot gear waited.
"Those were different people out there last night," Muad'Dib said. "They took advantage of the situation. Don't commit crimes in the name of Mike Brown," he pleaded.
Cars rolled by slowly. Some honked.
"Rioting happens when people are scared and don't have answers to questions," said Murphy.
See also: Ferguson Riots: North County Business Owners (Some Armed) Survey the Damage
By 10 a.m., the crowd swelled to several hundred people and congregated across from police station to listen to one female protester.
"You have to understand, they are not wrong for looting," she said at one point. "They are not wrong. We are looted against every single day."
Two women listening to her speech disagreed. Carissa McGraw, 26, and Mztay Bennett, 38, shook their heads.
"That's ignorant." McGraw commented. "Just don't patronize the area. I was on the front line yesterday with my hands up, but I left. When they started looting and bustin' up stores, I was like I gotta go."
The crowd, comprised mostly of African-American residents, then moved across South Florissant Road to directly in front of the fire station. Two men, the (unofficial) leaders of the protest, spoke through a megaphone to the crowd and made four demands:
1. That the identification of the officer be revealed. 2. That officer be immediately fired and charged with murder. 3. For the Ferguson Police Department to distribute handbooks to the community, so they know how the officers are instructed to interact with citizens. 4. And that the racial composition of the Ferguson police force should reflect the population of the city.
Next, the protesters marched back and forth on South Florissant Road between Church Street and Paul Avenue. They chanted: "Hands up! Don't shoot!" "No justice, no peace!" And "Stop the killer cops!" as they walked.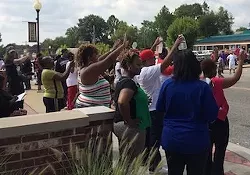 Protesters stand on the side of South Florissant Road outside the Ferguson Police Department.
After the crowd marched twice up and down the street, some of the protesters broke off to meet the line of riot-ready officers now standing between the fire and police stations.
"Where the cop who looks like me?" one protester shouted. "Where he at?"
One female protester started a "Black power" chant before the crowd dispersed and again began marching.
One boy stayed back, though. Davion Lorich, a Jennings High School sophomore quietly approached the line of officers. Both hands clutched around a coffee cup, he asked one:
"If you had a choice, would you go home? Do you feel bad for being here right now and for what happened?"
The officer didn't respond, and Lorich walked away.
For some people this morning, this was a protest against racism, white supremacy and Jim Crow. For others, though, Mike Brown's death cannot be chalked up solely to skin color.
"I don't get it," Kiara Williams said. "It hurts my heart to know that as black people, we have a slave mentality. When did you pick cotton? Your ancestors did, but did you?"
Williams moved to Florissant a few months ago from Ferguson. She has three sons ages twelve to twenty, and doesn't believe all the cops are racist. A few years ago, she called the Ferguson police on her son, who has an anger problem. He was breaking windows in her house and left in a fit. When the police picked him up, they called Williams and brought her son home unharmed.
"They didn't have to do that, but because I worked with them, they cooperated," she says.
Monday morning she looked suspiciously at the protesters marching up and down the street, concerned that the crowd could turn violent. It doesn't.
Photos by Mitch Ryals
Marchers on South Florissant Road Monday morning continue to protest Michael Brown's death.
"We're setting a platform for violence for our children with riots," she said. "This is not a solution. Positivity is what makes change."
There was anger in the voices and on the faces of some marchers, hopelessness on others. They wanted answers, and they wanted justice. As the march wound down, Williams led a group of people in a prayer in the middle of the street.
Nearby, a young black man yelled "Fuck the police!" grinning as he did it. Many fellow demonstrators looked at him in disapproval.
"That's not right," one woman said. "He better shut up."
A few people yelled at the young man to stop with no success.
Around noon, the line of officers standing between the two stations moved to the edge of the sidewalk and then to the middle of Florissant Road. They told the crowd, which died down to less than 300 people, to go home. One officer wielding a large automatic rifle said:
"Folks, you have to leave. Go home or we will start arresting people."
The section of South Florissant Road between Church Street and Paul Avenue remained blocked off as protesters drove away. Drivers honked and held their fists out of windows in a display of solidarity. The crowd said its peace, and it was indeed time to go home.