St. Louis Recorder of Deeds
The modern St. Louis Cardinals were birthed from these incorporation papers, signed 1917. (Read the full documents on the next page.)
There's a mess in the bowels of City Hall, but St. Louis Recorder of Deeds Jennifer Florida is digging through it. With gusto.
"It's almost a million documents, so we have an overwhelming hurdle," says Florida, describing the massive trove St. Louis history stockpiled in the four storage areas managed by her office.
Appointed by Mayor Francis Slay last month after then-Recorder of Deeds Sharon Carpenter admitted to dabbling in nepotism, Florida says she's found many of the office's records in dire need of preservation. But there are treasures to find as well, like the perfect reproductions of the Cardinals' 97-year-old incorporation documents.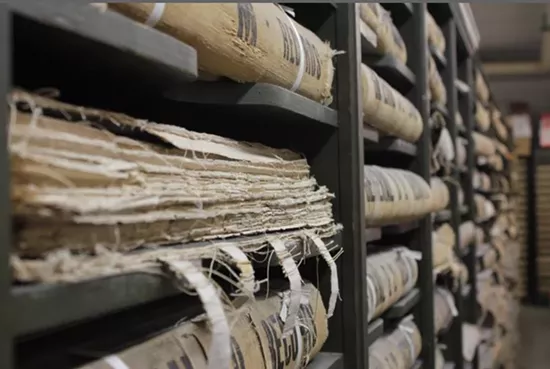 Danny Wicentowski
Time can do some pretty terrible things to historical documents.
See also: Alderman Florida Takes Charge After Recorder of Deeds Resigns Over Nepotism Claims
Florida says she was peeking around a dusty top shelf on the ground-level storage area -- what she calls "the vault" -- when she spotted the reproduced Cardinals records. She says they do have original documents that chronicle the Cardinals transition from private to public ownership, and those will eventually be scanned and uploaded to the Recorders' website.
"I thought they were so cool. It tells the beginning of the Cardinals," she says. "This whole thing has kind of sucked me in, in a way that I didn't expect it to."
The reproductions were made in the mid-90s, back when Carpenter -- who held the office since 1980 -- was apparently on a preservation kick of her own. In fact, Carpenters' name still covers the sides of boxes in these storage areas. During a recent tour of the vault, Daily RFT even spotted an old "Re-elect Sharon Carpenter" lawn sign leaning against a pile of maps.
St. Louis Recorder of Deeds Jennifer Florida
When Carpenter stepped down in July, Florida agreed to resign her own position as 15th Ward Alderwoman to become Recorder of Deeds, heading an office the Post-Dispatch's editorial page described as "inconsequential."
The jab seems to have provided Florida with a chip on her shoulder. She says posting documents like the Cardinals' incorporation papers to the office's Facebook page is her way proving that the Recorder of Deeds office is as consequential as they come.
"We're celebrating our 250th birthday, so we're trying to pull out different things from our past, the same way that the Post-Dispatch has done on a daily basis," she says. "This is my new project, a twenty-first century recorder's office."
But what of the future of the Recorder of Deeds office?
Florida says she isn't going to just roll over and let Carpenter re-take her old job. After Slay appointed Florida, it took little more than a week for her to collect enough signatures to make the November ballot as an independent candidate.
Though Carpenter obliterated her opponents during Tuesday's primary elections, Florida says she isn't the type to abandon a job, especially now that she's planning on digitizing and organizing records going back to the 1760s, a task Carpenter seemingly neglected in her long tenure.
But running against Carpenter won't be easy, since voters are more likely to remember her for making history, rather than preserving it: In June, Carpenter signed the first-ever Missouri marriage licences between same-sex couples.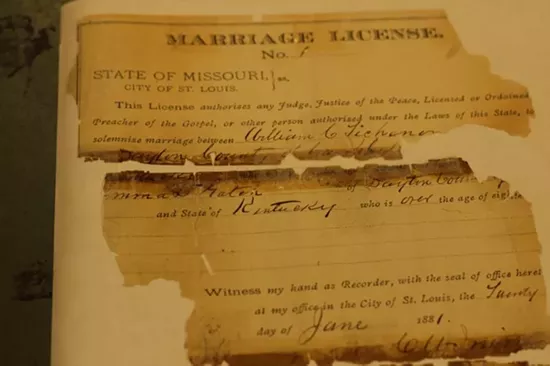 Danny Wicentowski
The Recorder of Deeds office holds nearly one-million marriage licenses. This is Missouri's first marriage license, signed in 1881 between William Lickman and Emma Gatch.
Continue for the full pages of the Cardinal' incorporation documents.
Here are the reproductions of the Cardinals incorporation documents.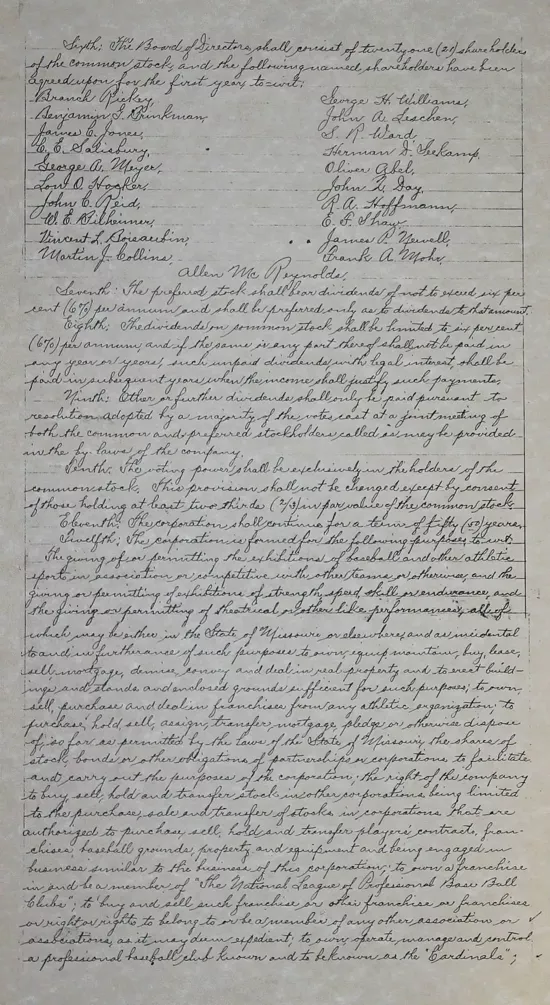 For more snapshots of St. Louis history -- including this adorable advertisement of cigar-smoking children -- check out the Recorder of Deeds Facebook page.
Follow Danny Wicentowski on Twitter at @D_Towski. E-mail the author at Danny.Wicentowski@RiverfrontTimes.com