Dustin Glastetter
Dustin Glastetter wasn't allowed at the Cardinals game with his face looking like this.
Dustin Glastetter is a die-hard St. Louis Cardinals fan with a dirty little secret: he also loves the Boston Red Sox.
A life-long resident of Missouri, Glastetter, 32, goes to more than 25 Cardinals games a year and can rattle off the team's stats and history with ease. He's not a rich guy, but he'll happily cough up the big bucks for a seat in the all-inclusive green seats near home plate just to be as close to the action as possible.
"The Cardinals are my No. 1 team -- unless it's Boston," he tells Daily RFT. His admiration for the franchise turned into full-fledged fandom when Boston drafted two of his buddies. "When they're in town, I'm a Red Sox fan."
That's a tough loyalty for Cards fans to swallow, especially after losing the World Series to the Sox twice in the last ten years. Earlier this week, a survey of baseball fans showed the Red Sox are the team Missouri hates the most. (Take that, Cubs.)
See also: The St. Louis Cardinals Is One of America's Most Hated Sports Teams: Survey
So when Major League Baseball scheduled Boston to play in St. Louis on August 6, Glastetter knew he had to turn up in full force. Just to be safe, he called the Cardinals front office to make sure he'd be allowed to cover his face in paint and wear the five-dollar, spiky blue wig he's owned for years. They said as long as he wasn't wearing a costume or mask, he'd be fine.
But he wasn't fine. After one glance at his Boston makeup, officials told Glastetter that he wouldn't step foot in Busch Stadium as long as his face was painted, he says.
"This is honestly the first place I've ever been to that has said this isn't allowed," Glastetter says. "I live here. If I'd have been in Cardinals colors, it would have been completely different. I have no doubt in my mind."
Busch Stadium officials tell Daily RFT that Glastetter was not singled out for his face paint because he is a Red Sox fan, but since rules about costumes are up to staff discretion, they can't be "100 percent consistent." (Officials say they'll update Daily RFT after an investigation, and we'll update this story when we hear back.)
Get the play-by-play of Glastetter's multiple attempts to enter Busch Stadium with face paint on page two.
Lindsay Toler
You can still spot brushes of paint on Dustin Glastetter's face.
Glastetter says four men approached him at Gate 4 and told him he wouldn't be allowed in unless he took off his face paint. Glastetter asked why, especially since there's no official rule banning face paint, but he got no answer.
"They were very rude, all of them were," Glastetter says. "I was like, 'Can you tell me why? Did I do something wrong?' They were just complete assholes. If I'd been a Cardinals fan, they would have talked to me."
The officials told Glastetter to try to get a refund from the ticket office, but once he got there, a staff member told him there was no way she would refund his ticket. She suggested that he try other gates on the chance that other stadium security wouldn't mind his makeup.
After being turned down another time, a staff member with a radio approached Glastetter and told him staff had been ordered not to let him in.
"I didn't even walk up to the gate, she came to me," he says. The official told Glastetter he wasn't allowed in with a covered face, so he pulled up the Cardinals bylaws on his phone. Here's what the bylaw says:
Costumes of any kind that cover the head/face are strictly prohibited from entering the ballpark. All other costumes are subject to inspection upon entry or at any time over the course of a game/event at the discretion of stadium personnel.
But Glastetter wasn't wearing a costume or mask; he had a painted face and a wig. He tried to negotiate, offering to remove his wig or half of his makeup to get into the game. "They actually got more mad from me trying to negotiate a peaceful resolution," he says. "Their minds were made up: 'Go wash your face or don't bother coming in.'"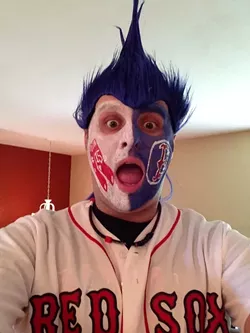 Dustin Glastetter
Glastetter's whole get-up.
Another official told Glastetter that his face paint posed a security risk because if he caused any problems, he'd be unidentifiable.
"I was like, do you think you can't recognize me out of 45,000 fans?" he says. His makeup, which took two hours to put on, takes serious scrubbing to get off, and his blue wig is unmistakable. "I'm the most identifiable person in the stadium besides the players."
With half an hour until game time, Glastetter relented and went to Ballpark Village to scrub his face. Used to washing face paint off in a hot shower, he spent half an hour and a whole roll of paper towels to get it off.
"Every single person I talked to, every single one, Cardinals fans, even the workers at Ballpark Village were outraged," he says. "They were like, 'That's a rule? We see people with face paint all the time.'"
By the time Wednesday's rain delay ended and the Redbirds and Red Sox squared off, Glastetter was in his green seat, wearing his wig and smudged remnants of paint, ready to cheer Boston on to a 2-1 victory.
On Thursday, he called the front offices to complain. He says he got an apology and the brushoff. After a life-long love affair with the Cardinals, Glastetter says this is enough to irreparably tarnish his faith in the so-called best fans in baseball.
"This changes my opinion about Cardinals baseball," he says. "I still love the team, but as far as upper management or how it's run, I'm very hurt, very disappointed. I'll never forget that.
"Every time I walk into Busch, that image is going to go through my head. They just ruined the game for me."
Follow Lindsay Toler on Twitter at @StLouisLindsay. E-mail the author at Lindsay.Toler@RiverfrontTimes.com.